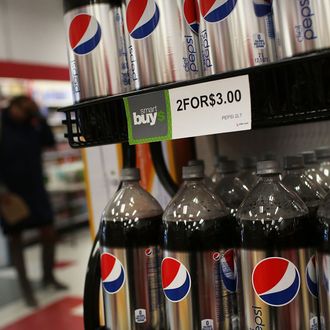 Jury's still out on whether it helps fight obesity.
Photo: Spencer Platt/Getty Images
When Philadelphia's soda tax rolled out in January, residents had a very immediate and visceral reaction, tweeting outrage at the new price of 12-packs (almost double), sometimes followed by subversive Google Maps screenshots showing the locations of grocery stores just beyond city limits. It's no surprise this sticker shock would put a dent in Philly's soda sales and buoy public-health advocates. What's a little wild, though, is the extent of that effect thus far: Bloomberg reported on retailers' sales since the start of the year, and the fallout for local businesses seems pretty severe.
It checked in with soda distributors as well as bodega and supermarket owners around town, and found lots of them have already suffered sales declines of as much as 50 percent. Canada Dry Delaware Valley, a local distributor responsible for 20 percent of the soft drinks in Philly's market, says business citywide fell 45 percent in the first five weeks of 2017. The company says it expects to lay off 30 of its 165 employees in the next month. Meanwhile, beverage sales are down 50 percent at Philly's ShopRite and Fresh Grocer supermarkets — a big enough drop to cut the work-hour equivalent of about 280 jobs so far. As a reminder of how much grocers still depend on soft-drink sales, the total revenue at those stores has reportedly fallen by 15 percent. Their CEO calls the impact "nothing less than devastating," explaining that in 30 years, "there's never been a circumstance in which we've ever had a sales decline of any significant amount."
The city predicts declines will slow down as shoppers become "more used" to the new higher prices. A 50 percent dip in sales is "significantly larger" than the impact sugary-drink taxes have had elsewhere, like in Mexico or Berkeley. But new research out this month shows the tax has had a pretty sizable effect on Mexicans' soda intake, too, and the number of cities debating measures of their own keeps growing. The latest is Seattle, whose mayor last week proposed a tax of two cents per ounce.