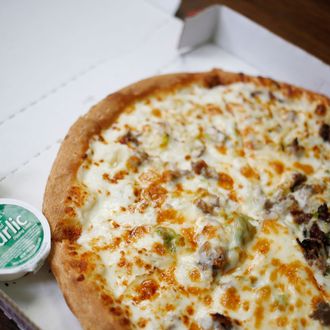 This year, Foosball was the devil.
Photo: Luke Sharrett/Bloomberg via Getty Images
As the NFL's official pizza sponsor, Papa John's is in a great position when it comes to justifying disappointing sales figures. Its latest argument, in short: The NFL was not particularly popular this season, football games sell tons of pizza, so we didn't sell as many pies. This week, the chain reported weaker-than-expected sales during the months of the NFL season, and it wasted no time blaming the league's 8 percent ratings drop (in part, at least): "We've made a significant investment in the NFL," president and COO Steve Ritchie told investors yesterday. "An 8 percent decline in ratings played a small factor in some of our performance."

It's not like people still aren't eating a ton of pizza — Papa John's same-store sales grew by 3.8 percent regardless, one of the industry's strongest showings this quarter. But the company's stock prices fell by 8 percent, regardless, after the earnings report dropped. Executives took the blame game a step further, too, actually complaining about the teams that made this year's playoffs (for the record, those 12 included "America's team" — the franchise with Tom Brady — and two from four of the largest U.S. cities). What that apparently meant was there was no Peyton Manning this time — which was a bummer, because after wining last year's Super Bowl, the Papa John's spokesperson notoriously found and hugged CEO John Schnatter before even kissing his wife.
Executives do allow that several factors could explain the sales dip. Like, it could be that they didn't get free national advertising, or it could just be their pizza. It's kind of hard to say.