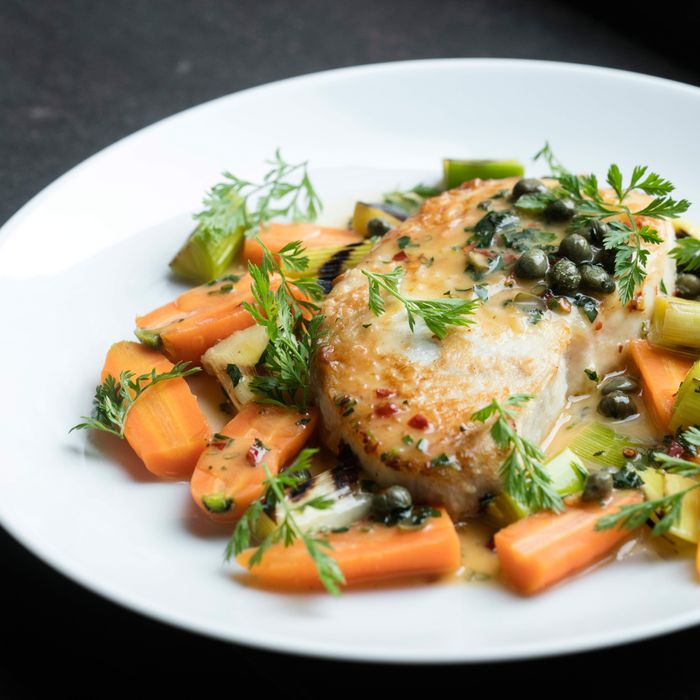 Maybe a swordfish steak at All Hands?
Photo: Melissa Hom
The ideal way to spend Valentine's Day, in Grub's opinion, is in the comfort of your own home, ideally cooking a roast, eating ice cream, and drinking wine. Regardless, many New Yorkers are resolved to head out into this annual minefield of heart-shaped pizzas, prix-fixe meals, and cheesy chocolate sweets. Some restaurants, however, resist the temptation to go Hallmark, and keep their normal menus — all the better, because that's what customers really want. Here, 12 places sticking to their usual routine for Valentine's Day:
Italienne
Stick to the restaurant's more casual front room, a.k.a. the taverna, where you can have it your way, either snacking on charcuterie and small plates like arancino or going big with duck confit and grilled short rib.
All Hands
If seafood is your thing, head to this new Williamsburg restaurant. There's smoked-salmon rillettes, albacore-tuna pastrami with buckwheat blini, hake and pork-belly skewers, and a lobster-roll BLT.
Via Carota
The West Village restaurant is the one you always want to go to for low-key dates, so why change your routine? There's no reason to when there's fried rabbit, prosciutto di parma, vegetables like a cauliflower fontina gratin, and lots of wine.
Emily
The only cheese that will be served at Clinton Hill pizzeria Emily, and its Williamsburg sister restaurant Emmy Squared, will come on the pies. Which is good news, because nothing's more romantic than splitting a pepperoni, pickled chili, and honey pizza — or vodka-sauce square — with a few glasses of wine.
White Gold
April Bloomfield's Upper West Side restaurant will offer a prix fixe, but you can skip that and stick to the regular menu. Go for the standout smoked-chicken rice, lamb with chimichurri and spiced yogurt, and long-cooked kale with smoked chickpeas.
The Four Horsemen
If you're in north Brooklyn and looking to drink (natural) wine, you won't find many better options. And it's not the sort of place where you'll hazard a food coma, with dishes like beef tartare with sesame crackers and chicory with fuyu persimmon available.
Zadie's Oyster Room
Maybe your significant other has a thing for shellfish, or maybe you just want to keep it light. Marco Canora's wine bar and everything-oysters restaurant will keep it simple, so you can split a bottle of malvasia and have oysters every which way: baked, broiled, steamed, fried, pickled, poached, and, of course, raw.
King
The casual but stylish neighborhood bistro is ideal for a relaxed date. The menu changes daily, but you can expect a mix of dishes inspired by France and Southern Italy, like steamed lobster with saffron aïoli, guinea hen for two, and pumpkin ravioli with marjoram butter. Not to mention tarts made in flavors like cognac and date and chocolate with crème fraîche.
Yves
The Tribeca restaurant is made for dates, so of course it'll be a good choice for a low-key evening. There are a few specials, like salt-baked oysters and roasted duck breast with blood orange, but those dishes are in keeping with the restaurant's simple, lighter cooking.
Bar Primi
They definitely won't be playing "Bella Notte." But there will be linguine with bread crumbs and garlic, rigatoni carbonara, and short-rib ravioli with vodka sumo, not to mention tiramisu.
Augustine
A solid game plan: Head to Keith McNally's hotel restaurant, get a couple martinis, eat a burger and some duck à l'orange, and call it a night.
4 Charles Prime Rib
It's easy to feel like you're alone in this moody, dimly lit room, where you can share a slow-roasted, salt-crusted prime rib or a whole Dover sole — just make sure to reserve a table. The tiny space fills up fast.