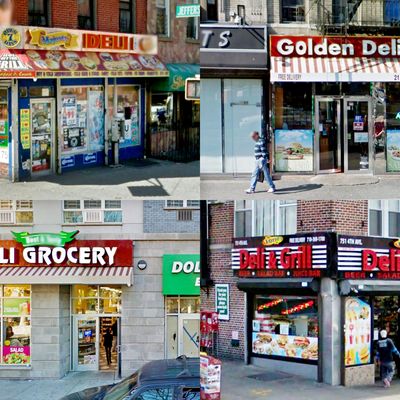 Part of the crowd at the rally that capped off the bodega strike.
Photo: Google
At noon today, more than 1,000 Yemeni-American bodegas, grocers, and other New York City businesses went on strike as a direct response to President Trump's executive order on immigration, which named Yemen as one of the seven nations from which immigrants and refugees are temporarily banned. The strike is unprecedented, and its organizers hope it will serve to bring more attention to a community that is not only overlooked, but is now feeling threatened in a very new way.
"I have U.S. citizens asking me, 'Am I going to get deported?'" says Zaid Nagi, a small-business owner who helped organize and promote the strike along with Debbie Almontaser, Widad Hassan, Summer Nasser, and Rabyaah Althaibani.
Early last night, Nagi, a co-owner of 20 grocery and wireless stores in the Bronx, was distributing flyers for businesses participating in the strike, which he says came about in an organic, grassroots way. People started talking with friends and on Facebook, and eventually it was decided that they would shut down their businesses. (Today's strike will last until 8 p.m., and a rally will be held at Brooklyn Borough Hall at 5:15 p.m. that will include a call to prayer, as well as stories from grocers about how the ban has affected themselves and others afraid to come forward. )
Nagi — an American citizen who moved to the United States when he was 12 — says that it was the response to the executive order that has emboldened people to come forward. "After the devastating executive order came in, we were shocked for a couple days," he explains. "Then when we saw the whole nation erupt in defense of us, we felt safe to come out and that we have a story, a message, and our voice must be heard."
Word spread through social media into last night, building tremendous momentum. Issam Hassan, who lives in Bay Ridge and works in Manhattan, found out about the strike yesterday afternoon. Like Nagi, he says that he felt encouraged by the protests that erupted across the country over the weekend. Before ten o'clock yesterday evening, he says, "everybody" was posting about the strike on Facebook, informing their friends, and planning to join the movement, as well as and attend the rally.
It marks a watershed moment of unity at a time when many people feel less safe. Since the election, Hassan says he's had "run-ins" with pro-Trump supporters in Bay Ridge, a neighborhood that's long been home to a substantial Arab-American community. Those individuals, he thinks, feel emboldened to "express very hateful rhetoric around me."
September 11 caused him to go through what he calls an identity crisis, and the executive order has given him a similar shock. "I'm not sure what the definition of immigrant and American is anymore," Hassan, who was born in Park Slope, says. "It makes you feel like there's a pigment standard. You will always be viewed as an immigrant, an other, an outsider."
At the store where he works, Hassan says, he and the staff took time to educate their customers on their closing. Bodegas are an integral part of the fabric of New York City, with their own culture and quirks. Closing them, even temporarily, is a significant statement. As Hassan points out, they're "pillars for our communities" and are particularly important to low-income areas.
"I feel like when our customers, neighbors, community knows how we're being affected, I think they're going to see that it's hitting very close to home," Hassan says. "It's not just Yemeni-Americans, Iraqi-Americans, Iranian-Americans. It's your neighbor, your doctor, that's what we're trying to show tomorrow. Thankfully we're out here in large numbers in the bodega and convenience-store business. That's just one way we can make it more transparent."