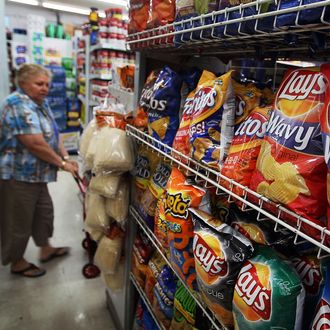 Photo: Joe Raedle/Getty Images
PepsiCo is finally coming to terms with the sad fact that it can't coat things in a new shade of radioactive dust anymore and expect people to buy them. Its huge portfolio of not-so-healthy products — Pepsi, Mountain Dew, Lay's, Ruffles, Cheetos, Doritos, Fritos, Tostitos — isn't pulling in the dollars of years past, and Bloomberg says pressure is mounting for the junk-food company to shape up. Nearly half of its revenue now comes from the "guilt-free" product category, which it considers to be stuff like low-cal drinks, Baked Lay's, Quaker cereal bars, Naked juices, or any of the approximately three other PepsiCo items that contain grains, fruits, or vegetables.
A smaller category PepsiCo calls "everyday nutrition" now accounts for a full 25 percent of its sales. (It apparently includes water, unsweetened tea, and healthier snacks.) Soda sales hit a 30-year low in 2015, so the company's CFO says they're trying to refocus on things with "lower sugar, lower salt, lower fat." Their pledge to cut calories from sugary drinks is moving at a frankly glacial pace, leaving PepsiCo little choice but to read the organic herbal-tea leaves. PepsiCo's execs admit soda is "becoming a smaller part of" the company's future, which now includes organic Gatorade, kombucha-maker KeVita, Hello Goodness vending machines that offer a "thoughtfully chosen" selection of Propel electrolyte Waters and Smartfood Delight popcorn, and probably some sort of Cheetos made from cauliflower rice.