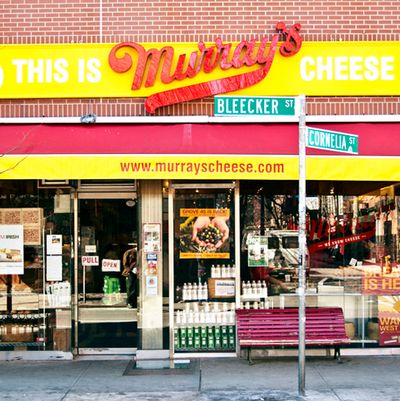 Murray's home base has been sold.
Photo: Murray's Cheese Shop
What Russ & Daughters is to appetizing, Murray's is to all things cheese in New York. The 75-year-old store is a Manhattan classic, still one of the best places to get your cheddar fix in the city, even as newcomers like Saxelby Cheesemongers and Bedford Cheese have come onto the scene. Now, owner Rob Kaufelt has sold Murray's flagship store to grocery chain Kroger, a publicly traded company that's second only to Walmart in the retail sector.
New York property records reveal that Kroger bought Murray's Greenwich Village building, also home to Amy's Bread, from Kaufelt for a cool $20.6 million. It's not a totally surprising move: While Kaufelt only operates two locations in the city, he has partnership deals with supermarkets around the country, including Ralph's, Dillon's, and Kroger, with which he has opened 350 kiosks since 2008. What this means for the cheesemonger hasn't been established yet, but more Brie should certainly be expected.