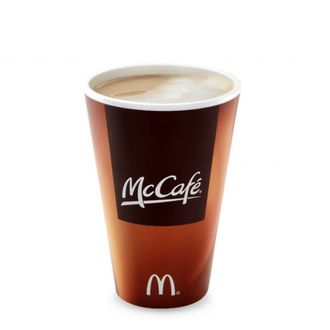 It looks like Mickey D's is doubling down on the big selling point of its McCafé drinks, which is that they're cheaper than just about everybody else's. The chain has struggled to keep customers coming in ever since the all-day-breakfast hype died down, so Bloomberg says that to perk business back up, it's going to try discounting the cold beverages even more. That means that beginning in April, customers can have any size soda for $1, or a small-sized frappé, shake, or smoothie for just $2. No doubt McDonald's hopes the promotion siphons customers away from archrival Starbucks, which has started bragging lately about selling a $12 cup of coffee.
The cheap-drinks strategy is essentially what Sonic Drive-In perfected with its afternoon "happy hour," when you could score deals on 44-ounce cherry limeades and frozen slushes with Nerds sprinkled on top. Customers are a little more health-conscious these days though, and also, it turns out, snobbier about their coffee. McDonald's has made overtures to that, but the plan here seems to hope that people are finally fed up enough with the third-wave trend that they'll welcome a return to less frou-frou–y coffee that doesn't require a gooseneck kettle.
Coincidentally, the chain also just released a pretty hilarious new ad over in England ripping expensive coffeehouses for their bazillion variations on the lowly latte, bougie banker's hours, and pretentious Wi-Fi passwords. It even works in a swipe at that (thankfully brief) "deconstructed" latte trend.

Surely another total coincidence, but maybe worth noting: Specialty coffee beverages are crazy moneymakers in the restaurant business. The margin on those drinks is insane — analysts say it can be as high as 90 percent in some cases.

Update: This post originally said the promotion applied to hot espresso beverages too, but a rep for McDonald's notes those drinks have actually been $2 since January.