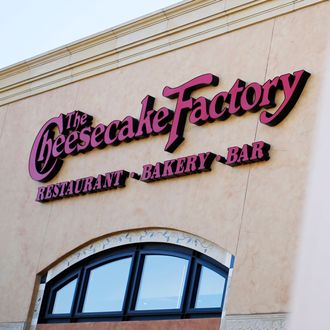 The company says thankfully nobody was injured.
Photo: Luke Sharett/Bloomberg via Getty Images
Police in Los Angeles say a man chucked a "homemade pyrotechnic device" into a busy Cheesecake Factory last night, sending everyone inside into a panic. Per a statement by Pasadena police, he tossed the device through the front door around 6 p.m., then fled from the scene. The explosive detonated in the lobby (either partially or fully, it's unclear), emitting a heavy smoke that startled guests and workers in the restaurant. But luckily, the department adds, "No customers or employees were injured during the incident," and the L.A. County Sheriff's Department bomb squad was able to safely remove the device.

Police describe the suspect as a "male of Hispanic or Middle Eastern descent, 6'0, thin build, with a heavy beard and wearing all-black clothing and a black beanie." They say there's no clear motive yet, but naturally Twitter's brilliant armchair detectives are already connecting the dots.

Thankful as they surely are for that help, Pasadena police say they've contacted the FBI nonetheless. The Cheesecake Factory has also released a statement that says: "Law enforcement is actively investigating the incident and we hope to reopen in Pasadena on Friday, as usual."