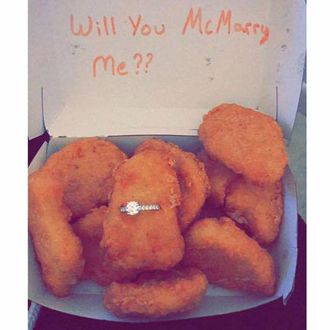 McYes!
Photo: Karsyn Helton/Facebook
Illinois resident Kristian Helton gave his girlfriend Karsyn Long the Valentine's Day present of her dreams this week — a ten-piece Chicken McNuggets from McDonald's … with a diamond engagement ring inside. Helton tells NBC affiliate WAND that, at this point, he's made peace with Long's first love ("Her love for chicken nuggets is, I'm sure, more than she loves me"). Across the top flap inside, he scrawled, "Will You McMarry Me?"

"I didn't hesitate to say yes," Long admits.
"She was pretty excited," Helton adds, before noting he didn't mean about them spending the rest of their lives together. "I think more about the chicken nuggets."