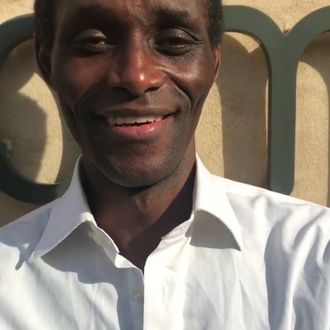 Sonko, pretty stoked about the new gig.
In the craft of high-end dishwashing, Ali Sonko is arguably the world's most famous. He's been polishing ceramic plates and chic stemware as Noma's head dishwasher for the last 13 years, and his energy in the kitchen means more to chef René Redzepi than most people can realize. Just one example: When Noma finally closed down this past weekend, it was Sonko who removed the restaurant's iconic sign from the restaurant's exterior.
Given all that, it's clear Sonko was due for a promotion of sorts. When Noma reopens later this year in a different part of Copenhagen, the 62-year-old Gambian — who looks scarcely half his age — will be a full-on partner in the business. "Ali is the heart and soul of Noma," Redzepi said Saturday during a party he threw to honor the staff. "I don't think people appreciate what it means to have a person like Ali in the house. He is all smiles, no matter how his 12 children fare."
Sonko got his first brush with fame outside Redzepi's kitchen in 2010, the first year Noma topped the World's 50 Best Restaurants list. The ceremony was in London, but visa issues kept Sonko from being able to enter Britain. So Redzepi and his crew took the stage dressed conspicuously in T-shirts screen-printed with Sonko's face.
Redzepi only extended the partnership honor — pretty much the highest recognition he could give an employee — to two other staff members: service director Lau Richter, and James Spreadbury, Noma's longtime manager.