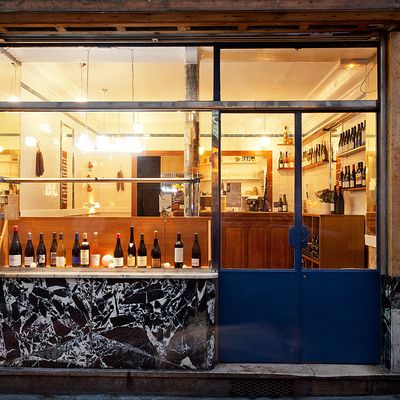 Cheaper than a flight to Paris.
Photo: La Buvette/Facebook
Plans tomorrow? La Buvette, a much-loved bar in Paris that specializes in obscure, natural wines, will pop up at L'estudio, a brand-new, all-day restaurant on Hester Street from the owner of O Café. Camille Fourmont is a big deal abroad: She runs tiny La Buvette (no relation to this Buvette) as a one-woman show — working as the sommelier, waiter, and dishwasher — and she's credited with helping to make the natural-wine-and-small-plates concept (now seen in New York at places like Wildair) as fashionable and popular as it is right now.
Tickets for the one-night-only event (February 28, from 6 to 11 p.m.) cost $50 and include entry and unlimited wine. The snacks will be sold à la carte, and they include Fourmont's smoked fish with raw cream and bergamot zest; goat cheese with pomegranate, black garlic, and za'atar; and burrata with mandarin-skin powder. "We'll have bottles from four different winemakers," Fourmont teases. "Two of them are favorites — young producers that have been making wines for only a few years, and I really like the idea of supporting them. Also, we'll have a very interesting Spanish white wine that I fell in love with this summer, and another white from the south of France — a very confidential cuvée that I only have six bottles of at La Buvette."
Fernando Aciar aims to turn L'estudio into one of New York's top wine bars, welcoming chefs and sommeliers from around the world, and offering an experience that he believes is missing here. "New Yorkers don't relax in the way Parisians do when it comes to sharing wine and food," he says. "Cocktails are always first, and wine is seen as a complement for food. I love La Buvette's simplicity paired with the care and quality Camille puts into everything she serves."