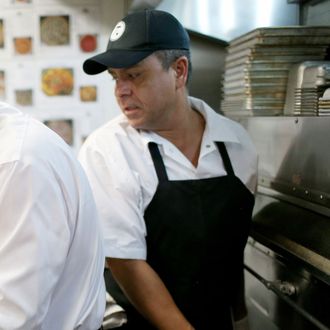 "#ImmigrantsFeedAmerica," Andrés tweeted.
Photo: Joe Raedle/Getty Images
Immigrant restaurant workers in Washington, D.C., say they're skipping work on Thursday to show the Trump administration what life's like without them around. Fittingly called "A Day Without Immigrants," it started as a pretty modest grassroots campaign, but has now spread by word of mouth and snagged the backing of chefs like José Andrés and Tom Colicchio. The goal, of course, is to demonstrate how vital they are to the industry, but the Washingtonian says supporters are even asking participants to bail for the day on shopping, eating out, going to class, or sending their kids to school. One flyer being passed around reads (in Spanish): "Mr. President, without us and without our contribution this country is paralyzed."

Chef Andrés says five of his restaurants in Washington, D.C., and Maryland won't open:

Busboys and Poets, a popular progressive haunt in the capital, says all its locations will be closed as well:

Tom Colicchio has also given a thumbs-up to workers who want to strike:
Other restaurateurs are supporting their workers who decide to strike, but add they aren't sure yet if they'll need to close. At Bar Pilar in Washington, D.C., the entire kitchen staff will be MIA, leaving just the chef. Out of solidarity, he says he'll "try to do our gringo version of Latino food and serve them if they want to come in." Several front-of-house staff working that day have pledged that day's tips to their missing co-workers, and a portion of the bar's proceeds will go to the American Immigration Council.

Jeff Black, a prominent D.C. chef-restaurateur who plans to close his restaurants if necessary, also wants the Restaurant Association of Metropolitan Washington to commit to a day of solidarity with immigrant workers, probably on a Monday when business is a bit slower. "Let the city see what impact it has," he tells the Washingtonian, "when all their favorite restaurants are closed."

Update: The closures are starting to spill into cities outside the capital. A rep for Blue Ribbon writes to say Eric and Bruce Bromberg will shut down the majority of their New York City restaurants tomorrow, too, including Blue Ribbon Brasserie and Blue Ribbon Sushi.