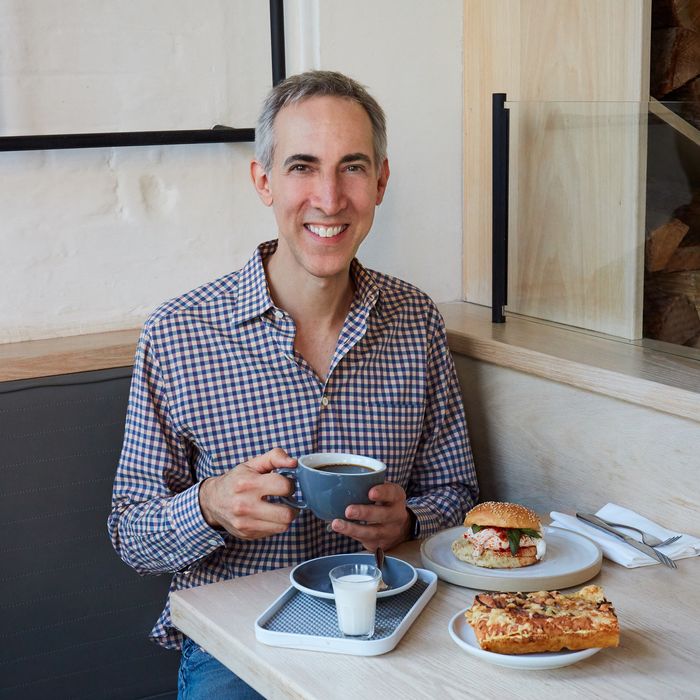 At Lilia — one of his favorite restaurants.
Photo: Miachel Breton
It's an exciting time for Jonathan Rubinstein, the owner of Joe, a highly respected coffee chain that has shops in New York and Philadelphia: Danny Meyer's Union Square Hospitality has invested in his company, which means that Joe, which roasts its own beans in Red Hook, will soon pop up in additional cities across the country. This week, Rubinstein mixed business with pleasure — eating a hazelnut doughnut at a strategy meeting, birthday cake for an employee's birthday, and lamb ragù at Lilia, where he collaborated on the coffee program. He also treated his daughter, Sally, to pie, chicken sandwiches, and homemade pasta with butter and Parmesan.

Thursday, February 2
My morning coffee routine is definitely a ritual, and as a total morning person, I usually jump out of bed because I can't wait to take my first sip. By 6 a.m. I start boiling water in my kettle and eat a piece of fruit and have half a piece of toast with some peanut butter to put something in my stomach before coffee. Once the water boils, I make a pour-over coffee with beans from one of my Joe shops. Today it is a Brazilian coffee from Santa Ines that we just released. I sit on the couch and savor each sip before my 8-year-old daughter, Sally, wakes up and the day has officially begun. Sally jumps on the bus to school in Red Hook, and I leave our apartment in Brooklyn Heights and catch the train to our office in Chelsea.
By 8 a.m. I'm at the office, but today I have an all-day strategy meeting with our new investors, Union Square Hospitality Group. Knowing the way they exceed expectations I have high hopes that they will feed me well. Exceed they do. When I walk into the conference room, there is a gorgeous spread of freshly baked sweet and savory pastries including a passion-fruit danish, a salted hazelnut doughnut with spiced sugar, a tomato-and-olive tart, and a baklava danish with orange blossom.
We have barely finished the pastries when lunch is served: Union Square Events' "family meal" of mushroom, carrot, and fava-bean salad, salmon tartines, and hake with sweet potato purée. Some family meal!
We end the day with drinks and snacks at Porchlight, where I wind down with a pint of Other Half's IPA, an amazing smoky beef jerky made in-house, and peanut hummus with vegetables.
I am pretty satiated from a full day of eating, so my late-night dinner is a pint of raspberries.
Friday, February 3
My morning routine is exactly the same as yesterday's, except my coffee of choice today is our Papua New Guinea from the Baroida Estate, roasted just yesterday at our roastery in Red Hook.
On my way into work, I stop by Daily Provisions for opening day. We are the wholesale partner working on their coffee program, so I wanted to stop by and taste for quality, which is spot-on. I also have a scrambled-egg-and-spinach gougères, which is super yummy, and they also send me off with a fresh loaf of rye bread by baker Justin Rosengarten, which my staff devours as soon as I step in the office.
At noon, I run to a meeting in the Village and take a quick detour on the way, to Citarella, which in my opinion has the best salad bar and is the best deal in the city. I know people are very into the designer-salad trend, but I still like making my own and only spending $6 on it.
At 2 p.m., I'm back at Joe HQ. Today is our director of retail's birthday, so we gather in our Pro Shop space for a quick celebration. He doesn't eat sugar or carbohydrates, basically just meat and vegetables, so we grill him a steak and the rest of us have vegan chocolate cake from Whole Foods.
Dinner tonight is at one of my favorite restaurants, Lilia. Missy Robbins has been a friend and a customer for many years and it's incredible to see her vision turned into a reality, not to mention one of the most celebrated restaurants in the country. We collaborated on her coffee program for Lilia and I stop by the Caffé whenever I'm in the area. Tonight, for dinner with a friend, we go all-out: two glasses of wine, a grilled radicchio salad, roasted trumpet mushrooms, scallops, Missy's famous and incredible lamb-ragù pasta, and of course, an olive-oil cake with soft serve for dessert.
Saturday, February 4
Coffee ritual on repeat with a side of blueberries and raspberries. A few hours later, I have one scrambled egg and half an avocado, both of which have been rejected by Sally. Her birthday party is this afternoon so she can't think about anything else and I have to threaten to cancel it if she doesn't agree to eat breakfast. In between birthday-party errands, which take us to downtown Brooklyn, we grab lunch at Hill Country Chicken — a chicken sandwich for Sally and a kale salad with grilled chicken, sweet potato, and pine nuts for me.
Sally's birthday party is at Karaoke Cave, which is connected to Le Midi, a classic-style French bistro near Union Square, which randomly also has karaoke rooms in the basement. Over the course of the party, while 24 8-year-olds are belting Taylor Swift, I am fairly sure I ate two full plates of their delicious bistro-style French fries and half of the chicken fingers I ordered for the kids.
Birthday cake is literally my favorite dessert and I could eat an entire cake from One Girl Cookies on a daily basis. Sally has never liked birthday cake and always insists on pie for her birthday. I know her birthday is supposed to be about her, but I can't help but indulge the child in me … we splurge and serve both.
After the party, we drive out to New Jersey to for a sleepover with two families I have known since high school and who have kids that Sally loves. When we get there, my friends have ordered Mexican food from Tinga in Millburn and it is delicious.
Sunday, February 5
Naturally, I am on coffee duty and make four Chemexes of Joe's house-blend for the parents who slept over. (Yes, I packed an entire suitcase of Chemexes, a grinder, a scale, an electric water kettle, filters, and a bag of beans.) For breakfast, I have both a bowl of cereal and leftover rice and beans.
When we get back to the city, Sally goes to see a play with her grandparents and I meet up with my friend Missy, who is in the process of expanding her new business, Fresh Coat Nails. I love talking with entrepreneurs about growth and new ideas. We have brunch at Soho House, and while I'm really not a private club kind of guy, they do have the best brunch buffet on the planet. I have a little bit of everything: grain salad, oysters, shrimp, salmon, and vanilla layer cake. Yay, two consecutive days of cake, my favorite dessert!
I'm too full to eat dinner tonight, but I make Sally the go-to meal that kids, and parents, love: pasta with butter and Parmesan cheese. I sneak a few bites.
Monday, February 6
Coffee ritual … Grind. Brew. Repeat.
On my way to work, I stop by Pret a Manger for a Southwestern egg-white wrap, and after catching up on emails, I head out late morning to visit a few Joe shops. I have a taste of our house coffee at our Union Square shop on 13th Street between 5th Avenue and University Place, then I continue onto the West Village for a straight shot of espresso at our Waverly Place shop, the original Joe. The shop always feel like coming home to me.
Sally's favorite weekend hobby is playing "store" — I pay her a $1 an hour and she'll bus tables, give them refills on their water, wash dishes. She's very proud of Joe and feels like she has ownership.
Lunch today is broiled chicken with sweet potatoes and roasted cauliflower from Whole Foods — I do my best to keep my diet lean and clean during the week, and Whole Foods has so many tasty but healthy to-go options.
Sally has a doctor's appointment in Park Slope, the last appointment of the day, and we are both famished when we arrive. I think I may be the only person in the history of the world to order ramen delivered to a doctor's office, but I do it. It's my first time ordering from Wasan, a Japanese restaurant on Bergen Street, but we will definitely add it to our list of delivery go-to's.
Tuesday, February 7
Coffee routine, of course.
Lunch from Whole Foods again: braised chicken, steamed broccoli, and some arugula.
I realize I haven't been cooking as much as I should lately, so for dinner I make Sally some broiled salmon with soy sauce, maple syrup, garlic, and sesame oil, plus Brussels sprouts and mashed potatoes. It's one of her favorite meals and we both feel good about eating it.
My family situation is unique because I'm a single father by choice. I'm a gay dad who had a baby by surrogate, and I try to make our lives as normal as I can in a lot of ways, and cooking is a big part of that, especially in New York. My job is demanding — and it's a demanding time because we just closed on the investment and we're expanding a lot — and as a parent, I try to get as much quality time with her as I can.
Once she falls asleep, I open a bottle of cabernet and start to binge-watch Difficult People. I fall asleep on the couch soon after.