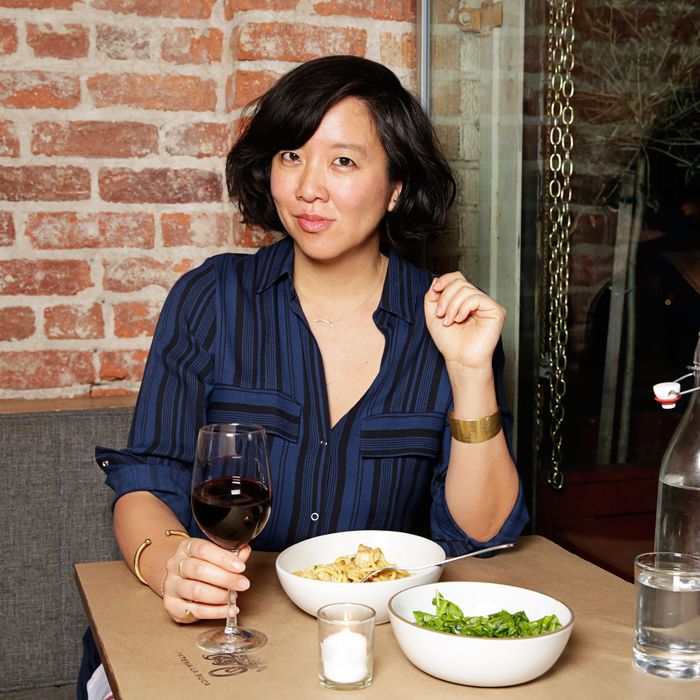 At Osteria La Buca.
Photo: Bradley Meinz
Last fall, Jade Chang published her debut novel, The Wangs vs. the World, to much acclaim, and she's already working on her second book — a process that makes her hungry. Chang's snacks of choice are pretty exceptional: salmon "candy," homemade oatmeal-chocolate-chip cookies, steamed tofu skin in sesame oil, and savory oatmeal with fried eggs. This week, the Los Angeles-based writer also celebrated the Chinese New Year with her family, turning excess dumpling dough into knife-cut noodles. Read all about it, in this week's Grub Street Diet:
Thursday, January 26
I have an ulterior motive for agreeing to keep this food diary: I have been called to spread the gospel of savory oatmeal. It's so delicious! And good for you! Everyone should eat it! Let's make savory oatmeal the avocado toast of 2017! (Bone broth was the avocado toast of 2016. More on that later.)
This morning, it's half a cup of rolled oats brought to a boil in just over a cup of water. I let it simmer until it looks right and then stir in sesame-chili oil, salt, white pepper, and fish sauce (right now mine is, quite unauthentically, from Trader Joe's), then cut up a sheet of dried seaweed and sprinkle it on top along with a few liberal shakes of black sesame seeds. And a fried egg. The best!
Lunch is with two friends from college and another one we picked up along the way (Hi, Inna!). By the time I sit down at M Café there's already a plate of sweet-potato fries for the table, which I appreciate even though I'm not a fan of their healthy ketchup. It's made out of beets and it's just so … un-ketchupy. I have the chopped salad and a couple of little salmon rolls on the side. Because we are four ladies having lunch in Beverly Hills, we talk about lovers and yoga teachers. A woman walks in with a bird on her shoulder and a nanny holding her baby. She coos over the bird and ignores the baby. At one point the bird flies behind the counter and mild chaos ensues. The baby is very calm. That baby has probably seen it all.
I'm working on a new book, which makes me hungry. The star of my afternoon snack is salmon candy — strips of dry-smoked salmon with some sort of sweet exterior. Supporting cast, but still good: a clementine, some dark chocolate, and a pot of ginger tea.
Tonight, dinner is at a friend's house. I already know she's making chicken curry, and as I drive across town the thought of it makes me hungrier and hungrier. It also makes me think that it would be so fun to have a cooking web series called "My Friends Make Me Dinner" — I'd watch that!
But back to the chicken curry. Keshni makes it truly from scratch, frying whole peppercorns, cloves, and cardamom pods in oil to perfume it, slowly browning very finely chopped onions in that oil, marinating the chicken thighs and drumsticks in yogurt and her own blend of cumin, coriander, paprika, turmeric, and cinnamon, adding garlic and ginger and some fresh peppers for extra heat. It's beyond good and actually makes me feel a little high. We discuss what we'd each cook in the show and the answers are all very home-centric: Vietnamese crepes, Swedish toast Skagen. For me, it would probably be dumplings.
Dessert is oatmeal-chocolate-chip cookies that I made a couple of days ago, when it was so cold in my apartment that I needed a reason to turn on the oven, and a pint of vanilla-bean ice cream from Strauss.
When my head hits the pillow that night, my hair somehow lets out a little waft of chicken-curry scent. It smells delicious and comforting and puts me straight to sleep.
Friday, January 27
This morning I do not have savory oatmeal. Instead, there's a pot of cozy stuff in the fridge — lentils, brown rice, and tofu simmered in chicken stock — that is probably on its last edible day. I have one bowl with the rest of yesterday's cut-up seaweed, soy sauce, sesame oil, sesame seeds, and red pepper flakes, and then another with just scallions, sesame oil, and salt. Afterward, a shot of ginger-cayenne kombucha to clear the coziness away and jolt me into work mood.
A word about that chicken stock. It's bone broth. Because bone broth is just … you put bones in a pot of water and turn on some fire! How did it become this special thing that gets prescribed by nutritionists and sold for ridiculous amounts of money at fancy grocery stores? Apparently there are even special bone-broth delivery services. No! Just go to a butcher and ask for chicken backs or beef bones or use the carcass from that roast chicken that you got from the supermarket. Simmer it for as long as you can. Throw all the solid stuff out, let the liquid cool, and put it in the fridge. The next day, the fat will all be on the top — skim it off, and underneath you'll have a lovely jellied thing that is your bone broth. It's basically free! This has been a PSA from your grumpy grandparents.
Lunchtime and I'm not that hungry. I have a Honeycrisp apple and drink as much water as I can stand. For years, I was a Fuji devotee, and then one day, lured by the name — I love honey and crispiness! — I tried a Honeycrisp. It was an aptly named revelation. Also, a Newman's Own peanut-butter cup.
It's one of those obscenely gorgeous L.A. days where the air is clear and (honey)crisp and the sky is blue, blue, blue. I'm really not getting a lot of work done, so I decide to abandon ship and go for a quick canyon hike. Besides, I need to wash my hair before going out to dinner tonight, so I might as well dirty it up a little more first.
Back. Showered. Squeaky clean and starving. I'm a mentor for PEN's Emerging Voices fellowship this year, and tonight's dinner is a meet-and-greet with the fellows and other mentors. We're meeting at their offices and heading to dinner afterward, but they haven't told us where dinner is, and for some reason it feels rude to ask, so now I'm in a snack quandary. Will I want to eat everything tonight? Or nothing? I bet on everything and just have a couple of olives, because the excess flavor tricks me into feeling full.
The bet pays off! We go to Prospect Gourmand, which I've never noticed even though I probably drive by it at least a couple of times a week. There are deliciously charred Brussels sprouts for the table and a baby-kale Caesar made with exceptionally good greens. Sturdy but still tender, which seems desirable for both salads and people. I have the cheeseburger, topped with a mound of thinly slivered crispy leeks. Also fries and some of the red wine that's being passed around.
I'm not sure why people are always so coy about their dessert consumption — you know, "I acquired a handful of chocolates and one or two of them may have found their way into my mouth." I can say with absolute certainty that I ate most of a plate of the roasted apple, mini-doughnut, ice cream, and fresh-whipped-cream dessert. Amelia and I finish ours, and then notice that the other side of the table seems to be ignoring theirs, so we commandeer that, too.
Saturday, January 28
Happy Year of the Rooster! Here's where being a celebrator of Lunar New Year really comes in handy. If you've already messed up 2017, you can start all over again!
Being on book tour and eating a lot of gross airport meals really helped rekindle my love of cooking. Lately, I've been making different versions of chicken Marbella, and for tonight's family dinner, I add a lot of five-spice and fresh ginger to Easternize the standard onion, prune, olive, red wine, and chicken-thigh combo.
Once I'm sure that the chicken has cooked through, I pull the pot off the fire and dash out the door because I've agreed to help my friend Milly with a short film (sometimes living in L.A. is really very L.A.). Saturday morning freeway travel is as speedy as the oil barons intended, and I get there in time for a breakfast taco from Andy's, piled with salsas. Then, I put on a very long veil and the back of my head does an emotive turn as a jilted bride. Afterwards we have a quick poke bowl next door, which is pretty standard except for the welcome addition of kelp noodles.
Oh, New Year's! I walk in the door with a giant red casserole dish, and my parents are rolling out dumpling skins, and my grandmother is slicing fresh bamboo into matchsticks for … I guess you'd call it eight-treasure vegetables? Although, as far as I can remember, there are only five treasures: bamboo, carrot, wood-ear mushroom, baked tofu, and pickled mustard greens. My sister, her husband, and I fill and wrap the dumplings — half pork and cabbage, half shrimp and greens — and discuss what to do with the excess dough. We decide on a sort of knife-cut noodle, which turns out to be my favorite part of the whole meal, eaten piping hot with a garlic sauce. We have those, and more dumplings, and Peking duck and steamed sea bass and my chicken stew and other things I don't even remember, and I feel very fortunate to live near my family.
Sunday, January 29
My grandmother makes this tofu-skin dish that I've never seen anywhere else — it's rolled and steamed in a small bowl with sesame oil, then sliced so that you're eating something with almost croissantlike layers. I love it. There were so many other things to eat last night that we barely got to it, so I absconded with the leftovers and now eat them for breakfast, along with a clementine.
These past few days have also involved constant political reading and discussion and small resistance efforts, but because I appreciate the escapist nature of these diaries, I haven't mentioned it. Today, though, I decide that I have to be part of the immigration-ban protest at LAX and head out in the morning. Thousands of people gather throughout the day and I try to elicit scraps of information from the volunteer lawyers and from the indomitable Maxine Waters. It was inspiring and infuriating and if this were the Grub Street Riot I'd give you a full accounting.
But, because we can only live the lives we have, I need to leave in the late afternoon for a meeting with my sister. I always wonder whether these diaries are 100 percent truthful, but I now tend to think they are because I feel compelled to admit that we are meeting over the wine tasting at Esters, where Krystal does the flowers every week. I walk in and immediately run into my friend Saurabh. I tell him that I was just at the protest. "And now you're here?" he asks, laughing. I laugh too, and also kind of want to cry. It's true. The world is absurd and unfair, and in this moment I am very lucky to have both the time and energy to go to a protest and the means to be here. It's difficult to know how to balance it all.
My sister and I sit down to discuss her business and work out details for some upcoming events, including a Valentine's Day bouquet workshop here at Esters — it's been so fun to watch her change careers. She was an architect and construction manager and now she does these wild and romantic floral arrangements.. Then Saurabh and his wife join us and we taste our way through a lovely lineup of wines. The staff keep popping by to sneak half glasses of one in particular: the Dirty & Rowdy Mourvèdre. I mostly like it for the label — my favorite of the evening is the Montepeloso, a blend of Montepulciano and Cab. As we taste, I eat handfuls of the very addictive house-made corn nuts and lavender-salted Marcona almonds. Afterward, my sister heads to the movies and our friends go out to dinner, but I decide to step into Cassia next door where I have the jellyfish salad and an IPA at the bar. It's a great combo. The salad is smoky, salty, fresh, and crunchy all at once, and the crisp, bitter beer washes it down perfectly.

Monday, January 30
In a move that will surprise everyone who knows me, I'm half-an-hour early to a meeting at Food Lab, so I order an omelette. It is mostly delicious except for the mozzarella, which I somehow thought would be soft and fresh. Instead, it is gummy and gross and I pull it all out, but everything else — sautéed broccoli rabe, roasted tomato, romesco sauce — is perfect.
After, I drive across town to another meeting, and once it's over I realize that I'm right near Proof Bakery, home of the best almond croissant and chocolate-chip cookie in L.A. When my friend Nayoung first opened it, I was at a very undemanding job, so I'd sneak out and work the register once a week, and once I was laid off (surprise, surprise) I worked at Proof for another few months. It was the best fulfillment of my let's-open-a-restaurant dreams — all the fun, none of the risk.
They're testing February recipes, so I get to taste a very beautiful blood-orange tart that's just the right amounts of bitter and sweet and a perfect black-sesame financier topped with candied kumquat. We may all worship berry season, but citrus season also deserves its due. Nayoung's son, lucky kid, has some cookie and a sliver of banana bread. It's a quick visit and I pick up a sandwich to go. What's inside isn't really important (although it's completely delicious) because it's the bread outside that I can't get enough of. It has an almost buttery, salty crunch and, although they insist it's just a classic ficelle, it's better than any I've ever had.
My friend Liz Rose's husband is the co-owner of Osteria La Buca, a restaurant I loved even before they bought in. We do the photo shoot for this story there, and I pretend-drink a glass of Nebbiolo and try to smile convincingly. You do not write a novel thinking that it will ever lead to things like worrying about your nails, which I am sad that I didn't have time to get done before the shoot (picture them a dark red). After the photos, I real-drink the wine and read an amazing book that's coming out in May until my friends arrive. I love eating with these girls because they enjoy everything and will order family style. We start with two of our favorites, the house-made ricotta and the crispy Brussels sprouts — Buca tops theirs with a soft poached egg and a white-anchovy dressing, and they are impossibly good. Charlotte adds an order of angel hair with brown butter, sage, lemon and Pecorino, which is a surprise and a delight. Some sparkling rosé. And then we have the bistecca fiorentina, medium-rare steak served in a big cast-iron skillet with root vegetables on the bottom that are all flavored with the drippings. More red wine, all around the upstairs fireplace, and a new chocolate concoction for dessert. It's good, but my heart will always be with their butterscotch budino. A gorgeous, glowy evening.
Tuesday, January 31
More savory oatmeal! This time I throw a dozen or so cherry tomatoes in with the oatmeal — when it's done cooking, I pop the tomatoes with a knife and smush them in, add a handful of arugula, and put the lid back for a few minutes. After everything melds together, I swirl in a generous glug of good olive oil, plus salt and sriracha, and top with two fried eggs. Savory oatmeal for president!
I spend the morning doing some work for the resistance and then trying to write a scene. Midafternoon. My fridge is packed with fresh things, but there's a last bit of the chicken I made for New Year's dinner, so I cook some quinoa, mix it in, and top with some chopped scallion. You know how stews often get more complex and delicious after a couple of days? This one hasn't, and I spend a little time trying to figure out why.
A friend of mine once told me that she loved washing the dishes, and I have never asked for her advice or opinion on anything else since. The only way I can convince myself to perform this responsible-adult task is by setting up my laptop in the kitchen and watching TV while I wash. My current dishy accompaniment is The Royals, which is starting to feel a little too close to reality.
Tonight is the welcome party for the PEN fellows. They each read some recent work and I try to eat some crispbread very quietly while feeling immensely proud of all of them, even though I have very little to do with it. After the party dies down, a few of us walk over to Musso & Frank's. We get to sit in the big booth in the far corner of the dining room, a rare gift of party size and timing, and I have my second-favorite restaurant meal: shrimp cocktail, French fries, wedge salad, dirty martini. Is there anything better? Yes, there is: beef tartar, French fries, bitter green salad, Bordeaux. Is there anything better than that? Nope. But I had the steak last night, so shrimp cocktail it is.
We eat and the French fries are crispy and the cocktails all come with a little sidecar and we laugh a lot, which feels great after so many tense days, with so many more to come. Matt suggests that we all play a game and I expect it to be something competitive, but instead it's a very entertaining personality probe. He gets each person to name their three favorite animals and three things they like about each animal, and then reveals that the first is how others see you, the second is how you truly are, and the third is what you aspire to be. My answers: (1) a sea otter, (2) a very scrappy mutt that looks like Tramp from Lady and the Tramp, (3) a falcon. Seems pretty accurate.