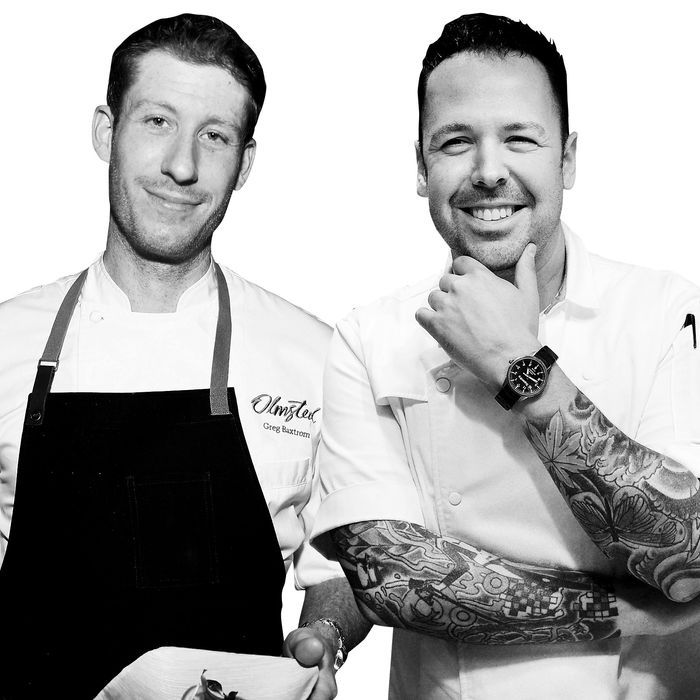 Baxtrom and Silverman.
Photo: Brian Ach/Getty Images; Olivier Douliery/AFP/Getty Images
At Brooklyn's Olmsted tonight, a notable guest will join chef-owner Greg Baxtrom in the kitchen: Aaron Silverman, of Rose's Luxury in Washington, D.C., which skyrocketed to fame after Bon Appétit crowned it the "Best New Restaurant" of 2014. As with Rose's, which has become somewhat infamous for its no-reservation policy and long lines, Olmsted will only accept walk-ins for this collaboration (a practice the restaurant employs every Monday). It's the second time the chefs have teamed up, after a successful one-night stint at Rose's that Baxtrom describes as a "great first date."
Olmsted, a 50-seat spot in Prospect Heights that Baxtrom conceived as a neighborhood restaurant, is actually on a similar trajectory to Rose's — topping countless lists of openings in 2016. While this is, of course, exciting for both of these chef-owners, it also poses a challenge: How do you stay true to your local, regular customers — operating the restaurant in a way that's accessible and relaxed — while still catering to diners who may have flown in for dinner? If a sense of warmth and intimacy is critical to your success, how do you expand? Here, they explain.
How did you first connect?
Greg Baxtrom: Directly, a friend of mine, Johnny Black, works for Pineapple and Pearls as a sous-chef. But long before that, in the last two years of trying to open up my own restaurant, I really admired Aaron's work. Honestly, I'm somewhat just trying to emulate that a little bit. So I just took advantage of that friendship with Johnny Black and tried to see if there was some connection there.
And Aaron, why was this appealing to you — to go out of your way to transplant your dishes to another restaurant?
Aaron Silverman: I didn't know much about Olmsted, except that there was a lot of buzz and a lot of talk. I looked it up and felt super excited by the kind of restaurant Greg opened. I don't normally bring in guest chefs — Olmsted was really the first one that we hosted — but it was fun and smooth. Greg invited us up pretty much anytime we could come. There are a gazillion types of restaurants out there, but sometimes you meet other chefs and you just kind of get each other. I guess it's kind of like going on a date.
GB: We had a great first date.
AS: Greg walked in and was like, "Man, did you guys copy our playlist? This is the exact same playlist."
GB: I slept at your place that night, too.
Your restaurants are both neighborhood places that broke out to become well known by a national audience. How do you balance that, and make sure you're not isolating your regulars?
GB: In terms of our food, we try to stay as approachable, un-intimidating, and as neighborhood-friendly as possible. We try to set aside as many tables as we can so that people from the neighborhood still feel like they can walk in. That's why we went with walk-ins only on Mondays — it combats that stereotype that we're this impossible restaurant to get into, when really it's just that we're not that big of a restaurant. We only have 50 seats. The menu still has a grid that we follow: a white, flaky fish, a white meat, a dark meat, and dishes that are easy to adapt for vegans. But it has evolved. When we opened, there was a play on steak and potatoes, and now we serve pierogies with uni.
AS: Even though we attract people from all over the city and other parts of the country, we make decisions as if we're a neighborhood restaurant.
Aaron, Rose's doesn't accept reservations, and people line up. You seem intent on sticking with that policy — why?
AS: When we opened, we never expected to be as busy as we are. Bottom line is that when I come into work every day, everything I do falls into one of two categories: How can I make the guests' lives better? How can I make the staff's lives better? For the question about reservations, assuming that we wouldn't be jam-packed every night — because you should never assume that — we thought that if the guest comes in and we have to kick them out so that the next reservation can sit down, that's not really hospitable. We wanted people to have a laid back, enjoyable, fun time. So we put down bread when the guests arrive and let them sit and hang out as long as they want. Once we started getting really busy, then it made even more sense, because as we started to get people from outside of our neighborhood, outside of our city, if we took reservations online, everything would be totally booked all the time, and our locals would never be able to just show up. I feel like now 30 to 40 percent of our crowd lives in the neighborhood. If there is a wait, they can walk back home across the street, or they go upstairs to a bar. Reservations would probably hurt our neighbors more than it would help them. That said, we do accept reservations for big groups, because it kind of sucks to have eight people waiting in line.
I just spoke to Anita Lo, and she said it's become increasingly hard to make money in New York as a small-business owner — you have to create a restaurant empire. But part of the success of your restaurants is based on intimacy, and seeing you both in the kitchen. So how do you think about expansion?
GB: I would be lying if I said I didn't want another restaurant someday. But I think what makes me really love coming to work is just how naturally everything fell into place for this one. I probably almost opened like 25 restaurants before this; everything just kept falling about. I think I'll just let the next one, hopefully, present itself, and if it feels right, I'll go with it. My goal for a long time was to try to open a fine-dining restaurant. But you have to take your neighborhood into context. Is it Manhattan or Brooklyn? Williamsburg or Prospect Heights? The key part is catering to the neighborhood. If not, I'm dropping a rock in someone else's neighborhood. If I see a space and it looks like a good spot for a French restaurant, or a sandwich shop, maybe it's that. But for now, I still work seven days a week, so I'm just taking baby steps.
Yes, Aaron, you have expanded beyond Rose's — opening Pineapple and Pearls in April. How'd you come to that decision?
AS: We weren't working to open our second restaurant, which is almost two restaurants in one because we run a coffee shop with sandwiches and pastries, and then the fine-dining restaurant. Originally, at Rose's, we wanted to have a café in the front, and it just never worked out. Then a year or two later, the landlord called us and said he had a building available that's literally the space next door. I don't actually understand the model of spreading out strategically … for me, it's more emotional and organic. We all want to do well and be successful, but at the end of the day, we're doing this because we love it, not because we're going to get rich off it. So I'm waiting for those opportunities to show up and then, like with this collaboration, be like, "Aw, yeah. This works."
I have to ask, do you ever think about opening a restaurant in New York?
AS: I had a lot of great years here, and I think that's enough for me. But who knows? I hope this helps Greg when he's thinking about opening up his next place: When I opened the first one, I was like, I don't see how we could ever expand. I just don't see how that's possible. And you don't see it as possible until it is. What you find over time is that you have such great team members, and they start taking on more responsibility and challenges and moving up and wanting to do more, that you find yourself with more free time. I see managers doing a job that I used to do better than I used to do it. So you can actually improve and kind of grow at the same time. New York is not out of the question. Nothing's out of the question, even though I can't visualize it right now,
GB: Just don't come to Prospect Heights. This is my turf!