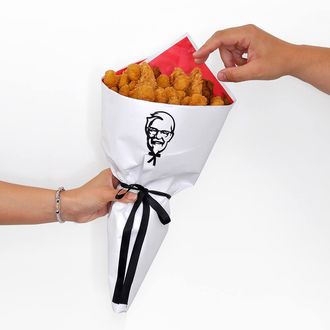 Sorry, your date won't be enjoying one of these.
Photo: KFC
Because nothing says "love" quite like a dozen long-stemmed drumsticks, KFC is delivering bouquets of fried chicken to amorous eaters today. It's one free bucket of "the best smelling" popcorn chicken, chicken strips, and Original Recipe drumsticks, but unfortunately the promo's only good in New Zealand, and there are just two KFC Bouquets being given away. (Maybe it's more romantic to make your own bouquet from chickens you caught in the wild anyway?) Luckily, restaurant chains of the world always go all-out with the Valentine's Day freebies, so if you and your date are just dead set on locking eyes over half-price burritos tonight, you can realize that fantasy.
Here are some top-notch suggestions definitely worth considering:

Subway: Participating stores in the U.K. are offering a free six-inch sandwich today to any customer who buys a large drink. This promo is actually ideal for the couple that considers Valentine's Day an arbitrary holiday fabricated by the consumer-products industry, because Subway says this offer actually celebrates something it's referring to as "Customer Appreciation Day."
Shoney's: The chain is offering a "2 for $24.99" couples deal for a special "fresh food bar." This is a whopping 99-cent discount off the special's $12.99 cost for solo diners. Single or not, though, everybody who purchases the deal scores a free hot-fudge cake.
Qdoba: The burrito chain will reward patrons who kiss another person at the register with a buy-one-get-one-free deal. Qdoba knows free guac can drive people to extremes, so it's begging customers to please keep their lips off anyone in line who wouldn't 110 percent label themselves an "understanding stranger."
Hooters: First, you have to buy ten wings. Second, make sure you have a photo of your ex handy, because you are going to have to shred, burn, fling darts at, or otherwise destroy that image in order to get a coupon for ten more free wings. (On second thought, maybe it's best to just enjoy all 20 of these by yourself.)

Auntie Anne's: Use the chain's app to buy one "heart-shaped" pretzel (i.e., just a normal-shaped pretzel) and get a second one for free. Because no occasion beats the romance of you and your significant other separately eating ordinary pretzels while in a mall food court.