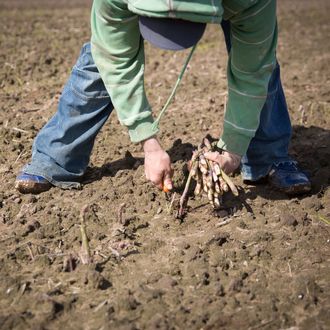 Always a thankless job.
Photo: Matt Cardy/Getty Images
Here's a familiar-sounding argument: British farmers say the impending Brexit, which will reduce immigration significantly, could send their industry into a free fall, since about 20 percent of the workers in their fields are foreign. As a result, England's largest farmer union is pleading for a trade deal that allows not just access to the rest of Europe's market, but also the ability to employ Europe's workers. Leave out that part, the union's president warned yesterday, and the citizenry should definitely expect hunger pangs on the horizon: "The lights would go out in our biggest manufacturing sector, food will rot in the fields, and Britain will lose the ability to produce and process its own food."
A 2015 count of U.K. farmworkers estimated that about 22,000 were from somewhere else in the EU, which amounts to about 20 percent of the industry's workforce. For various reasons, that figure is harder to calculate in America — one being the high stakes of workers' legal status — but a good guess seems to be that almost half the laborers in key farm states like Iowa, New Jersey, and Washington are undocumented.

Luckily for farmers across the pond, Britain's environment secretary Andrea Leadsom promises that while it's important to remember that curbing immigration was a "key factor" behind the leave vote, she's also heard "loud and clear" that workers from all over Europe play a vital role in their agriculture industry.