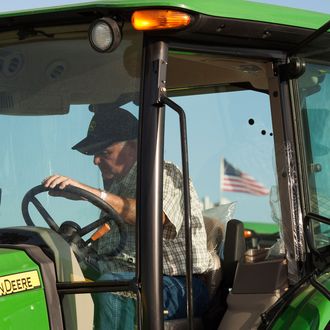 Very sad!
Photo: David McNew/Getty Images
Farmers voted in droves for Donald Trump (maybe even by a 3-to-1 margin), but the idea he "owes" them his presidency may not be one he takes very seriously, they're realizing. Various farmer groups are starting to use phrases like "very worried" and "very concerned" to describe their feelings about the next four years. They aren't seeing signs of the progress they hoped for despite their industry being in pretty obvious dire straits: As one farmer explained it in December, "Every sector in agriculture is underwater or barely profitable," so "those people who go to church and pray for plenty of food, they got their wish" when Trump won.
Or that's what many of them thought. From the Financial Times today:

The US president has pledged to revise Nafta, wall off the border and possibly slap Mexican imports with tariffs. Trade in agriculture could end up a casualty.

"The attitude has changed in the last three or four weeks," says Rajiv Singh, chief executive of Rabobank's North America wholesale banking business. "Right after the election, people were starting to talk about whether there would be an impact on trade with Mexico, but they were not worried about it."

Now, with the administration signing order after order, "people are really thinking hard about it," Mr Singh says.
Ranchers are starting to feel shafted as well. The National Cattlemen's Beef Association, the largest trade group, told Bloomberg on Friday that members are sweating bullets over Trump's threat to withdraw from NAFTA, which he's called a "catastrophe." Beef output is forecasted to hit a six-year high in 2017; bad trade relations with Mexico and Canada could cause a serious domestic oversupply. As the trade group notes, "Americans are not going to eat more beef at the same price."
The Financial Times adds this prospect that has got to be depressing in the industry: Farmers' silos are "bulging with surpluses," land values "are softening," and the going rate for grain is "weak." A former USDA chief economist says tariffs imposed on either neighboring country's exports "would play havoc with supply chains" and probably cost farmers billions per year. Everything has created enough anxiety for 133 trade groups to send Trump a letter at the end of January about NAFTA, reminding him that "U.S. food and agricultural exports have produced a trade surplus for nearly 50 years," and it'd sure be nice not to worry what's going to happen in the 51st.