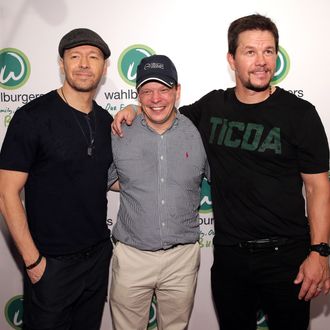 Drama runs in the bloodline.
Photo: Neilson Barnard/Getty Images for Wahlburgers
That gift from the reality-TV gods known as the Wahlberg trio is caught up in yet another lawsuit in their ongoing war with two business partners, who they once considered longtime family friends. Billy Leonard and Edward St. Croix, both part of the crew that founded and owned the original Wahlburgers location outside Boston, have sued the brothers for at least the second time, alleging once again that the siblings run a shady burger enterprise.
According to the Boston Globe, their 33-page complaint outlines a litany of misdeeds, from stealing their ideas, to threatening physical violence, to hoarding money. The two men contend that while they were instrumental in getting the original restaurant in Boston off the ground, the brothers conveniently forgot to mention plans about franchising. "Ultimately, the three Wahlberg brothers — whose interpersonal relationships are dysfunctional — wound up as the sole managers," the lawsuit argues. "They then stole the most valuable franchise opportunities for themselves."

Both men go way back with the Wahlberg clan. Fans of the A&E show will remember Leonard as the guy always making inside jokes from his childhood days with Mark. St. Croix was also once a friend of the Wahlberg family, and he argues the whole Wahlburgers idea was his. The Wahlbergs have also sued him for "improper conduct" with finances; but in this suit, at least, he and Leonard take credit for getting the Wahlburgers brand up and running despite the brothers' "extreme dysfunction." As a thank-you, the friends argue that they were squeezed out. They also claim that the brothers shrank their ownership shares (to 7.87 percent in St. Croix's case, and 3.37 percent in Leonard's), that Mark tried to fight Leonard on the show's set in 2015, and that it was news to them in 2014 when Wahlburgers announced it was opening locations in New York, Philly, and Vegas.
A Wahlburgers spokesperson gave the Globe a statement dismissing the lawsuit as "frivolous and unsubstantiated." It says the lawsuit, with "its unbridled litany of false and misleading claims," has been concocted "to further the plaintiffs' own personal agendas at the expense of the truth, the Wahlberg family, and other investors." It closes with a line that Mark will probably read in the movie he'll eventually direct about their rags-to-riches chain: "Family, fairness, and integrity are at the core of the Wahlburgers brand, and we are prepared to protect the values for which we stand."