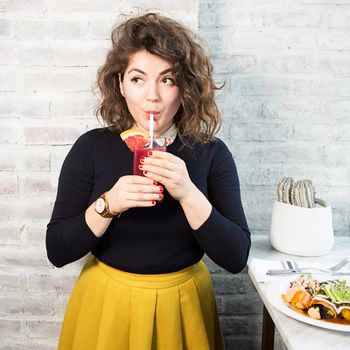 At Café Gratitude.
Photo: Bradley Meinz
As the founder of Hedley & Bennett, Ellen Bennett produces handmade aprons for many of the country's top chefs and restaurant staffers, and she lives a life that's as bold and colorful as her designs. (Her Los Angeles showroom includes a zip line and a tree house.) This week, she hosted a celebration of Radio Cherry Bombe's 100th episode at her HQ, plus a friend's baby shower at home (where she cooked buckwheat-buttermilk pancakes), and still managed to hit the town for Korean BBQ, an Italian feast, and Thai noodles. Read all about it in this week's Grub Street Diet.
Thursday, February 9
At 6 a.m., it's rise and shine and time for Muay Thai! But first, I make a smoothie for the road.
Since day one of 2017, I've been so slammed at Apron HQ with a million projects that I've started waking up extra early to make sure I take care of myself before the day kicks into high gear. I've started exercising like crazy, which helps me keep my head on straight — I do a mix of Muay Thai, spinning, yoga, and boxing.
Before I head out the door, I throw a bunch of fruit in my Vitamix, to put something in my stomach before the workout. I love citrusy smoothies (it's the Mexican culture in me), and this morning, it's oranges, strawberries, apple, kefir, and frozen banana. I always use frozen banana as a base, because I love it and it makes the smoothie so much creamier.
After class, I work at home in the morning before a meeting. My pet pig Oliver — who we got when he was a little baby, and who is now 100 pounds — loves when I'm home, and stays close by as I furiously catch up on emails. I look up at the clock and it's noon, so I head to the fridge to see what we've got … some leftover carne asada I made the night before and salsa verde. I sauté the steak with a bunch of zucchini, and top it with the salsa. Hits the spot.
Before I run out of the house, I peel a giant grapefruit for a snack. I was recently in Palm Springs for my boyfriend's Jewish grandmother's 90th birthday, and we stayed at this incredible house with a million citrus trees on the lot — tangelos, grapefruits, oranges, tangerines, lemons (the big gigantic kind). It was a freaking free-for-all of citrus heaven. We found a box, loaded it up with citrus, and brought it home with us. We're slowly working through our Palm Springs foraging loot.
At 7 p.m., I frantically run out of the apron factory, and head to a ladies soirée hosted by Clare Vivier. I admire the hell out of Clare and everything she's created. When I get to the party, I realize I'm starving. Shoot. I spot a big plate of Brie and crackers and beeline toward it. Everyone there is very fancy and not really eating, but whatever, I get after the Brie and crackers.
Before heading home, I swing by Mixto, a no-frills Mexican spot in Silver Lake, because the Brie just didn't cut it. I close out my fancy night eating a taco in my car in the Mixto parking lot. When a girl needs a taco, girl needs a taco.
Friday, February 10
This morning, instead of working out, I'm working in the backyard garden. I quickly shower the dirt off of me and run to Apron HQ for a 9 a.m. meeting, sneaking in a little food before we start. Continuing to work through our heap of citrus, I make a juice with a bunch of different oranges (blood, tangerines, Valencia, Cara Cara) — this is the best kind of orange juice because it's citrusy, sweet, and layered with flavors. I also make my version of an avocado toast, which is on Wasa crackers with a really thick layer of diced avocado, and topped with crumbled feta, a little olive oil, and Maldon salt. It's the simplest, most delicious thing ever.
Around noon, I run over to Destroyer for a meeting, and enjoy every damn sip of my chai latte. It's thick, creamy, and really hot. Destroyer is such a great new addition to L.A.
I get back to Apron HQ and it's nearly the weekend, but I still have a million things to do, and my good friend is visiting from out of town! As good friends do, he convinces me I need to meet him for Korean BBQ at the legendary Park's. Despite being born and raised in L.A., I actually have never gone to Korean BBQ with just one person, because you usually end up going with a giant crew. We still order lots of meat, and stuff our faces with galbi pork, beef short rib, and mapo tofu. My favorite thing to do is ask for the moist rice papers that you can roll up the meat in, like a taco. I add a little bit of kimchi, salt, and soy, and it's ah-mazing.
Saturday, February 11
Today, I'm hosting my dear friend Courtney's baby shower. I've known her for almost ten years. While she lives in Boston now, she has a ton of friends in L.A., and I wanted to host this for her. I'm up at 8 a.m., in the backyard, feeding Oliver and the chickens, and then putting them in their coop and pen. We can't have our whole damn farm out during the baby shower!
Then I start in the kitchen … I make a big charcuterie plate, salad, frittata, lots and lots of orange juice, a big spread of bagels, lox and cream cheese, and a batch of buckwheat-buttermilk pancakes. The guests arrive at 11 a.m. and we have a lot of fun just hanging out and catching up in the backyard.
After the party's over and everyone's cleared out, Courtney and I head to Wat Dong Moon Lek noodle shop for tom yum with brown rice, lemongrass-lime chili broth, mushrooms, and fresh coconut, because you never eat enough at your own party.
Sunday, February 12
I'm up early this morning for my "Intro to Judaism" class. My boyfriend, Casey, is Jewish and I'm converting, so I have to put myself together to go study the Talmud.
After Sunday school, I get in a SoulCycle workout, but it's not until after, when I'm practically hyperventilating, that I realize I haven't eaten anything all morning. Of course, I've left my wallet at home! When I get home and break into the fridge, I find some leftover chili, so I go with that.
Tonight is the Grammys, and I got invited by a friend to Universal's after-party at the Ace Hotel, so I spiff up for a bigger-than-usual Sunday night out. Before heading downtown, I go to dinner at Speranza, which is sincerely one of my favorite restaurants in L.A. It's so not fussy, and not on the food-scene heat map, but it's that warm and welcoming place you go with a girlfriend. I ordered rigatoni Bolognese, burrata with fresh heirloom tomatoes, and the homemade lasagna that takes almost 40 minutes to make, because it's done à la minute (but so worth the wait!).
Next, I head to the Ace and pretend like I belong at this swanky party. It's going really well … my friend and I find a giant couch with two giant plates of food in front of it, but then the security guard comes over and asks us to move so Katy Perry can sit there. We happily oblige, then call it a night.
Monday, February 13
Muay Thai at 7 a.m., followed by a smoothie.
After that, I barely eat all day because I'm in and out of meetings and running around getting things done for a big Cherry Bombe event. They're hosting the live taping of their 100th Radio Cherry Bombe episode at Apron HQ, and I'm slightly freaking out because Nancy Silverton (a longtime apron-squad member) and Ruth Reichl are speaking! At 7 p.m., the event is about to start, everyone is seated in our showroom, and I swing in on the zip line that originates in my tree-house office, and spans the length of the factory, to give an opening "pep talk."
The rest of the night is magical. The amazing Nina Clemente did the food, and I've got to get the recipe for her delicious marinated castelvetrano olives.
All night, I can't stop thinking about how lucky we all are to be part of this amazing community of women in food, and to have so many of these women in one room. There were old friends, and new friends, and it was awesome to hear all the different paths we've taken to get where we are tonight.
Tuesday, February 14
Feeling like I need an extra energy boost this morning, I stop at Café Gratitude's Downtown L.A. location on my way in for a vitamin-heavy juice.
After what feels like a tornado of activity on Monday, my day is packed, because I'm heading out of town the next morning. By the afternoon, I realize I've eaten candy in every meeting — a box of Sugarfina's sugar lips (freaking delicious), Quin's beautiful handmade candies from Seattle — and decide healthy eating can take a rain check for today. At 2 p.m., I'm back up to the tree house, and there's more sweets! A baker I met in Columbus, Ohio, when I was on a road trip with Jeni Britton Bauer, of Jeni's Splendid Ice Creams, sent me a box cookies. I crush the box.
At 7:15, I'm still at the office, but I have got to get out of here. My boyfriend has just returned from Peru, and I'm determined to enjoy at least part of the day with him. I stop by Pizzanista on my way home and grab half a white pie, half a pepperoni pie, and decline to have it heated because it will take too long. When I finally arrive home, he has a bouquet of tulips for me, and we eat the cold pizza standing over the counter. To tell you the honest truth, there is no fancy meal in the world that could have meant more, and there is no where else I'd rather be.