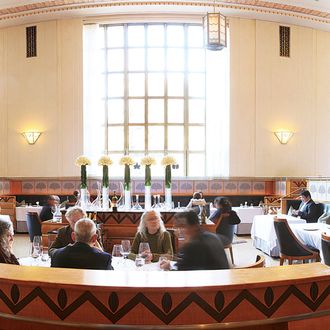 Photo: Victor Prado/New York Magazine
The race for New York's Restaurant of the Summer is off to an early start: While Daniel Humm and Will Guidara close and renovate Eleven Madison Park, they'll open "EMP Summer House" — a seasonal pop-up in East Hampton. Humm and Guidara have changed the menu over the 11 years they've owned the fine-dining mecca (it first belonged to Danny Meyer), but this is the first time they've made major cosmetic changes.
After Eleven Madison Park closes on June 9, they'll introduce the pop-up later that month, complete with an indoor restaurant inside a farmhouse, another dining room under a tent, and an outdoor area. (No pool?) You can expect the food to be considerably more casual than Eleven Madison Park's, but still luxe — for example, there'll be a lobster boil. (Hopefully Humm's excellent NoMad Bar burger makes an appearance.)
Reservations go online on May 1, but you'll only be able to make one if you have an American Express card. (American Express will actually be the only form of credit-card payment available at the restaurant.) Considering the high demand for good restaurants in the Hamptons, this is going to be a tough table to score.

This post has been updated with information about the American Express partnership.