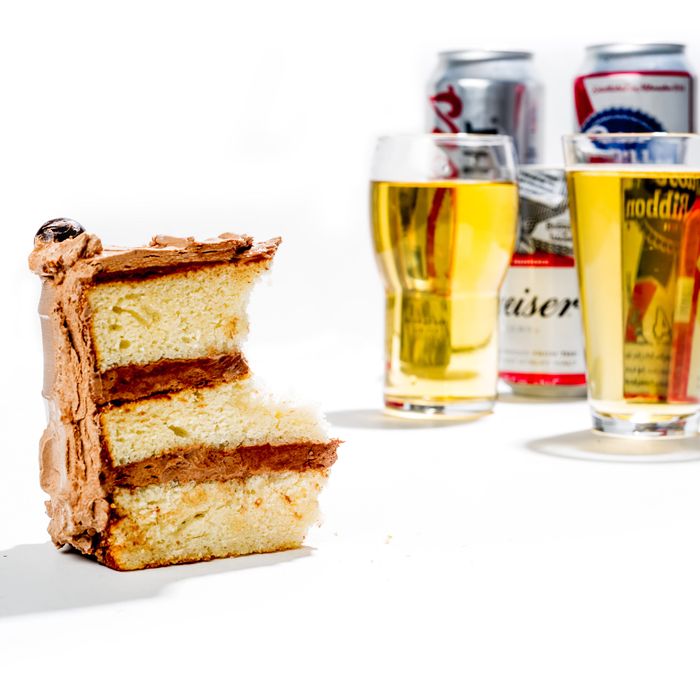 Honestly, it's pretty good.
Photo: Jed Egan
Recently, at a bar that puts equal emphasis on drinking and eating, a generous server gifted me some free dessert. The dessert itself — a fluffy doughnut covered in cinnamon and sugar and topped with whipped cream — was good, if a little unexciting. Instead, what made me really take notice was the way the doughnut complemented what I was drinking: beer.
This particular beer, a saison from North Coast Brewing Company, had a dry finish that cut through the cake's sweetness, and a relatively thick texture that only enriched the effect of the whipped cream. This was a surprising, natural pairing right up there with oysters and stout, the gastropub equivalent of white truffles and vintage Barolo. It also made me realize more people need to drink beer with dessert.
It's not so crazy. Even though dessert wines and digestifs have stood the test of time, it's only been a somewhat recent development that people will serve wine traditionally meant for savory food at the very end of a meal. Why not beer that's intended for savory food, too?
Granted, some more esoteric craft beers show up at unexpected points in a meal — many are brewed expressly for dessert or maybe breakfast, and there's even a beer inspired by Swedish Fish (it's not as bad as it sounds). But there's still a relatively limited audience for those drinks — especially when compared to the number of people who will reach for something like bourbon or sweet wine after a meal. And the kind of middle-of-the-road beer that everyone drinks from time to time is still saved for pairings like wings and pizza. Really, though, there's a dessert to match every beer — even really cheap stuff like High Life, PBR, or Bud, which during a recent taste test made a great partner for an individual apple pie. This is no accident.
"Budweiser is a match with everything," says Alex Pfaffenbach, the assistant GM for food and beverage at Daniel Humm and Will Guidara's NoMad. The King of Beers is fairly acidic and bright, and — in the case of the apple pie — there's just enough grain flavor to help buttery crusts stand out. It also doesn't hurt that Budweiser has been engineered to taste as inoffensive as possible to the majority of the population.
Even still, there are less-obvious, and slightly more interesting, ways to match beer to sweets. Here's how Pfaffenbach and Del Posto wine and beverage director Matthew Orawski suggest getting started.
Match Miller High Life With Literally Anything Sweet: Pfaffenbach loves the Champagne of Beers "because it's overcarbonated and super refreshing, and it's light." Think of beer-and-a-shot combos, where the beer acts to cut the heaviness of the liquor. The same approach works for dessert. A vanilla cupcake and a pony of High Life are just about perfect together.
Eat Chocolate Mousse With Strong, Dark Beers: Mild stouts like Guinness are such a natural dessert complement that they're often used in chocolate desserts — Vinegar Hill House's Guinness cake with cream-cheese frosting remains a truly great dessert — but as a dessert's richness increases, you want a beer that's bold enough to stand up. For something like chocolate mousse or chocolate cake, reach for something like Founders Imperial Stout or — most obviously — Brooklyn Brewery's Black Chocolate Stout. For something super-rich like brownies, Orawski even recommends something like a dark IPA, with subtle spicing, not to mention a little bitterness.
Blue Moon Pairs With Spiced Cakes: Brewed with orange peels, coriander, and other spices, Blue Moon is a refreshing macrobrew that still has some unexpected flavors that pair well with spiced cakes like carrot, bread pudding, and coffee cake.
Drink Crisp IPA With Pineapple Upside-Down Cake: If you're having a tropical dessert like pineapple cake or passion-fruit tart, try a fruity IPA, something that favors hop aroma over intense bitterness, like a Dogfish Head 60 Minute IPA or a Lagunitas Little Sumpin' Sumpin' Ale.
Make a Float With Vanilla Ice Cream and Oatmeal Stout: If you want something dead simple, Pfaffenbach suggests the float equivalent of a Little Debbie's Oatmeal Cream Pie: "My favorite thing to do is take a scoop of vanilla ice cream and put it in a Founders Breakfast Stout," he says. The beer has this "super creamy, delicious texture — you drop a scoop of vanilla ice cream in there and it's over."