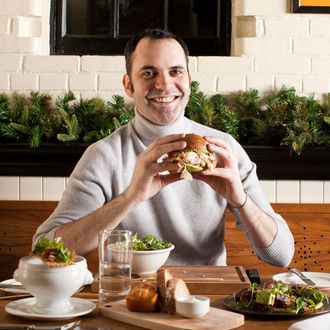 Ansel's headed west.
Photo: Melissa Hom
Since riding Cronuts to international pastry fame, Dominique Ansel has opened Dominique Ansel Kitchen in New York, complete with a dessert-tasting menu upstairs, and taken his company across waters to London and Tokyo. But he's so far limited his fondant influence in the United States to New York. That will change later this year, when Ansel expands to Los Angeles with a branch of Dominique Ansel Bakery and his first full-service restaurant.
The location(s) of the projects has not been revealed yet, but Ansel promises brunch, dinner, cocktails, events, and more than just sweets. He'll be cooking undisclosed savory dishes — will he apply his trademark whimsical techniques to French toast and burgers? — as well as, fear not Instagrammers, his signature confections. This is certainly a big move for the chef, who is arguably the hardest-working man in sugar.