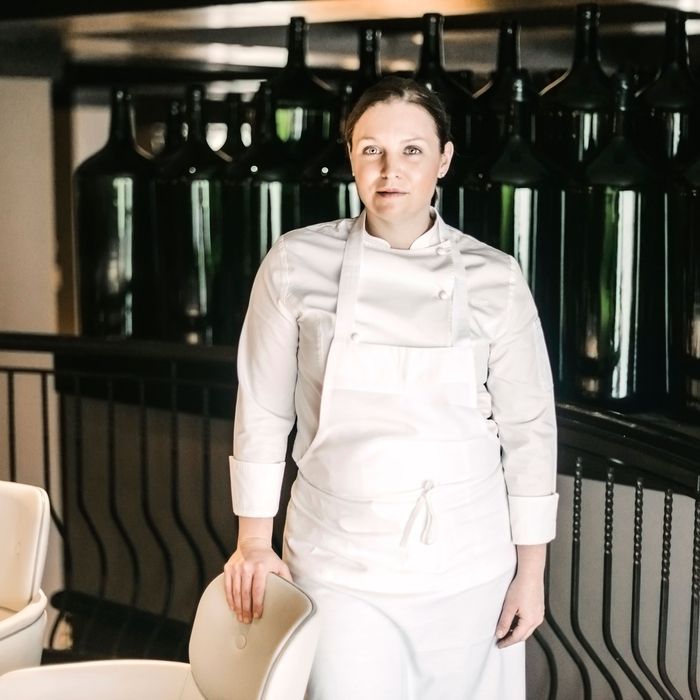 Rodriguez's new dishes debut this week.
Photo: M. Cooper
"How do we make this feel like your grandma made it, but present it in a way that makes it feel like your grandmother was a queen?" That's the challenge facing new executive chef Melissa Rodriguez as she takes control of the kitchen at Del Posto, the twelve-year-old, much-lauded luxury Italian restaurant owned by Mario Batali, Joe Bastianich, and his mother, Lidia. As of this week, Rodriguez officially takes over for her former boss, Mark Ladner, who ran the kitchen for the entirety of the restaurant's existence. In stepping into the role, Rodriguez becomes the first female chef at a restaurant that holds four stars from the New York Times (among its many other accolades). Rodriguez is aware of the pressure, so she's making moves to help the restaurant's food become more refined and ambitious than ever before.
Rodriguez first became interested in cooking as a kid growing up in northern New Jersey; she didn't like her mother's food, so she made her own. What her family did instill was respect for the act of dining itself: "They were very strict about table manners," Rodriguez explains. "My mom was my Girl Scout troop leader, and when I was in the second grade, she took my troop to the CIA [Culinary Institute of America] to have lunch, because she thought that we would learn better table manners. I remember feeling really intimidated by the size and stature of everything there. That was my first introduction to a formal meal."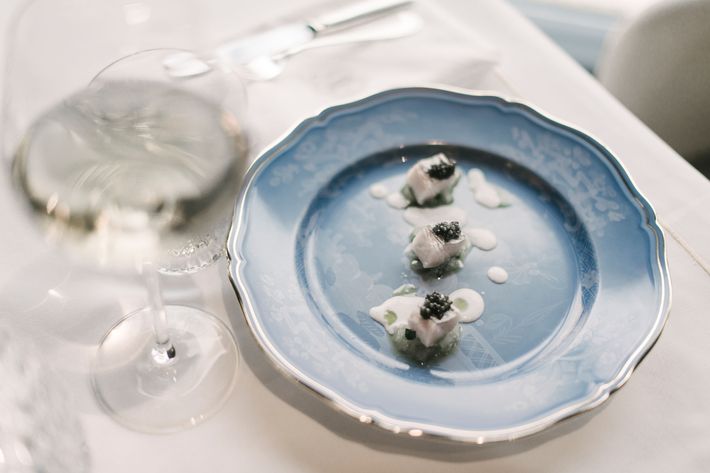 Rodriguez went on to attend the CIA right out of high school, and landed her first job in a New York kitchen at the Cub Room when she was just 18. After a few years — during which she says she was "too intimidated to do anything in fine dining" — she started working at the original Oceana under chef Cornelius Gallagher. "He was super, super intense — in the way that you walked into work every day and you swore you were going to get fired," she says. "Things happened that no longer happen in kitchens anymore."
Gender discrimination still persists in professional kitchens today, but it was glaring back then: "I remember one day I was working the fish roast with two other women and the chef walked in and he was like, 'You've got to be fucking kidding me. All these women? This is not my kitchen.'" Rodriguez realizes that she thrived because she responded to his aggression by keeping her head down and moving faster. As for her female peers: "All of them were really good, but none of them got very far, to be honest. I know that sounds awful. Most of them made it to hot apps, and that's where they threw in the towel."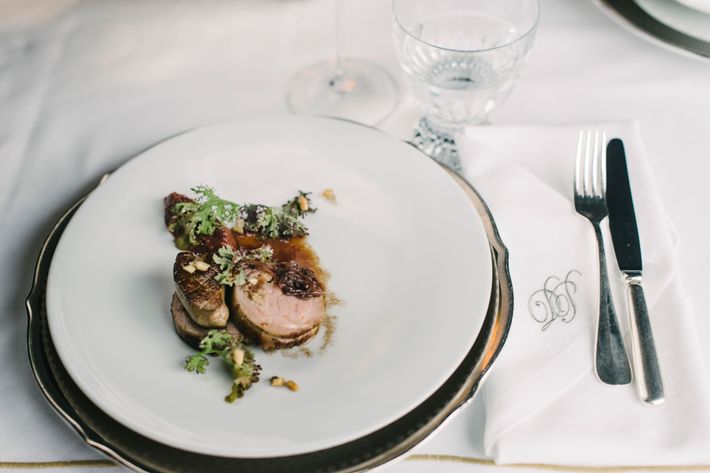 She moved up the ranks by joining the team at Daniel as a line cook, and proved her worth by working the meat-roast station — "the hardest station in the city," she says. After earning the sous-chef title there, she left to open her own restaurant in Jersey City, where she currently lives. But it fell through at the 11th hour, owing to a contractual dispute with her partner — an experience she describes as devastating, like "losing a friend."
It was during this time that Rodriguez began working at Del Posto, which was only supposed to be a temporary gig. "The old chef de cuisine is a very good, old friend of mine," she says. "He called me and was like, 'I'm totally in the shit for sous-chefs. Can you come one or two days a week?' I said, 'I don't know anything about Italian food. I don't know anything about your kitchen. It's a huge restaurant. Are you crazy?' And he just said, 'You're fine. You'll be fine.'"
In 2011, she joined Ladner's Del Posto team full time — a decision she credits to "one of the funnier things that's ever happened to me in my life." Ladner called her in to talk about expectations, since she had never before worked in an Italian restaurant, and Daniel Boulud's style is more regimented. "He goes, 'So, you're one of those women who has hair that's kind of wavy and kind of straight. And I imagine that when you go and get your hair cut and it gets blow out, you're happy, because it's all nice. I want you to pretend that you're walking out the hair salon, your hair is all flowing, and then I want you to mess it up.'" While this could've easily been interpreted as a male chef's obtuse attempt to relate to a woman, Rodriguez found it charming. "I was like, I can do this. I can figure this out. And I became less focused on making things perfect."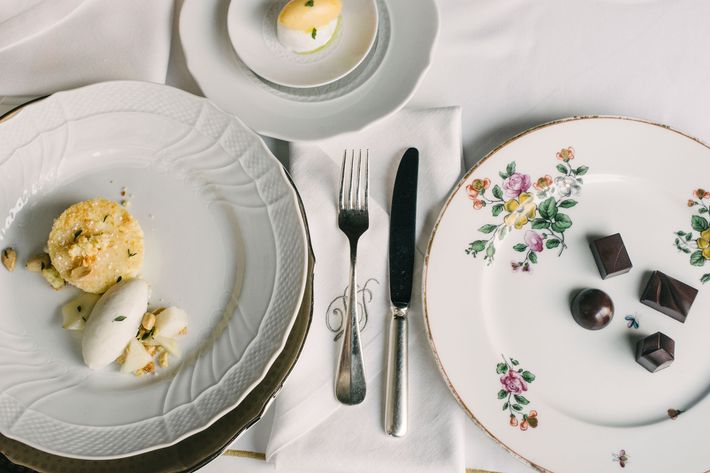 She thrived, eventually becoming Ladner's chef de cuisine, and before he officially announced his departure (to launch Pasta Flyer, a fast-casual chain), he told Rodriguez that he wanted her to think about moving into his role. She didn't hesitate. Within six years, she went from having never cooked Italian food to helming the kitchen at one of Manhattan's most high-profile — and most expensive — Italian restaurants.
She feels confident overseeing a staff of 50 in a 10,000-square-foot kitchen; the challenge is making the food her own at such an established restaurant. After working under high-profile chefs for decades, what's her personal cooking style? Starting with a clean slate didn't feel right, so Rodriguez plans to slowly implement changes to the $150 and $180 tasting menus (lunch costs $50 — one of fine dining's better deals). "I still feel like I'm always trying to make Del Posto my own, because it's always not going to be all my own, because it is the restaurant that it is," she says.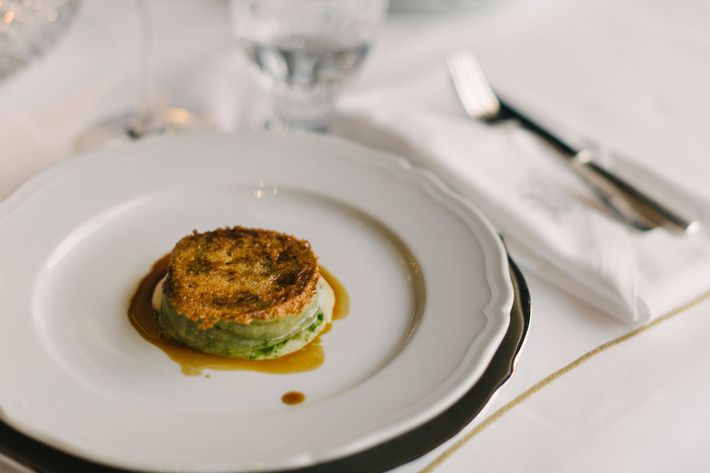 Even still, changes have arrived on the menu, starting with an update on the restaurant's most famous dish, Ladner's famed 100-layer lasagna: Her "Girello Genovese" is pasta that's filled and rolled with porcini, pesto, roast pork, and Pecorino Toscano, sliced into a disk, and pan-roasted with more Pecorino. Rodriguez is also modernizing by bringing in new purveyors — The Brooklyn Bread Lab's Adam Leonti now makes Del Posto's classic bagatini with whole-wheat flour. "I want presentation to be a little tighter, flavor profiles to be a little tighter, ingredient-sourcing to be a little tighter," she says. "I keep saying tighter!"
That doesn't mean she's planning on doing anything "crazy or molecular," only that she's embracing food that's unabashedly luscious. "Obviously, I really enjoy doing fine dining," she says. "Everyone is stepping a little bit away from it, but I feel like we should embrace it. Why wouldn't we? We have this as our stage."