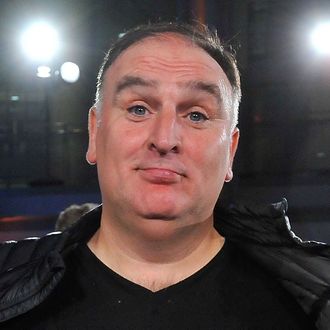 Can't wait.
Photo: Larry French/Getty Images for DC Central Kitc
When President Trump takes the podium tonight for his first address to Congress, the attendees he'll have to stomach staring at the whole time include undocumented immigrants, Iraqi refugees, women protesting in white, and now his chief legal nemesis, José Andrés. Congressman Filemon Vela told CNN earlier today that the chef has agreed to come as the Texas Democrat's "very special guest."

Even if Andrés keeps his cool and doesn't start tweeting at the president mid-speech, the drama will be palpable considering both men are suing each other for $10 million.
Vela explained that he and Andrés will be there tonight "to listen to the president" and "hopefully see a redirection in the president's rhetoric with respect to our relationship with Mexico and with respect to his abominable deportation policies." CNN's anchors pointed out to Vela that he "clearly" wants to send Trump a message, too, "based on your guest, someone who's in direct conflict with the president." Vela granted there was truth to this, saying their message is that "people that are working in hotels, restaurants, construction sites, and agricultural fields all over this country are now subject to deportation, and those are the people that José Andrés and I think we need to protect." He added that while they "intend to respect the decorum of the House of Representatives" during Trump's talk, in these situations sometimes it's best "just to wait to see what happens."