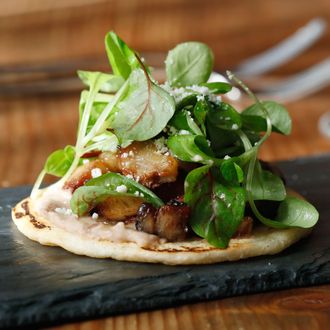 You can still find the fantastic arepas at sister restaurant Colonia Verde.
Photo: Melissa Hom
Yet another small, beloved restaurant is closing because of a rent spike: Cómodo, which opened in July of 2012 on MacDougal Street, will serve its last meal on Sunday, March 19. This is the first restaurant that husband-and-wife team Felipe Donnelly and Tamy Rofe opened in New York, so it has sentimental value, but fortunately, you'll still be able to find them at Colonia Verde in Fort Greene. (They also have a thriving catering business, Comparti.)
Since they opened 40-seat Cómodo almost five years ago, their rent has increased by 36 percent, so they've decided not to renew their lease. The other struggle, of course, is standing out in a competitive market well after the new-restaurant buzz has worn off — to this end, they revived their menu last spring. Over the years, new neighbors like Charlie Bird certainly haven't helped, and two large construction projects made the small block of MacDougal uninviting.
"There was warmth here, there was magic here, with Patti Smith visits that let us dip our toe into old-world-Manhattan vibes, and there was a crazy energy here that peaked at eight o'clock and screamed 'everything is possible,'" Rofe says. "We cheer to beginnings, to ends, to closing cycles, to New York and to all our guests, we forever will love you."