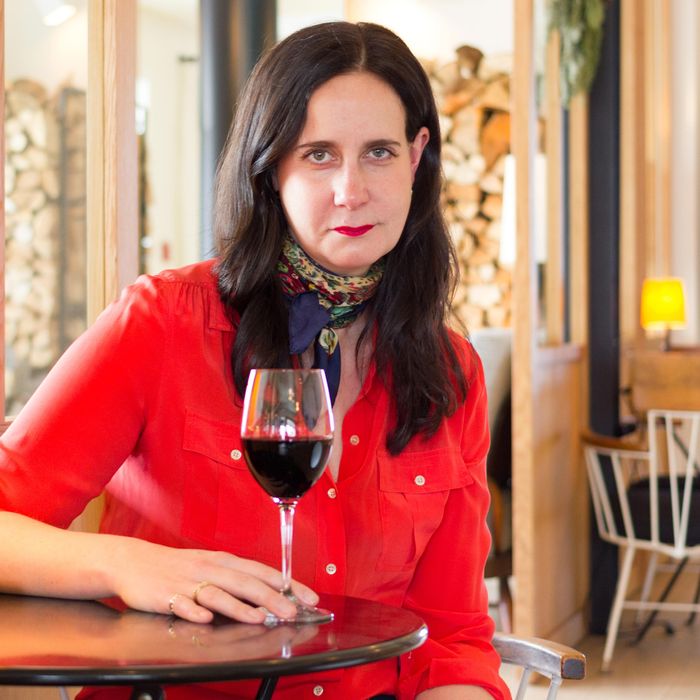 At Rivertown Lodge.
Photo: Chad Silver
Colu Henry's first cookbook arrives in bookstores next week, but it actually got its start as a hashtag: #backpocketpasta, meaning pasta that's easily thrown together with ingredients already in your kitchen. Before embarking on her three-month book tour, the former director of special projects for Bon Appétit spent the last week at her home in Hudson in "clean out the fridge mode," which meant roasting pork, tossing beets with homemade cherry vinegar, and cooking meatballs and Alfredo. Read all about it in this week's Grub Street Diet.
Thursday, February 16
I'm out of bed relatively early most mornings. I'm in charge of feeding our 12-year-old pup, Joshie, so as soon as I stir, it's go time. I reach for a mug to pour my coffee into, which I take with a nice glug of half-and-half. Joshie and I then head back upstairs and get back into bed. I need a good 30 minutes to wake up, and this is my routine (it's also a small luxury). I scroll through social media and the Planned Parenthood event we hosted at Rivertown Lodge posted on AndNorth, so all the feel goods are back. I need them these days! I bring my husband, Chad, coffee in bed (he sleeps late), and then head downstairs to make myself breakfast.
We joined the winter Sparrowbush Farm CSA, and it's been such a bright light in all this gloom. In short, I have a lot of eggs to go through, so I hard-boil half a dozen. Once cooled, I smash two of the eggs with a bit of Dijon and a touch of mayo, lots of freshly ground black pepper, and some generous flakes of Maldon salt. I eat them in a bowl with a few Ak-maks, which are Armenian sesame crackers, and the best. I've been eating them since I was a kid. I've also been trying to up my hydration game, and have been drinking water out of quart containers to stay accountable, so I drank two of those over the course of the morning — eight cups!
I jump on the 12:30 p.m. train from Hudson to get down to the city. Melissa Clark is having a small event tonight to celebrate the prepublication of her new cookbook, Dinner: Changing the Game. My book, Back Pocket Pasta, comes out next week, and we share Clarkson Potter as publisher; so needless to say, I wouldn't miss this for the world. We've actually never met in person, but I've admired her from afar for a long time, so I'm excited to say hello and congratulations.
I jet across town upon arrival and meet up with one of my oldest friends, Nikki Reiss, at Grand Central Oyster Bar. We've known each other for over ten years. She was my intern at Baltz & Company, and then we worked together at Bon Appétit, and she's now at CAA running events for the new culinary division. We've been trying to get this date on the books for about six months, so it's cause to celebrate. We sit at the bar, order Tito's vodka martinis with olives, and slurp on oysters. We also order another round (the drinks are wee, promise!). When we worked at Condé Nast, we used to cut out of class a lot for day drinks at old New York City establishments, so we're back in our groove, and I guess this is lunch?
I drop my bags in Carroll Gardens at my friends Leslie and Tony's house, who are also attending the event. I arrive solo and see some familiar faces, including my associate publisher, Doris Cooper. We have a glass of Cava and catch up for a bit. Leslie arrives and we have another glass of Cava (maybe two more glasses), and pick on two shrimp balls and a small bulgogi beef wrap, all from the book. They are delicious. I also snack on a few slices of watermelon radishes, because they are my favorite. Tony arrives, calls in a last-minute favor, and gets us a reservation at Olmstead, which I've been really keen to check out. They squeeze us in, but can't take us till 10 p.m. We say our good-byes and hit Rose's to kill a half-hour. I have a Miller High Life.
We arrive at the restaurant and sit outside under cozy blankets, while they set our table. They pour us a glass of bubbles to sip on while we wait. When we are seated, Leslie and I order a glass of Matthiasson Tendu. Delightful. We proceed to order a number of items, including crawfish-boil crackers, gobi-pakora cauliflower, a carrot crêpe with littleneck clams, and rutabaga "tagliatelle" with black truffle and brown butter, which all live up to the hype. This place is amazing. The kitchen also very generously sends out much of the rest of the menu, as well as dessert. I am so full, but so very happy. Chef Greg Baxtrom comes to the table and I thank him profusely. We cab it home. I chug water, it's now close to 1 a.m., and I am out!
Friday, February 17
My eyes pop open at 7:30 a.m., but with no dog to feed, I lie in bed until around 8 a.m. Luxurious! I don't feel amazing given yesterday's parade, but I'll manage. Tony grinds the beans and makes us French press coffee. They are out of half-and-half, so he combines some full-fat cream and some milk, and I pour that into my coffee. Leslie hands me a Pink Lady apple, and within minutes we are out the door, and I'm headed back up to Hudson. I drink a big bottle of water on the train, eat a handful of almonds, and tackle my inbox.
Chad grabs me from the train and I'm hungry upon arrival, because that wasn't much of a meal. At home, I quickly get to work assembling a clean-out-the-fridge salad. I roughly chop some sweet potatoes, toss them with olive oil, chili powder, and fennel seeds, and pop them in the oven to roast. I finely dice two lone slices of bacon from our farm share, and quickly fry them up. Further sleuthing awards me with radicchio and leftover Lacinato kale, which I chiffonade. I peel and quarter one hard-boiled egg. "Greens" go in a bowl, and are then topped with the egg, a few chunks of the sweet potatoes (I'll use the rest throughout the week), and the bacon bits. I drizzle all of it sparingly with balsamic vinegar from Acetaia San Giacomo. I went to Italy last March to shoot some of the book, and we met producer/proprietor Andrea Bez, and it's some of the best vinegar I've ever had. If you can find it, buy it. I'm also drinking water by way of quart container again. Namaste.
Our dear friends Noah and Rae Bernamoff, who own Mile End and Black Seed, closed on a house in Germantown today! They are staying with us this weekend while they move some things, which will be fun. They scoop us up early in the evening, and we head to their beautiful new home and toast with Champagne to exciting adventures. We then head to Gaskins right up the road to continue the celebration. The restaurant is owned by our friends Nick and Sarah Suarez. We order more bubbles, Sarah sends us out squash arancini, and we cheers again.
We were all craving hearty, indulgent food and ordered that way indeed: chicken livers on toast, bucatini carbonara, seafood stew, and more. We ordered another bottle of wine somewhere, too. Dessert is a few bites of a brownie sundae, chai-spiced rice pudding, and a round of Avenra. We head home and are clearly still in the zone, because we open a bottle of Oregon Pinot Noir (I worked at the Oregon Wine Board for a spell, and these wines are my favorite) and have one more toast, and then I am toast. Bedtime again? 1 a.m.
Saturday, February 18
7:30 wake up! Feed Joshie, coffee with half-and-half, per usual. Noah and I make a dinner plan, and they are out the door to work on house stuff. Chad and I pop by the farmers market to pick up a few items. I sip on turmeric "tea" with cayenne, maple, and lemon. It's revitalizing, and I need it. We then head over to Bonfiglio & Bread, which is my favorite place to eat in Hudson. I order the mushroom toast, which comes with a fried egg, chili oil, and mint. I love this dish so much that I turned it into a pasta recipe for the book. I also buy one of their sesame-seeded filone loaves to take home (it's the Italian grandma in me), and it's my crack. The whole car now smells like freshly baked bread, and I reach inside and tear off the heel (my favorite part). I smash it into my mouth passionately and with gusto. And, yes, I tear off another piece. The rest will be for cheese and salumi later.
We get home and I start on dinner. I had taken a bone-in pork shoulder out last night from the chest freezer to defrost. We split a half-pig from Letterbox Farm with some friends this winter, and it's been a joy to have. I realize this all sounds real Portlandia-like, but it's my newish upstate life, and I'm very happy about it. I toast some fennel seeds (apparently I'm having a moment with fennel seeds); grind them in a mortar and pestle with some salt, garlic, and dried savory and rosemary (also from the farm share); and spread it all over meat, fat side up. The pork goes in the oven, and will stay there for many, many hours. I'm feeling ahead of the game.
A big nap on my end later, Noah and Rae are back at the house, and he and I get started on dinner. We decided to do a winter slaw and cobble root vegetables together: celery root, kohlrabi, parsnip, and an apple. Chad and I are driving my book tour cross-country and leaving Monday, so I'm eager to use everything we have in the fridge. After some negotiations with the mighty Breville food processor, we get the right blade and begin to julienne. Since the machine is still out, Noah makes homemade mayonnaise, and we toss it all together with the vegetables and let them hang out for a while. In the meantime, we drink a bottle of Westwind Orchard Cider. We also open a bottle of Champagne, which is sadly corked, so on to the next! I make polenta with hella butter, and the pork comes out of the oven. Noah shreds the meat, and we top everything with the slaw. Big win! Over the course of the night, we drank three more bottles of wine, including another Oregon Pinot, and caught up on Bill Maher. Promise, I drank lots of water too.
Sunday, February 19
Up early, no matter what. Feed Mr. Josh, and drink my coffee with half-and-half. Noah is the next to rise, and he makes the best breakfasts, so I'm happy to let him lead. He whips up a frittata with onions, garlic, the leftover pork from last night, and the mustard greens I picked up yesterday from Blue Star Farm. We toast up the rest of the Bonfiglio seeded loaf, and I'm pleased with today's start.
Those guys hit the road, and I'm content to take it easy for the afternoon. Rae brought me back some very special green tea from their trip to Japan, and I make myself a cup to sip on. I eat a few Ak-maks and a piece of Camembert from Chaseholm Farms and call it lunch.
Around 5 p.m., we meet our group of friends — Dana, Tracy, and Alison — at Rivertown Lodge (my favorite bar) for a happy-hour drink, which turns into three glasses of wine, which turns into dinnertime. We all end up next door eating sushi and dumplings at the mediocre but only Japanese place in town. I drink cold sake. Chad and I watch Homeland, and I'm in bed by 11:30 p.m.
Monday, February 20
Coffee with half-and-half and feed the doggy. I realize that the last few days have been more indulgent than usual, so I soak some Rancho Gordo Corona beans to cook later, and make a mental note to buy a chicken to roast this afternoon to set myself up for the week. I need to get back on track. I proceed to go down an online fashion rabbit hole via text with my girlfriend Doria, in search of the right accessories to wear to next week's book parties, and forget breakfast altogether. I'm off to a great start.
Chad needs to make a quick visit to his studio in Catskill, so I go along for the ride. We stop into Gracie's for a bite, because by now I'm starving. I have a cup of onion soup and half a roast-beef sandwich. I pick up a chicken on the way home, salt it, and put it in the fridge. I realize that the day is half-over and we have to be out the door by 4:30 p.m.; and I'm very well aware that the chicken and beans won't be made until tomorrow.
I'm still in desperate clean-out-the-fridge mode (one week till we are gone for three months!), so I offered to make dinner for the crew from last night, to help move things along. Nothing makes me feel worse than wasting food.
Tracy makes root-vegetable chips with a side of yogurt dip, which are very good, and we snack on those and prep dinner. One of my dearest friends, Carla Music, contributed her Alfredo recipe to the book, and I'm demoing it next week for Food52, so I make it for everyone to brush up on my skills. It's a big hit. Glossy, salty, sexy. I also make meatballs with ground beef from the farm share, and a simple tomato sauce. We had good intentions to make salad, but we toast garlic bread instead. Root vegetables count, no? We drinks some wine, not too much, and are home by 10 p.m.
Tuesday, February 21
This morning, I drink coffee downstairs and answer lots of emails. Nearly close to finalizing the book-tour details, but some loose ends still need to be tied up. I am also up a bit earlier than normal because I have Pilates. I try to go two to three times a week, not that you'd know it from the last few days. I take classes at Pilates Hudson, and it's completely transformed my life over the last year. Twenty pounds down! You try writing a book on just pasta.
I go for a quick tea after class with Tracy and head home, where I proceed to eat a hard-boiled egg and a blood orange, while standing up in my kitchen. I also start the beans from yesterday in a large pot with celery, carrot, garlic, and an onion, and put the chicken in the oven to roast. I also throw in some beets to roast on the lower rack. The oven's on already, so I should use it.
It's a very busy day, so over the course of the afternoon, I pick at what I've been cooking. A chicken drumstick, a beet here and there, and some beans doused in olive oil with some chopped parsley and flaky salt. I also eat a few pieces of the roasted sweet potatoes from Friday, while standing in front of the fridge with the door wide open.
About a year ago, I was set up on a friend date with Tamar Adler. She and her husband, Pete, had moved to Hudson right around the same time as Chad and I did. We have been very close ever since. I thank my lucky stars I read her book, An Everlasting Meal, after we had become friends, because I would have been too intimidated to meet her if I had read it before! It's so very good and helped me become a better cook.
We haven't seen each other in a few weeks, so we made a plan to do an odds-and-ends "picnic" dinner. I bring over the beets, some leftover cheese and salumi, as well as some eggs to soft-boil, and the last of the homemade mayonnaise. Tamar had braised beef the night before, which she gently reheated in the oven, and then dressed with garlic, chive oil, and wide ribbons of Treviso radicchio. We also drizzled the eggs with the garlicky oil. Beets were tossed with homemade cherry vinegar and Maldon salt. We combined her cheese and cured meats with mine, and put the board down in the center of the table. Pete's dad had also made bread, which we tore apart with our hands, and sopped our plates with. We laughed a lot, and it was the best meal I've had all week. I've missed her. We got home by 10 p.m., I take a peek at my fridge, and it looks sparser than ever before. I feel very accomplished.