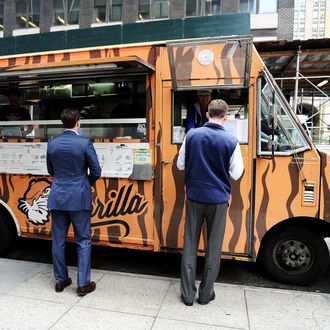 How about an A rating with that Korean barbecue?
Photo: Daniel Zuchnik/Getty Images
Lamb over rice is one step closer to being certified as sanitary as well as halal. The Daily News says Queens councilwoman Karen Koslowitz will formally introduce a bill today requiring New York City food trucks and carts to display letter grades. In 2015, Albany lawmakers tried creating a commission that could have done that same thing — forced 5,000 mobile food vendors around town to post health scores like their brick-and-mortar counterparts do — but it didn't pass. Koslowitz's bill attempts to add this layer of transparency through an alternate route.

She tells the Daily News that if you go to a food cart right now, "you don't know if it's in sanitary condition." Vendors get fined for Health Department violations, but customers don't necessarily know if the cart on the corner was dinged by inspectors two weeks ago because rats were huddling for warmth in the pretzel warmer, or whatever. "This way you know," she says, "and you have a choice — if they have a C, and you don't want to eat there, you don't eat there."
Maybe a little surprisingly, the measure has enjoyed pretty broad support from vendors around town, both when it was being kicked around the State Legislature, and now that it's at City Council. "Right now vendors are treated much worse than restaurants," Street Vendor Project director Sean Basinski says. "They receive more inspections than restaurants do without getting the recognition that goes along with having a letter grade." If the bill becomes law, he hopes it will show customers that food trucks are, at the bare minimum, no dirtier than New York restaurants.