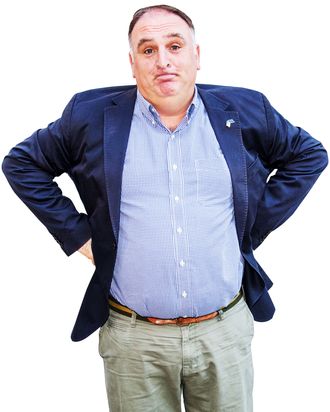 Andrés, who has a new restaurant and an ongoing legal fight with Donald Trump.
Photo: Roy Rochlin/Getty Images
Three years ago, chef José Andrés began work on restaurants in two long-anticipated Washington, D.C., hotels: Fish by José Andrés at the MGM National Harbor and a Spanish passion project slated to open in the Trump International Hotel at the Old Post Office Pavilion. The first one opened in December, but the second project famously led to an ongoing legal battle with Trump's company. Earlier this week, Grub sat down with Andrés at Fish to discuss the firebrand chef's thoughts on the politics of our current food culture, why he's determined to win his legal fight, and to get his take on President Trump's first weeks in office.
The restaurant you were planning for the Trump International Hotel in Washington, D.C., was rumored to be called Topo Atrio, serving a meaty take on Spanish cuisine. Do you still hope to pursue that idea elsewhere?
Topo Atrio was never the name of the restaurant. We had a few names, but that was the name of the LLC. The restaurant was going to be a Spanish restaurant with glimpses and touches of "what if Spain and Japan met?" The little tempura bar, the Maryland fry bar here, is a glimpse of what was going to be there.
When the Trump restaurant project was no longer on the table, did this project speed up? Around the time the hotel opened, you opened this restaurant and Bazaar Mar in Miami.
They were supposed to open a year apart. Some open earlier, some open later, but the other project goes back to 1993 to 1994. I still remember having conversations with [the late New York Senator Daniel] Patrick Moynihan that one day I will have a restaurant inside the Old Post Office building. I said, "One day I think it could be a hotel." I used to walk those streets, those corridors. I know that place very well so I dreamed of one day having a restaurant there, of having a little table on top of the tower. I can't believe I was so close to that. Every time I dream of something, [my dreams] have a tendency of happening because I'm very persistent. I repeat "I want to do this" so much that at the end it better happen or I'll shoot myself. I said to myself one day I want to open at the Old Post Office and it was within my fingertips. At the same time that I had the opportunity, I didn't think it was possible anymore, it was not a smart business decision anymore.
Speaking of business decisions, you give away a lot of free food. A day after the election, you tweeted out an offer of free tacos at Oyamel to unite Democrats and Republicans, and just last week — in the wake of the president's immigration ban — you gave free dishes to anyone dining at Zaytinya that mentioned zhug, a Yemeni hot sauce.
It brings people together. People who know me know I do these things sincerely, and plenty come in sincerely. I'm still surprised today because I didn't think people remembered when the government shut down for a few days because the budget was not approved and public employees were sent home. But yesterday a group of six people came in and thanked me, because when that happened I was offering free sandwiches to anyone who could prove they are a public employee, and they are still so thankful. Did I do it for a business opportunity? Those who know me know that when I have a restaurant I don't want to give anything for free, but there was a sincere way to say I'm with you, and what this Congress is doing is wrong — that at every level nobody can find consensus and shut down the government. I said we're not going to shut down the city, we are going to keep the city alive. So that's what we did.
Last week David Chang tweeted he was studying the cuisines of countries affected by the immigration ban. Do you think food is one of the best or easiest ways to bridge a cultural gap, to ease xenophobia?
It's kind of complex. Anything we can do to expose people to other cultures, I think, is good. For me, I'm proud and happy I could bring Greece and Turkey together in a restaurant, to have the Greek and Turkish ambassadors eating at the same time in my restaurant is a fun moment. But I think doing a menu, it doesn't stop there. It's the tip of the iceberg. Giving refugees a way to express themselves through pop-ups, through restaurants. We need to bring forward these people, to show they are like you and me. We in America have embraced food from the Middle East like no other country in the world, so even in those areas where they feel they may not be welcome I think they are welcome. But we go through these moments. In Spain, the economy is bad. The people are struggling and they are second-guessing why we have immigrants. We have them because we need them to grow, but people have a quickness to forget the past.
How do you keep someone from forgetting? How do you keep them from being apathetic? Do you instill an activism in your own children?
Yes, we do. We do in many ways. But I never told my daughters they needed to go to a soup kitchen. But they do it. They do it on their own without being pushed, and sometimes I think they do it too much! It's good, because they live a very good life, but they decide to give part of their life. They could be going to a concert, a game, but they spend four hours, six hours, feeding the homeless. I think it's a parent's role to expose their children to this, to do community service. I believe you have to follow the words of Kennedy, "ask not what your country can do for you, but what you can do for your country," and you have to transform those words into a plan. I did military service, and it was obligatory, but it was the best experience of my life. I don't believe the government should mandate service, but for young people to volunteer to spend six months or a year working for their community.
You supported President Obama. Was it frustrating he didn't lead a more active call to community service when he entered the White House?
No, I still believe he will do something. But I don't want the government to dictate to young people because I believe in free will. But I believe every single young person will gain a lot of respect for our country and community and we can improve the lives of others if we choose to commit to do this, because then one day if you become president of the United States at least we will know you gave one year of your life to others, whereas now we have a president who we know has never given a year of his life to anything. And worse, [President Trump] got away from service in a war when others fought for all of us.
People like this would criticize everyone working for their community, everyone being equal, and say it makes us lose our identities. But I think the true way to have an identity, and to be secure in who you are, is to embrace others who are not like you. The best way to find your identity is to mix with others, the best way to understand your whiteness, your blackness, your Jewishness, your Catholicism, is to be with others who are not like you. That will make you more secure.
You wear an "I am an immigrant" T-shirt, you use the hashtag #IAmAMuslim on social media. Do you think during Trump's first two weeks in office, he realized his attacks on Mexico are untenable and the Muslim community is more endangered?
This is McCarthyism in the 21st century. Are we stupid or are we not? Why do we need an enemy to be who we are? Why do we need to create enemies to cover up weaknesses of who we are? We are in a moment when we don't need enemies — we need bridges. This is so 20th century and it's so unfortunate we are going to go back to fighting the wars of the 20th century.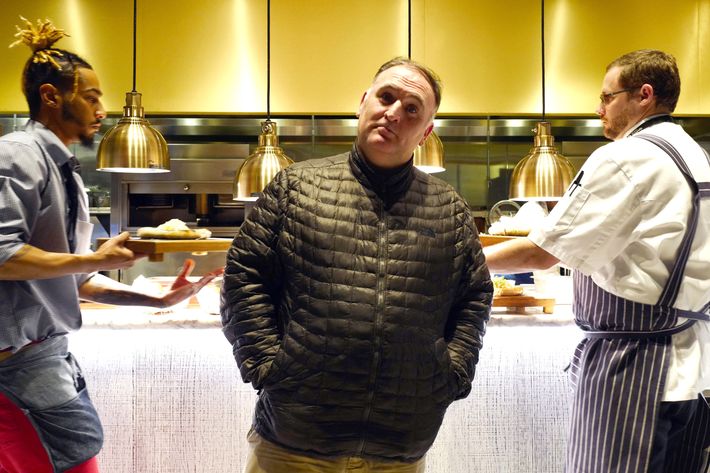 For many reasons, I assume Election Night was disheartening for you. How did you spend the night?
I was at the Washington Post with [executive editor] Marty Baron. I was cooking at the paper. They are my friends and it is the newspaper of my city, but I went home early. We knew early that it was "Houston we have a problem" for the Democratic ticket.
This election, I went to speak for Hillary Clinton. I wish I did more. I wish I did more in the areas I could do more, but who knew that we had to? I hope we all learned that it's true we are talking about immigrants and refugees, but there are many Americans affected. I know this through the soup kitchens I am part of, and I see there are hardworking blue-collar Americans that are not part of the American Dream. I read J.D. Vance's Hillbilly Elegy, and it is a simple, humble book that tells you exactly what is happening in the other America that is not far away from where we live. I came from a mining town in Spain. I don't mean I know what miners in America feel, but I know their lifestyle. I had family that worked as miners as well as engineers. I saw the jobs being lost.
Was it easy to wake up the next morning and accept the results of the election? Were you hopeful for a recount?
No, no, no. The election talks. Numbers talk. But it's funny we are listening now how there are 3 million illegal votes. I don't understand how this is not news. Republicans and Democrats are saying that this is truly nonsense, but then I hear some senators saying that maybe this is true. I hope these senators and their families will be ashamed, because we know this is not true, and because America has fought to embrace the meaning of democracy and that every vote counts.
Following Trump's election, and your ongoing litigation, do you think that you're now at odds with the president of the United States — that you went from being a friend of the previous administration to an enemy of the State?
I thought that [Donald Trump] is the Art of the Deal, that he was a deal-maker! When you write the book, and you brag about the book, and you become the president, and you are the president of everything in America, I guess the art of the deal must mean not making deals. This is so against the book he is happy to publicize, that he will not settle with me. People thought I was trying to compromise from a position of weakness when I was offering to settle, but I wasn't. If we're going to do this, I'm going to win this case. Is this David versus Goliath? I don't see it that way. I could be doing every single television station on the day he was deposed, but I decided not to do that on purpose. I don't want to be seen as a hero. Everybody in the Democratic Party, and on the left, they see me as a hero, as a chef taking a stand against Trump. I'm very happy; I'm proud I'm doing this. But I did this as a business decision, and I'm going to win in the end.
Winning has never been about destroying others. It's about bringing everybody along with you. That's the humanity and the society that I want to be a part of. It's unbelievable that we put in charge one person who values everybody as winners and losers. This is not the leader we need. These are the leaders of 3,000 years ago. These are not the leaders of the 21st century. We're going to miss Obama, not because he was black or a Democrat, but because he was a good human being with decency, who tried to move everybody forward. When you are not doing that, you may be in office for four years, you may be the most important person in the world for eight years, but history will not be good to you.