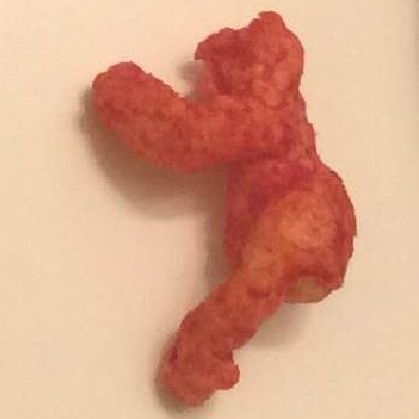 Harambe is dead, but one eBay user might get to eat him in effigy. A Flamin' Hot Cheeto vaguely resembling a gorilla, if not specifically the one shot last May by Cincinnati Zoo officials, sold on the site last night for the ludicrous sum of $99,900. The user posted the "One of a Kind" find on January 28, writing in the listing: "I opened up a bag of Flamin Hot Cheetos and as soon as I looked inside I came across this unique Cheetos that looks like Harambe the gorilla."

A split-screen listing photo showed the Cheeto's similarity: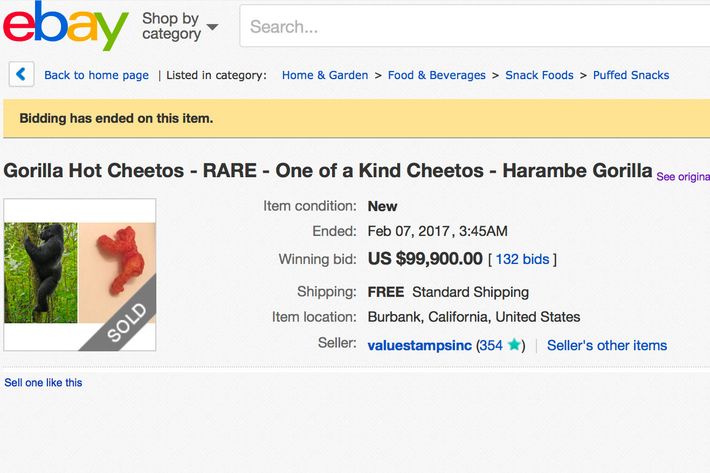 People bid 132 times in ten days for the inch-and-a-half-long, already-open food item, raising its price from $14.50 to almost six figures in 14 hours. The sale didn't even include the original bag and, simian shape notwithstanding, was otherwise still just for a single Cheeto. In other words, the likelihood the winner actually intends to pay isn't great, despite eBay's official user agreement explaining that person is legally bound to do so. (The site has struggled to find ways to enforce that, like when some jokester paid $96,000 for a bottle of McDonald's Special Sauce.)
Obviously, other eBay users are now trying to ride the listing's coattails. "Similar" items currently on offer include Harambe Cheetos that look absolutely nothing like a gorilla, a Walmart-brand Great Value Cheeto Harambe ("not as crisp as the original Cheeto Harambe"), and even a "rare" screenshot of the original listing. Shams out for Harambe.