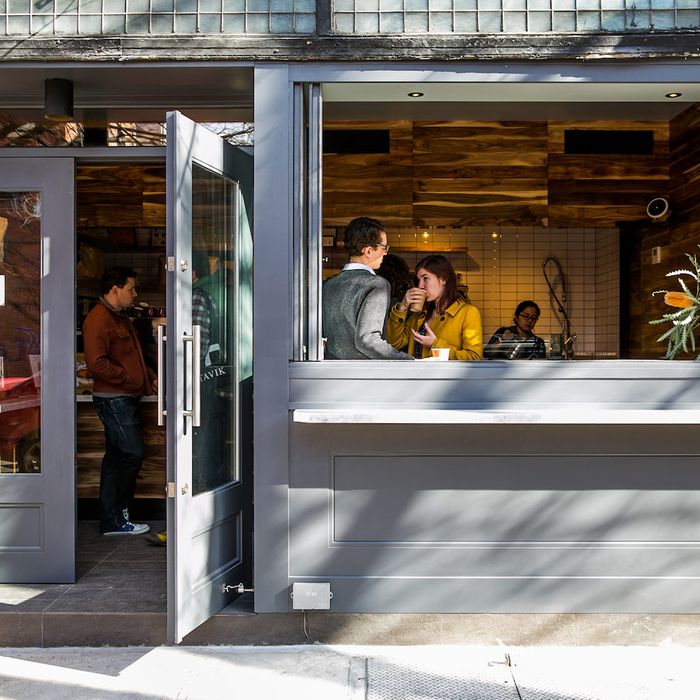 Blue Bottle is one coffee chain participating in the drive.
Photo: Shir Stein
Call it cortados for a cause. Today through Sunday, more than 400 cafés nationwide will donate 5 percent of sales to the American Civil Liberties Union. The drive was organized by Sprudge, the unofficial coffee-geek headquarters of the internet, which has itself pledged to match the first $500 raised by the 26 café brands the website launched the effort with. Additionally, 19 major coffee-roasting companies including leaders of the java vanguard Blue Bottle, Counter Culture, Joe, and La Colombe will join Sprudge in matching café brands at up to $500.
Since President Trump signed his Executive Order on immigration last Friday, the ACLU has been organizing and funding lawyers for the defense of the refugees, families, and American residents affected. The true scope of the order has only recently come out, with — contrary to White House press secretary Sean Spicer's initial claims — possibly tens of thousands of visas being revoked.
That also means the ACLU has a lot of work ahead of itself, and those opposed to the Executive Order now face a greater struggle. But it's also worth noting, as some have, to not forget about other local organizations — like, say, the Arab-American Association of New York, whose executive director helped organize the Women's March — that are doing good work. The ACLU reportedly raised $24 million over the weekend following the announcement of Trump's Muslim ban, roughly 600 percent more than it normally does in a year.
Regardless, if this is something you'd like to support, Sprudge has put together a map of all the participating cafés. It doesn't hurt to mention that some of New York City's finest coffee shops are participating.
Birch Coffee
Black Fox Coffee
Blue Bottle Coffee
Café Grumpy
Dot & Line
Espresso 77
Everyman Espresso
Gimme! Coffee
Grade Coffee
Irving Farm Coffee Roasters
Joe
Kettle & Thread
Kos Kaffe
La Colombe Torrefaction
Oren's Daily Roast
Pudge Knuckles
Rubyzaar Baked
Spreadhouse
Southside
Stand Coffee
Stinky BKLYN
Supercrown Coffee Roasters
The Chipped Cup
Toby's Estate Coffee
Variety