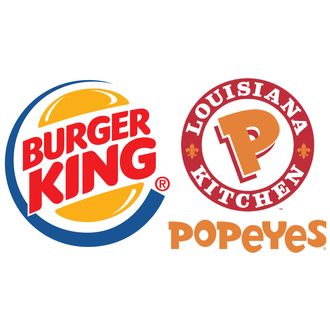 Just imagine the Chicken Fries possibilities.
The parent company that owns Burger King and Tim Hortons says it's reached a deal to buy Popeyes Louisiana Kitchen for $1.8 billion. Takeover rumors started last week after reports said Restaurant Brands was looking "to acquire additional restaurant concepts." Getting into fried chicken is a wise move right now — especially in fast food (Taco Bell's Naked Chicken Chalupa is proof), plus figures suggest Americans will eat a record-breaking amount of it this year. So rather than trying to fashion fried-chicken coffee cups, Restaurant Brands has just decided it's way easier to add 2,600 stand-alone Popeyes locations to its growing roster of chains.
Restaurant Brands is still new to the fast-food scene, but, regardless, it must be making rivals nervous by now. It formed in 2014, when Burger King acquired Tim Hortons, a deal that put Canada's biggest coffee brand in bed with Mac N' Cheetos and included a pretty great tax break; and it's also co-owned by Warren Buffett's Berkshire Hathaway and 3G Capital, the investment firm with big stakes in Kraft Heinz and Anheuser-Busch InBev. With Popeyes, Restaurant Brands will now control a trio of chains that put it on near-equal footing with Yum! Brands, the major player whose portfolio includes Taco Bell, Pizza Hut, and KFC.