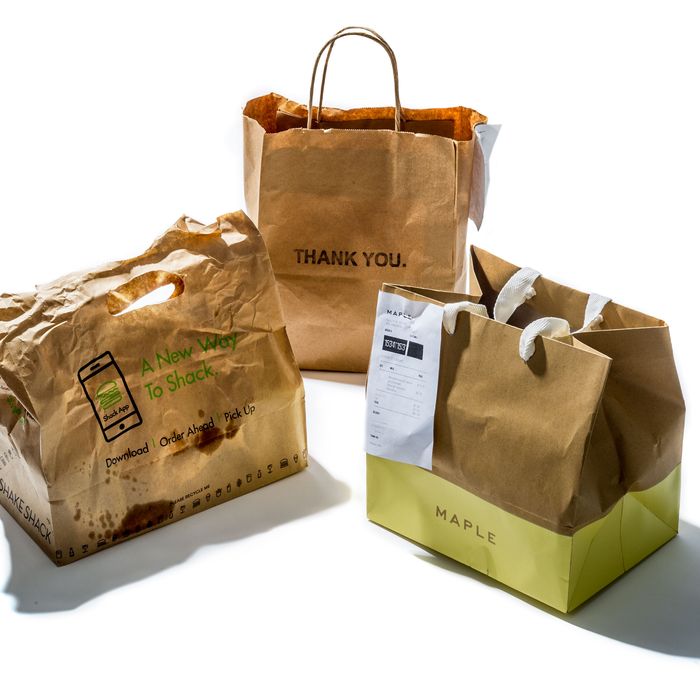 Welcome to the Golden Age of Food Delivery. There are more companies than ever dedicated to making sure you can eat New York City's finest foods while sitting on the sofa in your pajamas. Apps and tech innovations seem to arrive every day — but which food-delivery service is best? Grub Street tested every service, analyzed their business plans (how do they pay their couriers?), and graded them on a scale of 1 to 5 in six different categories: the range of the delivery zone (and radius around your point of delivery), the variety and general quality of food available, the accuracy and convenience of delivery times, customer experience if something goes wrong, relative monetary value, and the user interface. Here's how every company compares.
1. Caviar
Total Score: 27
Caviar's pitch is that it'll deliver food from a curated selection of the city's hottest restaurants — over 700 across Manhattan, Brooklyn, and Queens (up to 119th Street, as far north as Astoria, south as far as Red Hook, west as far as the East River, and east as far as Bushwick). The interface offers bright, appetizing photos that make food from places like Superiority Burger, Roberta's, and Santina look fantastic. And while Caviar clearly values higher-end restaurants that are more expensive, the service gets points for offering a wide range of restaurants at varying price points.
Because of the judicious offerings, this service's food costs are high, but the value usually matches the cost. (It doesn't always safeguard you from eating cold pizza, though.) It helps that delivery fees start at $0 and increase depending on the distance from the restaurant you select, meaning dozens are available for a $1.99 delivery fee or less, although fees can reach as high as $7.99. An 18 percent service fee is also added to the subtotal, which the company says covers various business expenses, including labor. Tipping is appreciated, and Caviar pays its couriers based on factors like time, the distance traveled, and the delivery demand at the time of the order.
Caviar's time estimates are startlingly accurate, and it's great that you can schedule a delivery well ahead of time if, for example, you know you're having a party — or just want your JG Melon cheeseburger to arrive right as you get home from a long day at work. (Fastbite, a small section of dishes that can be delivered in five to 15 minutes for $2.99, is also reliable, though the quality of the food can suffer because it's premade.)
Another place where Caviar shines is in its user experience: You always know the status of your delivery and where it physically is on a map, but if you need additional assistance, you can request status updates, or use Caviar's beta tool that allows immediate support via text messages from a real, live human. That's hard to top.
Today only, 2/9, get free delivery in Manhattan on Caviarorders by entering the code SNOWNYC at checkout on an order of $30 or more (that's lunch and dinner).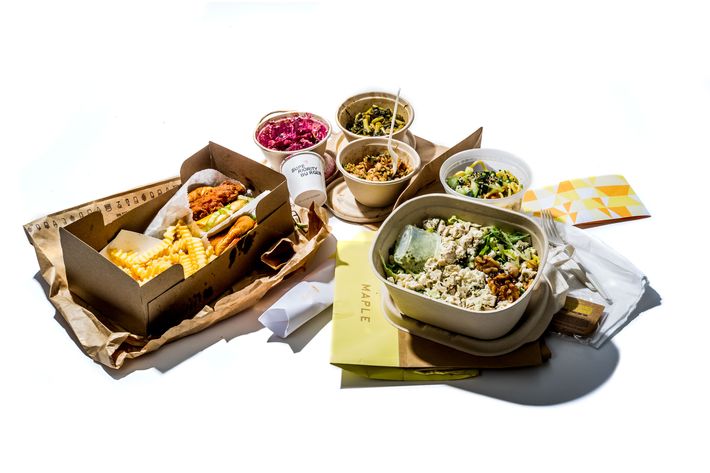 2. Maple
Range: 2 Selection: 3 ETA: 5 Customer Service: 5 Value: 5 Interface: 5
Total Score: 25
Maple, the current food-world darling that counts David Chang as an investor, bypasses restaurants altogether in favor of cooking a daily menu at six neighborhood kitchens in Manhattan and one commissary in Brooklyn. Right now it only serves addresses in Manhattan below 59th Street.
The upside is that everything is designed from the get-go with delivery in mind: The small, rotating menu includes about seven mains, ten sides (a nice new addition, offering more flexibility), plus a hearty selection of desserts and drinks (wine, beer, juices). Dishes like chicken-Caesar kale salad, vegetarian meatballs, tomato soup, and peanut-sesame noodles are simple, consistently well-made, and healthy-ish (it would be nice if Maple added nutritional information). The downside is that dishes often sell out during prime lunch and dinner times, and, well, the menu can get a little repetitive and boring.
The pricing structure has changed since launch: Maple used to charge $12 for lunch and $15 for dinner, including tax and gratuity. But now each dish is priced independently ($14.75 for that chicken-Caesar, $17 for a salmon poke bowl, $5.75 for mac 'n' cheese), and Maple adds tax and a delivery fee — $1.95 at lunch and $2.95 at dinner. Even still, these are the cheapest average delivery fees on the market. There's no need to tip, as all of Maple's workers are W-2 employees, and everyone who works more than 30 hours per week has access to healthcare.
Similar to its ornate packaging, which makes delivery resemble a Christmas present, the app is also visually appealing, as you scroll through options with glossy photographs (like Tinder for dinner). Plus, Maple's fast (for a recent lunch order: it promised under 35 minutes; it took 23) with startlingly accurate tracking. Because you're not ordering from a restaurant that's also serving customers, there are less variables, but if delivery goes awry, Maple has a customer-service team that responds quickly via phone or email.
3. UberEATS
Range: 4 Selection: 3 ETA: 4 Customer Service: 4 Value: 5 Interface: 4
Total Score: 24
Uber is betting big on its relatively new, stand-alone food-delivery service, with plans to expand it to at least 22 new countries. In New York, Uber offers food from over 1,000 restaurants in Manhattan, Queens, the Bronx, and Brooklyn, with crowd-pleasing, relatively inexpensive food (Black Seed Bagels, Sticky's Finger Joint, Di Fara) — essentially, the things a college student wants to eat and can afford — and with the kind of glossy, top-down food photography beloved by the Instagram set. While the number of options is impressive, it's not as easily scannable, or focused, as Caviar.
Uber also lists about a dozen restaurants that it says can deliver in under 30 minutes — a promise it takes so seriously that a breakfast order from The Squeeze arrived in exactly 11 minutes, the fastest of any service tested. (In one instance, when an order arrived 30 minutes late, Uber's customer service reimbursed $15, half the amount of the total order.) The exact radius around your point of delivery varies, but options are quite local. As with Caviar, you can schedule a delivery hours or days ahead.
The booking fee for UberEATS is a flat $4.99 per order (recently up from the $2.99 it launched with in New York), and there's no place for a tip — UberEATS pays its couriers per delivery, based on pickup and mileage traveled. You may also see a "busy-area fee" for some restaurants when demand is high but couriers are scarce; it's calculated by an algorithm, so it varies, but recently there was a $3.74 supplement for Oddfellows in the East Village at 8:30 p.m. A notification about this fee does pop up before you start to add items to your order.
4. DoorDash
Range: 4 Selection: 3 ETA: 3 Customer Service: 3 Value: 3 Interface: 5
Total Score: 21
Three-year-old DoorDash isn't a crowd favorite in New York, but it's somehow valued at a whopping $700 million. It boasts a sleek interface with over 1,000 options that lean toward cheap and casual (Shake Shack, Taco Bell, KFC, Katz's Deli, Sweetgreen) available in Manhattan, Brooklyn, and parts of Queens. Curiously, the company says its delivery radius varies based on how well food travels — so burritos have a larger radius.
While it boasts a wide geographic range, DoorDash's ETAs are longer than its competitors' — it's rare to see under 40 minutes in downtown Manhattan. Similar to Postmates, "dashers" are independent contractors who make their own schedules — receiving prospective deliveries via the Dasher app, and accepting if they choose — and they get a flat fee per delivery from the company, plus 100 percent of the tip.
The service has come under fire for misleading customers about the price of its food, charging more on the app than a dish costs at the actual restaurant. To make that discrepancy clearer, DoorDash now occasionally implements a "selection fee" that "helps operate DoorDash and provide you with the best service possible." DoorDash determines this based on its relationship with the merchant and the terms it has negotiated, and it can vary between 12 and 18 percent. The separate delivery fee starts at $2.99 and goes up to $4.99 in Manhattan and $5.99 in Brooklyn and Queens. Tax and tip aren't included, and if your order is under $10, there's a $1 "small-order fee."
The service is nevertheless attractive and efficient, but it's hard to imagine having a reason to use DoorDash instead of Caviar.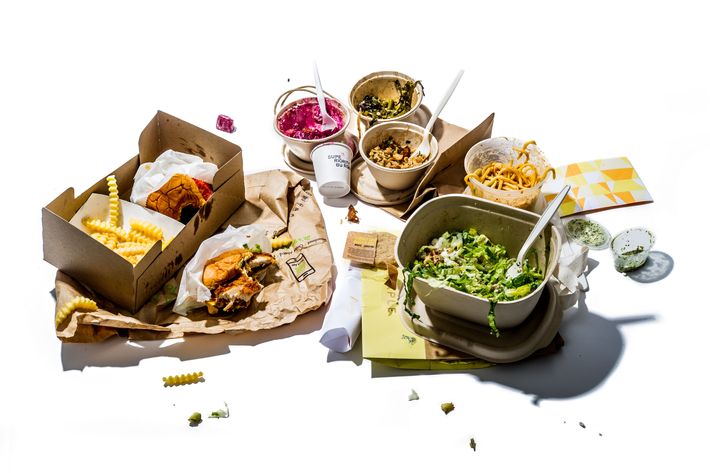 5. Postmates
Range: 5 Selection: 4 ETA: 4 Customer Service: 3 Value: 2 Interface: 2
Total Score: 20
Postmates — now valued at $600 million — deploys its own couriers to pick up and deliver food from restaurants in Manhattan, Brooklyn, and Queens. The company won't reveal the specific number, but it has "hundreds" of restaurants on the platform. Postmates has the biggest range because it doesn't impose arbitrary geographical restrictions — if a courier is willing to go the distance, and you're willing to pay the delivery fee, warm Levain Bakery cookies can cross boroughs.
There's a wide variety of options: by CHLOE., Blue Ribbon Sushi, and Shun Lee Palace (plus Duane Reade and Muji) get top billing as "partner merchants," with a fixed delivery fee of $2.99 (not including tax). But Postmates also goes rogue and adds restaurants in an unofficial capacity — dig through the clunky interface and you'll find sophisticated places like Le Coq Rico and Loring Place. Some of the listings don't feature menus — you have to manually "add items" and hope that it all works out; sometimes, an order will simply be canceled, presumably because the restaurant refused to fulfill it. And they might disappear at any moment: Postmates doesn't notify all the places it adds to the app, but it will remove them if they don't want to be featured.
Delivery fees for non-partner merchants are based on the distance from pick-up to drop-off, and there's a 9 percent service fee as well. Tipping is at your discretion; Postmates pays couriers per delivery based on distance, wait time, and other factors. The "Plus Unlimited" program, a $9.99 monthly subscription, gets you unlimited free delivery (plus no service fee) on $25 orders from "partner merchants" — around 200 places if you're in downtown New York, but only 18 if you're in Harlem. (Postmates says these "Plus Unlimited" options are the "best," but they're mostly fast-casual places that can be found on other delivery apps.) Simply put: The whole enterprise can get expensive.
While deliveries usually arrive on time or earlier than expected, tracking is inconsistent — often showing a courier stuck in a faraway place on a map, and then abruptly showing up at your door. Postmates encourages you to get in touch with couriers directly if there's an issue, but they don't always respond. You can email the company for help, but it's not quick. Perhaps robots can help.
6. Ando
Range: 1 Selection: 2 ETA: 2 Customer Service: 5 Value: 5 Interface: 4
Total Score: 19
In May, David Chang introduced his own delivery-only service in partnership with start-up lab Expa, and like Maple, all of the food gets made in-house. Ando is still relatively new, which is apparent in the service's growing pains, and probably why it's only currently available in parts of midtown and uptown — delivering between the FDR and Eight Avenue, and between 35th and 72nd Streets. The company just announced it will soon expand to downtown Manhattan.
Ando starts strong: Its interface is filled with beautiful photographs and cheeky copywriting ("You know those tiny salads you get as an appetizer at your local Japanese haunt? This is and isn't that."). There are currently 16 dishes on the menu, and they range from a cheesesteak laced with fermented chickpeas to "Korean-Lebanese-American" bibimbap and a "tofu goddess bowl." The offerings don't change from day to day; the company says it will update the menu on a seasonal basis.
That said, nothing exceeds $11. Ando partners with third-party delivery services like UberRush, and these services pay their couriers directly. With UberRush, there's a flat $2.99 delivery fee on every order, as well as added tax. You can also order Ando on Seamless. On both, tipping is at your discretion. Through Ando's app, postdelivery, you can rate your food and courier with emoji — and minutes after leaving feedback, customer support emails to ask what they could have done better.
Delivery estimates can be all over the place. Before placing an order, Ando often quotes 70 minutes, but then the ETA will change after it goes through. On a recent order, that estimate changed to 20 to 50 minutes, and then to 40 to 75, and the meal ended up arriving in 28 — fast, but confusing.
Dishes also tend to suffer during delivery: Apricot-glazed cauliflower managed to make an entire bowl of bibimbap both soggy and too sweet; a ginger-shrimp salad arrived looking and tasting like the sad desk lunch it became. Most of the dishes are very heavy — like a fabled, though somewhat indistinct, cheesesteak. Given Chang's high-profile involvement, it's hopeful some of these problems will get ironed out.
7. Seamless/Grubhub
Range: 3 Selection: 3 ETA: 4 Customer Service: 1 Value: 4 Interface: 1
Total Score: 16
Seamless, the long-standing stalwart of the city's delivery scene, launched way back in 1999. In 2013, it merged with Grubhub, and although these websites still operate independently, they look and function in almost identical ways.
Seamless/Grubhub doesn't actually prepare or deliver or package the food; it merely connects customers with restaurants — as many as 11,000 in all five boroughs, Westchester and Jersey City, including Tea & Sympathy, Pies 'n' Thighs, and Snack Taverna. The company is changing that with the addition of a turnkey delivery service for restaurants that don't have their own capabilities, but the fact remains that it's currently a messy, crowded platform. Seamless/Grubhub has more restaurants than any other service, but the quality varies greatly, and it's unusual to be able to get food from more than 15 or so blocks away. (Delivery boundaries differ depending on the restaurant; places like Superiority Burger travel further on Caviar than they do on Seamless/Grubhub.)
It's pretty cheap, though: all menu items are priced exactly the same as at the restaurants; if there is a delivery fee listed, it's added by the restaurant. Tipping is at your discretion and the majority of delivery drivers are employed by the restaurants, while the drivers that are part of the turnkey delivery service are independent contractors.
Customer service is basically nonexistent (encouraging you to call the restaurant if there's an issue). But if you're not looking for gourmet food, or you have a favorite go-to pizza place you know will come through for you, the ETAs are accurate, and it's still more convenient than calling directly.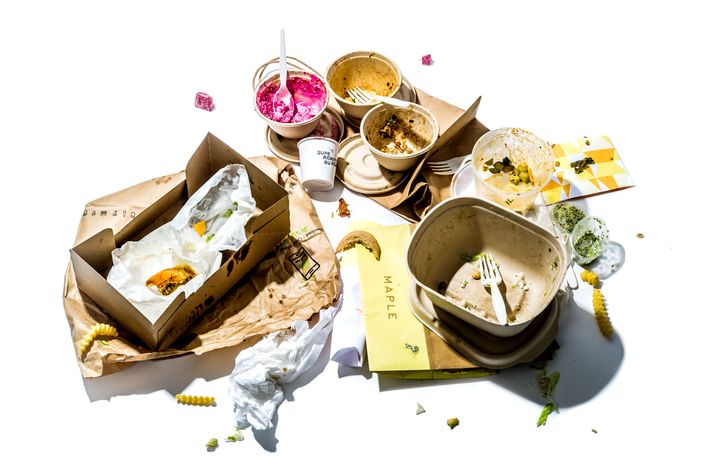 8. Amazon Prime Now
Range: 2 Selection: 2 ETA: 4 Customer Service: 2 Value: 4 Interface: 1
Total Score: 15
Amazon expanded its restaurant-delivery service to New York Prime members in May, and at launch, it partnered with over 350 local restaurants in Manhattan and Brooklyn, including John's of Bleecker Street, Num Pang, and Blue Ribbon Fried Chicken. Almost all of the restaurants can be found on other platforms, and the selection isn't curated in a way that conveys quality or affordability. The delivery radius is small, too.
Of all the services tested, the interface is by far the weakest — the food photography is terrible, you can't search for a specific dish, and the customer-review tab often malfunctions (and barely anyone is leaving reviews, which is a major part of Amazon's appeal). The site generally looks and functions like it's still in beta mode. Its neighborhood range is limited, but Amazon does ensure delivery in one hour or less, and its ETAs are accurate. It helps that Amazon employs its own couriers, who pick the food up at the restaurant and pack it in an insulated bag.
There's a $20 minimum on every order, but Amazon has pledged to permanently waive delivery fees. (You'll still have to pay tax and a tip.) Food generally arrives warm and on time (a smoked-meat burger from Mile End held up particularly well, even with a fried egg), but it's hard to imagine this is anyone's favorite delivery platform.
Disqualified: Arcade
The premise of Arcade is that, every weekday morning, the service texts you a couple dish options, and if you reply by 10 a.m., your lunch magically (and effortlessly) shows up between noon and 1 p.m. But the two-year-old service recently texted to say, "Just a quick FYI — our 10 a.m. texts will take a temporary hiatus as we work on a few upgrades," and there's been no update since.