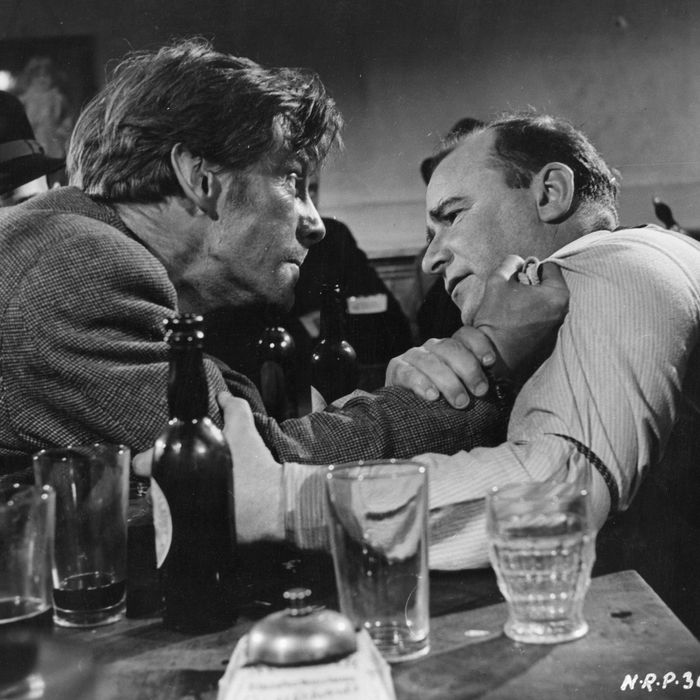 Boston says no to bar brawls, at least when glass is involved.
Photo: Hulton Archive/Getty Images
Boston revelers have been warned: if you keep fighting, no more glass for you. A series of assaults involving glassware at Boston bars has prompted the city's Liquor Licensing Board to make a pretty extreme threat: banning the use of glassware at establishments where repeated incidents of Leonardo DiCaprio wannabes acting out the bar-fight scene from The Departed have occurred. It won't matter, either, if the place is a dive serving $5 pitchers of Narragansett or a fancy bar serving barrel-aged Old Fashioneds. Instead, drinks would have to be served in plastic cups, as if the bar were hosting a beer-pong tournament.
During a hearing, board chairwoman Christine Pulgini warned that "if we see a pattern of glass as a weapon it will no longer be allowed" and chided representatives of hotel-bar Minibar for "not acting high-end." Restaurateurs are, no surprise, not thrilled. Boston Urban Hospitality owner and executive chef Chris Coombs made the reasonable argument that adults should "be trusted to consume our adult beverages" in glass, while Townsman general manager Michael Anthony pulled out the big guns. Calling the threat "asinine" and saying the responsibility lies with people, not glasses, he pointedly asked if we're going to also ban other potential weapons like knives, forks, and — the most dangerous of them all — fruitcakes.