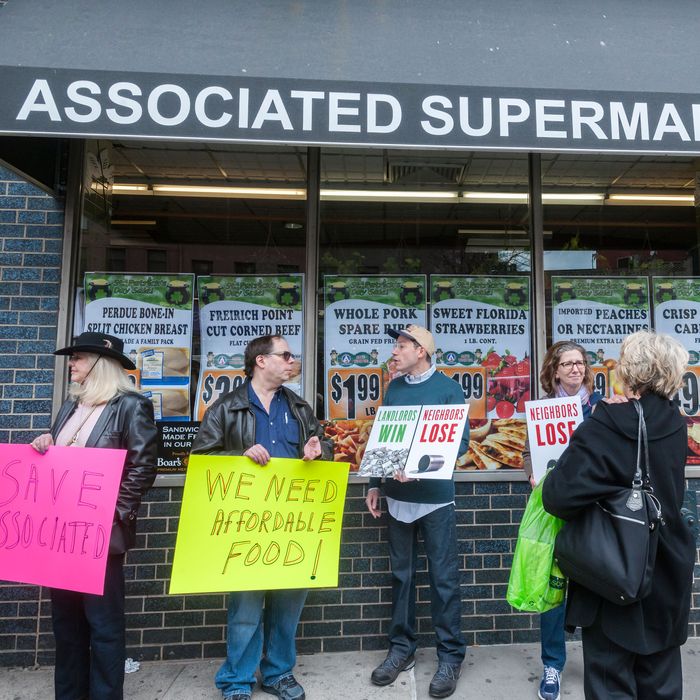 Affordable supermarkets have had a tough go of it.
Photo: Richard B. Levine/Corbis via Getty Images
Times have been tough on New York's neighborhood supermarkets. They not only have to contend with rocketing rents but also with increased competition from more upscale national chains like Whole Foods, drug stores, and online delivery services like Fresh Direct. Smaller, family-run stores have been the most vulnerable, but even local chains like Gristedes have struggled. Seeking to stop the bleeding and offer some relief, two New York City politicians announced at a City Council meeting on Wednesday that they would introduce a bill exempting affordable supermarkets from the city's commercial rent tax.
Currently, the tax is imposed on businesses between Murray Street and 96th Street in Manhattan with rents of $250,000 or more. For businesses that pay $300,000 or more a year on rent, it comes out to roughly 3.9 percent of their rent. The bill, introduced by Manhattan borough president Gale Brewer and City Councilmember Corey Johnson, would exempt grocery stores that accept SNAP benefits, meet affordability requirements, and are 3,500 square feet or larger. To qualify, grocers would also have to devote 500 or more square feet to fresh produce. This would be good news for a ton of grocers, as well as the working-class and elderly consumers who depend on them. There were 132 supermarkets in Manhattan's commercial-rent-tax zone as of last summer, and a survey by Brewer's office found that all of them could possibly qualify for the exemption.