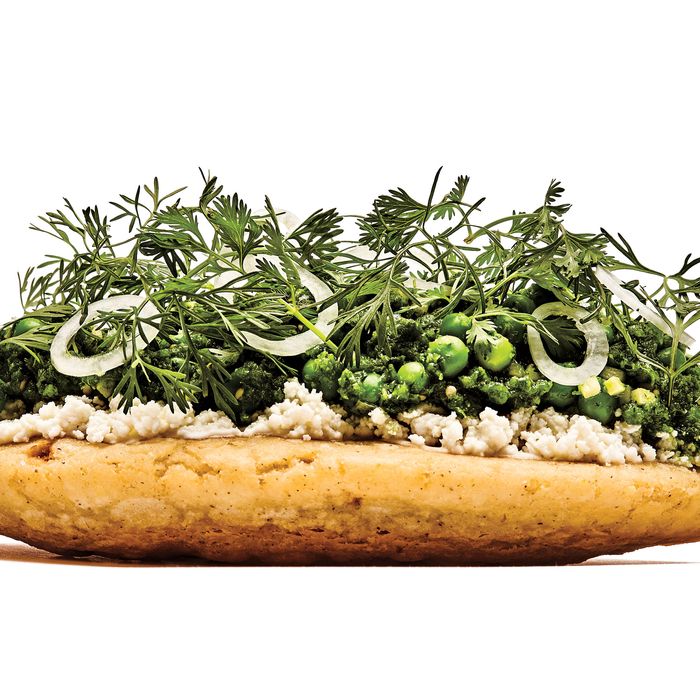 Split-pea tlacoyo at Atla.
Photo: Bobby Doherty/New York Magazine
If winter is beginning to seem endless, take heart (and sustenance) in these newcomers, all poised to arrive before spring's first ramp.
Tuck Into Enrique Olvera's Pambazo
Don't be fooled by Atla's fancy new-construction digs: Cosme's Noho spinoff is Chef Olvera's version of a casual neighborhood joint, serving Mexican-inspired, locally sourced breakfast, lunch, and dinner. Much of the seating is counter, and much of the cooking is "healthy," including flaxseed chilaquiles, kale tamales, and split-pea tlacoyos. Of particular note is the pambazo, a salsa-dipped, crisp-fried sandwich filled with potato and chorizo and eclipsed in these parts by tortas and cemitas. 372 Lafayette St., at Great Jones St.; no phone yet; early Mar.
Get Souvlaki to Go and Paella to Stay
The owners of the eclectic Forgtmenot and home-style-Greek Kiki's have constructed two new kitchens to feed their Two Bridges neighborhood: Monroe (49 Monroe St., nr. Market St.; 917-472-7732; late Feb.), housed inside a former glass factory, looks to Italy, France, and Spain for menu standards like eggplant Parm, seafood paella, and niçoise salad (and closer to home for a hot dog and a burger); Sherman's (named for its venerable shoe-store predecessor) is a Greek gyro rotisser­ie grill, slinging souvlaki sticks, pita sandwiches, and rotisserie chicken, with an emphasis on take­out and delivery. 121 Division St., nr. Orchard St.; 646-861-2941; late Feb.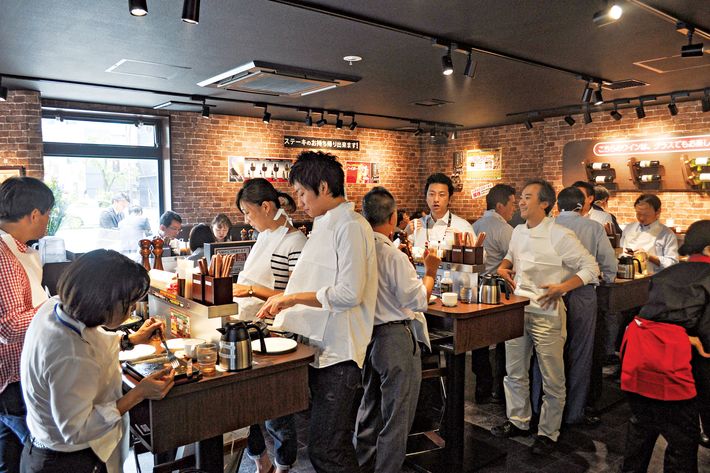 Order "J-Steak" by the Gram
Le Relais de Venise L'Entrecôte and Tad's get some budget-beef competition in the form of Ikinari Steak, a Japanese chain that keeps prices low by making you eat standing up, ensuring quick turnover, though this first American branch has ten seats for the weary. The choice-grade, wet-aged beef ("J-Steak," as they call it) is cut to order and priced per gram, with 200- and 300-gram minimums. Rib eye, sirloin, and fillet are served à la carte with corn and house steak sauce; the "wild chuck-eye" lunch combo includes salad, soup, and rice for $18. 90 E. 10th St., nr. Third Ave.; 917-388-3546; late Feb.
Eat Like the Cast of Wicked
Randy Stricklin-Witherspoon began his professional cooking career by feeding the stars and backstage crew on the Broadway shows where he worked as a dresser. That led to a catering company and, now, SpoonfedNYC, a Hell's Kitchen duplex with a performance stage and a menu inspired by the chef's South Carolinian upbringing. To wit: candied pork belly and Brussels sprouts, chicken-fried meatloaf, and blackened red snapper with grits. There are plans for a Sunday gospel brunch and outdoor dining when it warms up. 331 W. 51st St., nr. Eighth Ave.; 646-368-1854; late Feb.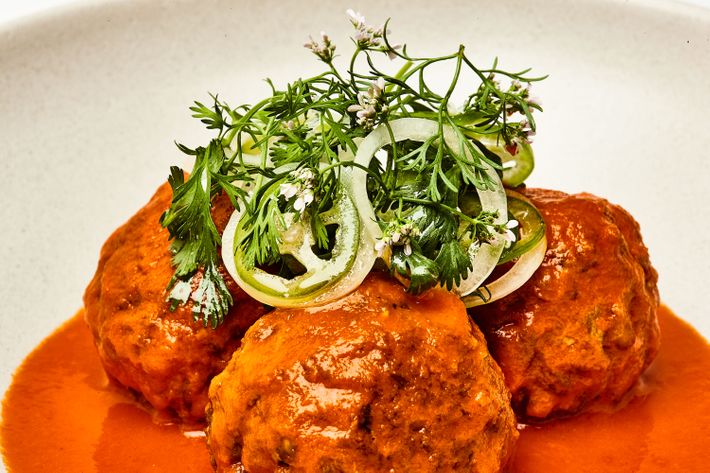 Visit the International House of Tacos
In his downtime from cooking fusion Indian food at Tapestry, Suvir Saran has developed a menu of global tacos for the bar, ranging from the vegetarian Shimla to a Peruvian-inspired shrimp and Korean-style short rib. These recipes also form the basis of Unico, a new Queens taqueria where Saran and his partner, Roni Mazumdar, invite customers to choose their filling and format (taco, wrap, enchilada, or bowl). Unique to Unico: a southern-fried-chicken taco, a riff on al pastor, and black rice with masala beans. 31-31 Thomson Ave., Long Island City; 718-433-3888; late Feb.
Expand Your Salad-Bar Horizons
When you grow up working in your father's collection of Smashburgers and Dunkin' Donuts franchises, opening a farm-to-table, vegetable-centric salad spot could be seen as a form of rebellion. But two sets of siblings have done just that, evolving their dads' fast-food partnership into the Sweetgreen Age. Field Trip has the requisite reclaimed-wood tables, "marketplace" of artisanal snacks, and signature salads and bowls, which include the Greek Beet with baked falafel and feta, the Good Earth with quinoa and tofu, and the Curry Freek Bowl with grilled chicken and curried chickpeas. 213 W. 35th St., nr. Seventh Ave.; 212-967-6770; early Mar.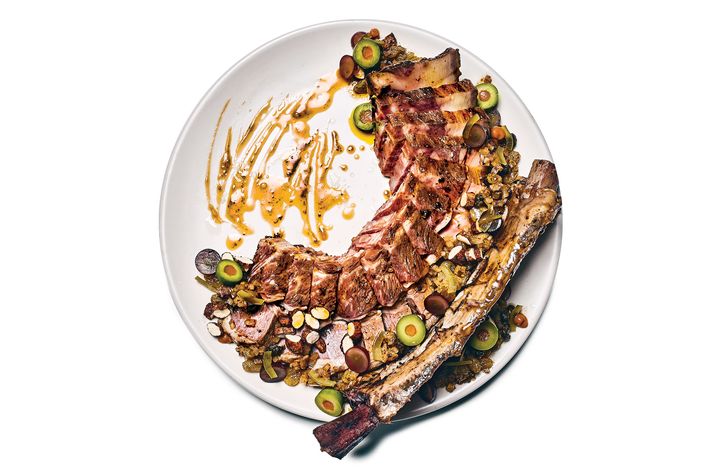 Gorge on Crab Nachos With Sea-Urchin Queso
For certain downtown chefs, you'd think the idea of cooking above 14th Street was tantamount to working the steam table at Rikers Island. "I'm nervous as hell," says Empellón's Alex Stupak about his maiden midtown voyage — a two-floor, 150-seat, flagship branch of his mini Mexican-inspired empire. The trick, he says, is designing a menu to suit all tastes and pocketbooks without sacrificing creativity. And so along with the signature guacamole and seven salsas, get ready for hash-brown tacos with tomatillo ketchup, crab nachos with sea-urchin "queso," and $125 Japanese-wagyu fajitas with black-pepper mole. 510 Madison Ave., at 53rd St.; 212-367-0999; early Mar.
How About Some Classic French Tamales?
Speaking of creative Mexican-inspired cooking, Craft alum Akhtar Nawab is all for it. At his new 39-seat Alta Calidad, he's picking up where he left off at La Esquina and Choza Taqueria with small plates and large-format dishes, plus pig's-feet carnitas, two takes on queso fundido, and a tamale filling inspired by the French cheesy-mashed-potato dish aligot. 552 Vanderbilt Ave., at Dean St., Prospect Heights; 718-622-1111; late Feb.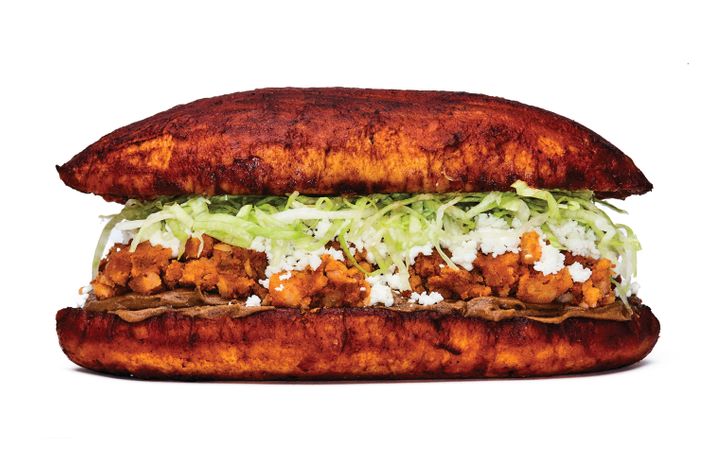 Eat Hand to Mouth
L.A.'s KazuNori claims to be the first restaurant of its kind (thus its subtitle, "The Original Hand Roll Bar"). Whether or not this is true, New Yorkers will have a chance to measure its nori-wrapped rice and fish against the local competition once the first Manhattan branch opens near Madison Square Park. As at sister restaurant Sugarfish, the crispy seaweed is specially harvested, the sauces are housemade, and The signature rice is warm and loose. The temaki will be served à la carte or in four set menus, and all seating is at the bar to ensure not a moment is wasted between production and consumption. 15 W. 28th St., nr. Broadway; no phone yet; early Mar.
Q&A: Jean-Georges Vongerichten
With the imminent opening of abcV, his first meatless restaurant, the superchef has been thinking a lot about plant matter. (38 E. 19th St., nr. Park Ave. S.; 212-475-5829)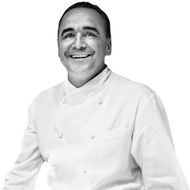 What cuisine has the best vegetarian food?
Asian and Middle Eastern countries, where, historically, meat was considered a luxury, resulting in vegetarian dishes that are complex and complete.
If you were a vegetable, what would you be?
Asparagus, because they are tall and skinny.
What's the last vegetarian dish you ate?
Kitchari for breakfast from abcV. This Ayurvedic recipe contributed by Deepak Chopra promotes healing, digestion, and well-being.
What was your most memorable vegetarian meal?
I visited a monastery in Japan where the monk prepared wild greens from the mountains, homemade tofu, and a variety of roots and vegetables I had never seen or heard of before. They served the meal with condiments and a lot of pickled vegetables as well as a medley of rice and grains.
What vegetable do you hate?
I don't hate any vegetable in particular, but I tend to have a hard time digesting raw red bell peppers.
What vegetable is always in your fridge?
You can find Windfall Farms' greens and avocados in my refrigerator year round.
If you were to go vegetarian, what would be the hardest thing for you to give up?
Sushi. I eat it three times a week.
And in Future-Food-Court News …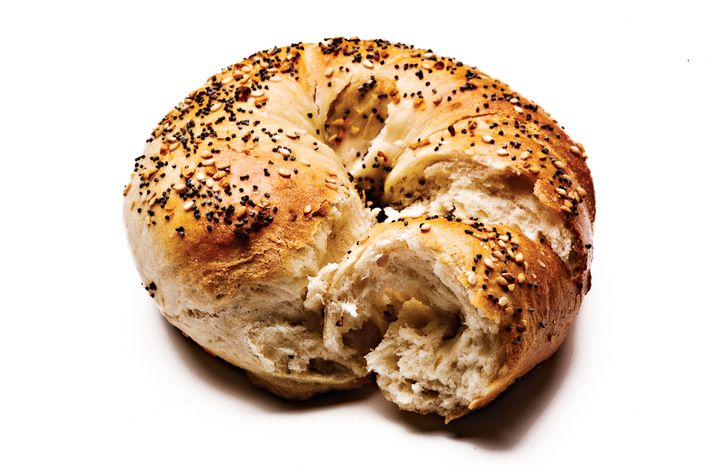 Hard Times Sundaes' Andrew Zurica, burger flipper and hot-dog fryer extraordinaire, has been boning up on traditional bagel-making with a master from Mill Basin Bagel Cafe. The plan is to open a commissary to sell wholesale, as well as supply his forthcoming Dekalb Market Hall stand, Andrew's Classic Bklyn Bagels by Hard Times Sundaes. Besides the bagels, Zurica will make all the spreads and salads in-house. 445 Albee Square West, Downtown Brooklyn; early spring.
Trendlet: A Fish With Legs
Chefs are increasingly hooked by the elegant lure of Dover sole.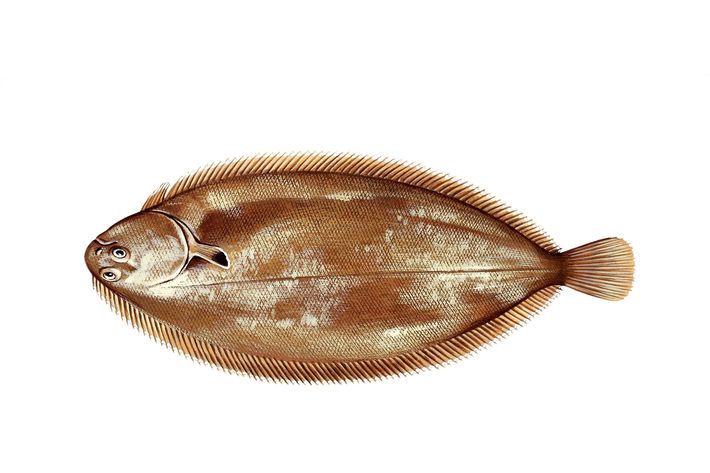 Culinary nostalgists have repopularized the prime rib, the French dip, and, more and more, the Dover sole, a totem of Continental fine dining and tableside service. This fine flatfish can be found on the menus of newfangled traditionalists like Le Coucou, Fowler & Wells, and 4 Charles Prime Rib. At Blue Ribbon Federal Grill, in the AKA Wall Street hotel, brothers Bruce and Eric Bromberg will serve their version meunière (flour-dusted and butter-sautéed, in the style of the miller's wife), with Riesling and capers, on a polyglot menu also populated by Louisiana crawfish, tandoori chicken, and truffle chawanmushi with potato purée. 84 William St., at Maiden Ln.; 212-337-0404; Mar.
*This article appears in the February 20, 2017, issue of New York Magazine.