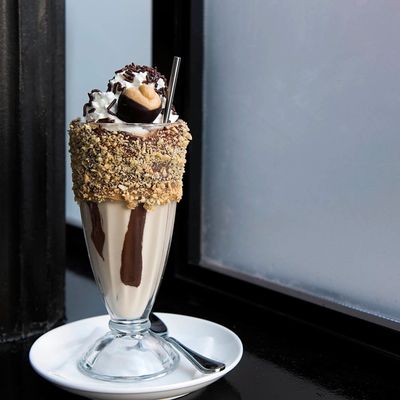 Pig Bleecker's Buckeye milkshake.
Photo: Liz Clayman
It's unseasonably warm outside today, a relatively balmy 62 degrees outside. This is only a very temporary respite: Temperatures are supposed to dip down to the 30s tomorrow, with a forecast indicating New York is in for snow. But today, you can pretend it's spring, for better or worse, and go get yourself the thing you've been missing most since summer: ice cream. Or maybe you're in the mood for a milk shake. Whatever you've got a hankering for, here are 12 places to satisfy your fix.
Guapetona Sundae
Where: La Newyorkina
Price: $9.50
At her West Village shop, Fanny Gerson pairs horchata ice cream with cherry hibiscus compote, cinnamony canelita cookies, and toasted pecans for crunch.
Thai-Phoon
Where: Ice & Vice
Price: $5
The Lower East Side scoop shop is one of the city's most gonzo, but this Thai tea–inspired variation with mango and sumac jaggery, just makes sense.
Cookie + Cream
Where: Make Sandwich
Price: $5
Ice-cream sandwiches aren't just for kids. The Union Square shop takes two of its triple-chocolate-chip cookies and sandwiches Il Laboratorio del Gelato's excellent vanilla gelato between them.
Buckeye Milkshake
Where: Pig Bleecker
Price: $9
The barbecue-ish restaurant's milkshake, inspired by the delicious midwestern dessert of the same name, is made with vanilla soft serve, peanut butter, chocolate, crushed peanuts, and whipped cream. Bonus points: In lieu of a cherry, there's a Buckeye on top.
Toasted Marshmallow Shake
Where: Salvation Burger
Price: $7
Working in midtown and need a midday shake break? Salvation Burger reopened in December after a fire in May, but ice cream likely hasn't been on your mind. So go get one of April Bloomfield's shakes, like the toasted marshmallow.
Vanilla Bean Kulfi
Where: Paowalla
Price: $10
Floyd Cardoz's kulfi, India's ice-cream-like dessert, is the kulfi of the gods. The ultradense version is fittingly shaped like a pyramid, vanilla-bean flavored, and served with rose water and fruit like, say, blood oranges.
Superbanana
Where: Chinese Tuxedo
Price: $15
The modern Chinese swaps out standard vanilla for pandan in this banana- split-esque dessert, made with roasted banana, sesame and peanut brittle, salted coconut, frozen lemon, and Sichuan custard.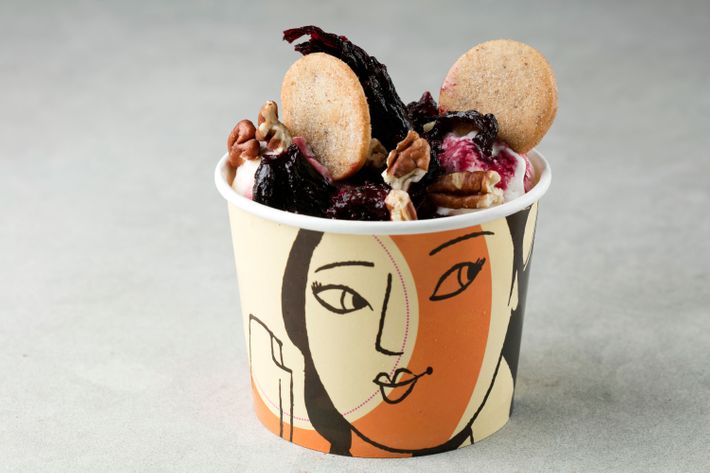 Homemade Ice Creams
Where: Bessou
Price: $7
Offered a trio of small scoops, the Japanese restaurant is currently serving an excellent, just savory enough hojicha green tea, salted-miso caramel, and kinako (roasted soy bean) cookie and cream.
Ginger-Blueberry Ice Cream
Where: Oddfellows
Price: $3.50–$7
At the inventive parlor's original shop in Williamsburg, they've just debuted a very summery new flavor made with blueberries and candied ginger.
Ice Cream Flight
Where: Gristmill
Price: $9
Can't make up your mind? Get one of each with the Park Slope pizzeria's ice-cream flight, five scoops of each flavor. Think dulce de leche, burnt honey, squash, burnt cinnamon, and coffee.
Dole Whip Float
Where: Chikarashi
Price: $5
The poke place is the only spot in town to get the Disney dessert called Dole Whip, available also as a float made with pineapple juice.
Warm Devil's Food Cake
Where: Sunday in Brooklyn
Price: $7
Rich, moist devil's-food cake is paired here with cocoa-nib praline and, most important for your frozen-dairy needs, peanut ice cream.