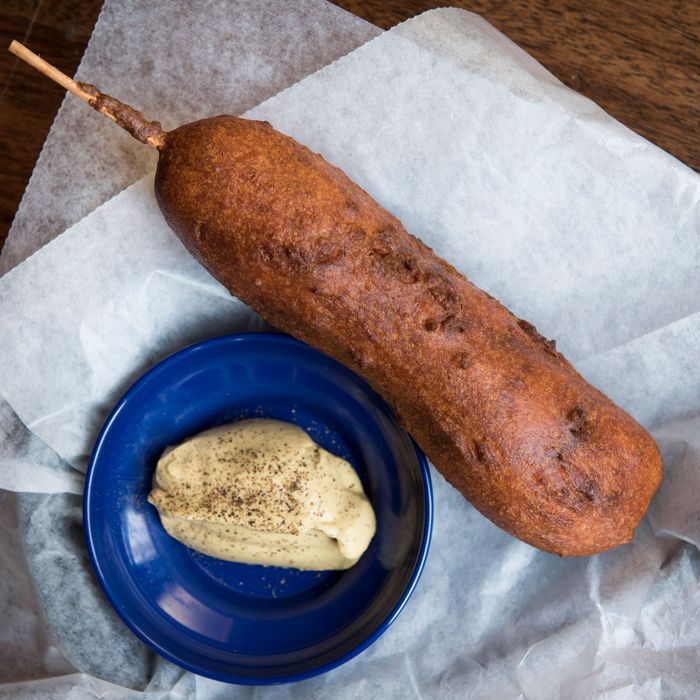 Until Tomorrow's corn dog with hot Italian sausage.
Photo: Liz Clayman/Liz Clayman
New York's chefs have shown no signs of slowing down when it comes to introducing great, new bar snacks. Some are smart takes on classics — like chicken wings given the porchetta treatment — while others are regional specialties — say, carne asada fries — not otherwise seen in the city. Others might just be truly great versions of classics. Whatever category they fall into, they're all perfect for snacking on while drinking a pint or a cocktail. (Though you don't have to enjoy them at the bar.) Here, 12 of them to check out right now.
Corn Dog
Where: Until Tomorrow
Price: $12
There's a Blue Hill alum in the kitchen at this compact Clinton Hill bar, but the food is lowbrow — like the burnished corn dog made with, appropriately, the classic street-fair-food hot Italian sausage. Plus you can wash it down with a Zombie spin called the Rob Zombie, given an undercurrent of smokiness by Scotch and zapped with licorice by absinthe.
Crispy Cuban Fries
Where: BlackTail
Price: $11
These aren't the shoestrings you might expect, but chips made with two of the island's favorite ingredients: plantain and yucca, served with an herbaceous salsa fresca. They're a good foil for one of the bar's punches, like the Nacional, a rum punch with pineapple and banana and made Painkiller-esque with a significant garnish of nutmeg.
Mini Morcilla Hot Dog
Where: Tapas Bar at La Sirena
Price: $10
The barroom at Mario Batali's hotel restaurant now serves dishes from Casa Mono's Anthony Sasso, like this "hot dog" of blood sausage Bolognese with spicy mustard and turmeric onions.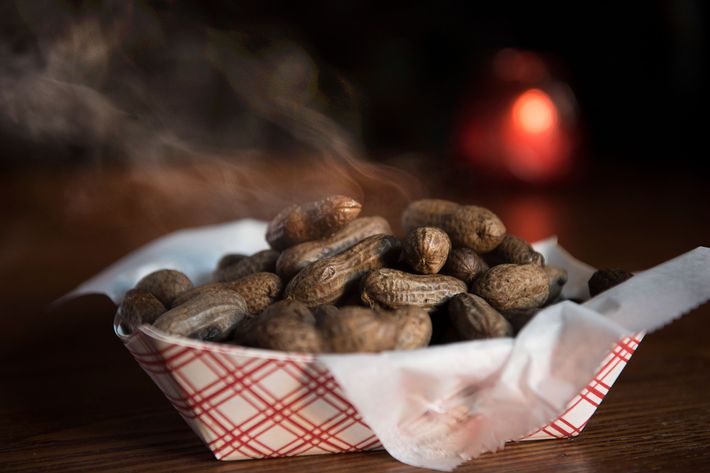 Lo Country Boiled Peanuts
Where: The Drift
Price: $4
The latest bar from the Commodore crew feels like an Vermont ski house, but the food is Southern through and through. On the menu: the exceedingly rare boiled peanuts, perfect for munching on while you drink a can of Tecate or whatever.
Crispy Spring Rolls
Where: Hanoi House
Price: $9
The Vietnamese restaurant has made a big splash since it opened last month, and if you haven't been, it's time to find out why. Drop by the bar and get yourself a plate of their nem ran, spring rolls that are ideally crispy and filled with a juicy mix of crab and pork. The spot only serves beer and wine, but this dish goes excellent with light beers like Bia Hoi.
Carne Asada Fries
Where: Ziggy's Mexican Beach Food & Bar
Price: $10
The poutine of San Diego, this drunk food piles grilled, marinated steak, beans, jalapenos, crema, pico de gallo, and chile queso over crispy fries.
Deviled Steak & Eggs
Where: Pig Bleecker
Price: $9
The barbecue-ish restaurant takes the breakfast classic of steak and eggs and turns into a proper bite-sized bar snack, overstuffing the meat into the egg.
Tostadas
Where: Madre Mezcaleria
Price: $10 sans meat, $12 for chicken, and $14 for tuna
Wash down that glass of Del Maguey with alternating bites of tuna and chicken tinga tostadas, made with the same great blue-corn tortillas served at this new bar's sister restaurant El Atoradero.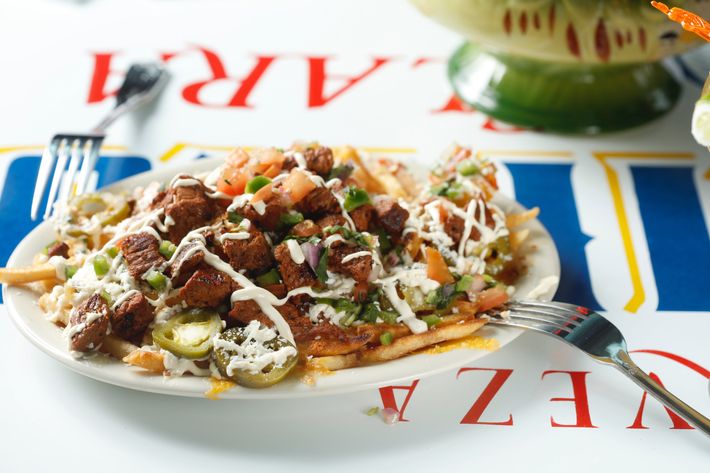 Sloppy Bao
Where: Win Son
Price: $11
Taiwanese gua bao are usually served with a thick slab of fatty pork belly, but at this East Williamsburg restaurant, they are filled instead with the soft, inky stewed pork normally served over rice as lu rou fan. It's certainly sloppy, but worth the threat of shirt stains.

Grandma Slice
Where: Gristmill
Price: $5
It's a particularly good time to eat square pizza in New York right now, but Gristmill goes the extra length of serving a crispy, extra-thin grandma slice made with flour milled in-house. It's only available at the bar, made with tomato sauce, mozzarella, and roasted garlic.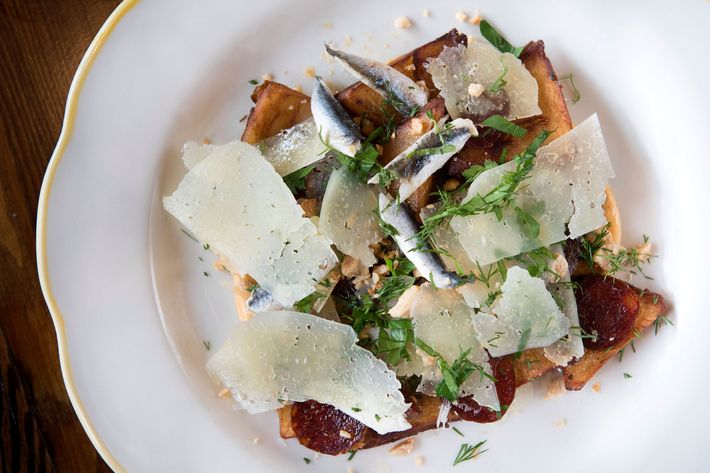 Potato Skins Bravas
Where: Atlantic Social
Price: $14
Tired of searching in vain for potato skins at your favorite new restaurants? At his latest restaurant, Dale Talde prepares them in the style of patatas bravas with chorizo, manchego, anchovies, Marcona almonds, and spicy aïoli.
Crispy Chicken Skins
Where: Tørst
Price: $12
New York's Best Beer Bar recently got a new chef, who has introduced dishes like a buffalo-chicken-esque crispy-chicken skin with Crystal hot sauce and Hiraboga bleu cheese.