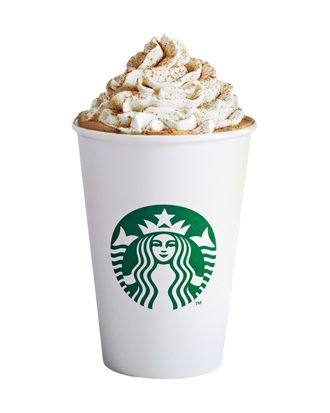 If you think a Starbucks on every corner is excessive, just give the coffee behemoth until maybe the middle of the century or so. Influential industry analyst Mark Kalinowski predicts Starbucks is on pace to become the world's most valuable restaurant company soon, naming it his top restaurant stock pick for 2017 despite recent labor problems, disappointing earnings, and Howard Schultz's departure as CEO (not to mention the fact that it's not really a restaurant). Kalinowski suggests the chain could double in size in just a few decades, as well as predicting the new fancy Reserve brand, which is where Schultz's energies are being redirected, will mean more growth — up to another $3 billion in sales, as that would only require selling … 60 million bags of $50 coffee.
"It is only a matter of time before Starbucks overtakes McDonald's as the largest market cap restaurant stock," Kalinowski writes, though he says that probably won't happen in 2017. It could by 2021, though, since that's when the chain hopes to have catapulted from 25,000 cafes to 37,000. (McDonald's currently has 36,615 locations.)
Looking even further ahead, the report adds that somewhere "well beyond 2021," it wouldn't be shocking to see Starbucks "exceed the 50,000-store level," a crazy-high number that would rocket it past Subway, which for some reason continues to have more locations than any other fast-food chain even though nobody eats at them anymore.