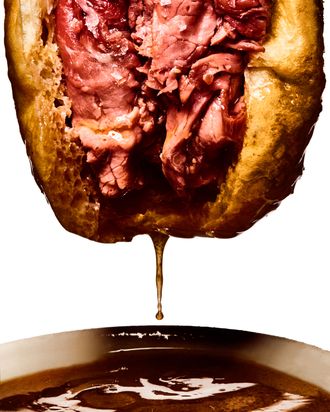 Maison Pickle's Classic French dip.
Photo: Bobby Doherty/New York Magazine
When a restaurant opens on the Upper West Side of Manhattan serving $15 cocktails and five kinds of French-dip sandwiches, you begin to wonder about culinary nostalgia and the eternal lure of the familiar. The new Maison Pickle (2315 Broadway) lists many other things on its menu, from pig's-head confit to Tomahawk steak, but it's the drippy meat sandwiches (lamb, pork, and three grass-fed-beef variations) served on housebaked rolls that get star billing. Downtown, at the studiously retro 4 Charles Prime Rib (4 Charles St.), hefty slabs of the eponymous cut may be the thing, but they also make their way into a terrific off-menu French dip, the paper-thin slices drenched in jus, topped with Swiss cheese, tucked into a garlic-buttered Parisi Bakery roll and delivered to your red-leather booth with all the suaveness and ceremony the vintage creation deserves.
The French dip isn't just a recipe; it's a national treasure. Said to have been invented in L.A. circa World War I by either Philippe the Original or Cole's P.E. Buffet, depending on which old-fashioned dive's colorful origin story you believe (see below), it's a simple dish that transcends its simplicity — just meat and bread and heady pan juices. A French dip doesn't rely on condiments to make it good, and although hot mustard and horseradish are acceptable garnishes, it's the sidecar of jus that makes a dip a dip. Unlike almost every other sandwich known to man, it's designed to be eaten wet, even soggy — sandwich fondue, if you will.
Considering its humble origins, New York's French-dip revival is notably upscale. The new arrivals join first-rate renditions served for lunch at Minetta Tavern and Dirty French. At Rider in Williamsburg (80 N. 6th St.), the sandwich comes on a thick slice of toasted country bread with a marrow bone and black-garlic jus, like an over-the-top update of that coffee-shop classic, the hot open-face roast-beef sandwich. Court Street Grocers recently debuted a French dip made with corned beef, mayo, garlic butter, and French's crispy fried onions. And Gerardo Gonzalez, whose food pulls influences from Mexico and Southern California, has been experimenting with a lamb-barbacoa "dip" for the daytime menu at his Chinatown restaurant, Lalo (104 Bayard St.). With modern upgrades like better meat and bread plus a little tweaking, these chefs are mining the past, finding new jus-soaked pleasures in a dusty old favorite. Of course, a purist would argue that tweaking misses the point. "I like to focus on food that has a lot of history to it," says 4 Charles's owner Brendan Sodikoff. "Not to change it, but to ask 'what makes it great?' and do more of it. People understand the French dip. I think it's a great way to connect with them."
Who Invented The French Dip?
Like many great sandwiches, the French dip has a contentious history. Two rival Los Angeles restaurants, both of which opened in 1908, claim to have invented it. The folks who run Philippe the Original say that in 1918, Philippe Mathieu accidentally dropped a French-style roll into some hot pan juices while making a sandwich for a policeman on his lunch break. Officer French — yep, that was his name — liked it so much he came back the next day for an encore performance. If Philippe had had quicker reflexes, or if the cop had been fussier about how his sandwiches were put together, the French dip might never have been.
The owners of Cole's P.E. Buffet dispute this. They say they were the ones who invented the French dip at the request of an old dentally challenged regular who wanted his sandwich roll dipped in pan juices to make it easier to eat. Cole's says this happened a decade before Philippe dunked its first bun, but absent any concrete evidence — a photograph, say, of a toothless geezer gumming a French dip while holding a newspaper dated 1908 — we may never know.
Taxonomy: Wet Hot American Sandwiches
Some other super-soggy, hot-beef sandwich styles and where to find them.
Beef on Weck
Buffalo's signature roast-beef sandwich is defined by its distinctive bread, the hard, round salt-and-caraway-seed roll called a kummelweck, and by the accompanying gob of horseradish. Get it at Buffalo's Famous, an orange-Formica takeout joint in Prospect Park devoted to the foods of western New York (1111 Church Ave.).
Sheepshead Bay Standard-bearers
Sog shrine Brennan & Carr (3432 Nostrand Ave.) has been dunking roast-beef sandwiches in vats of broth like bonbons in chocolate since 1938. And neighbor Roll-N-Roaster (2901 Emmons Ave.) has been lightly moistening the insides of its soft round rolls in meat juice since 1970.
Hot Italian Beef, Chicago Style
A comer hereabouts, served on a long Italian roll with the essential, spicy pickled-veg condiment called giardiniera. At Al's in Chicago, after they drown the meat in gravy and assemble the sandwich, they take the whole thing back to the gravy tank for a final dunk. Emmett's (50 Macdougal St.) and Hank's Juicy Beef (84 Chambers St.) abstain from this baptism. And at Bodega, Dale Talde's 24-hour snack shop in the lobby of the Arlo Nomad hotel (11 E. 31st St.), the sandwich comes with melted provolone, giardiniera, and a cup of dipping jus on the side.
Hot Italian Beef, Tri-state Style
The New York and New Jersey way to eat a hot beef hero is with slabs of fresh mozzarella and streams of dark, viscous gravy (don't even think about calling it jus) on long rolls. Fiore's is the ne plus ultra of roast beef, mutz, and gravy sandwich achievement in Hoboken (414 Adams St.), and over in Kings County, it's a toss-up between Defonte's (379 Columbia St., Red Hook) and John's Deli (2033 Stillwell Ave., Gravesend), where you can get extra gravy by the Styrofoam cup.
*A version of this article appears in the January 23, 2017, issue of New York Magazine.