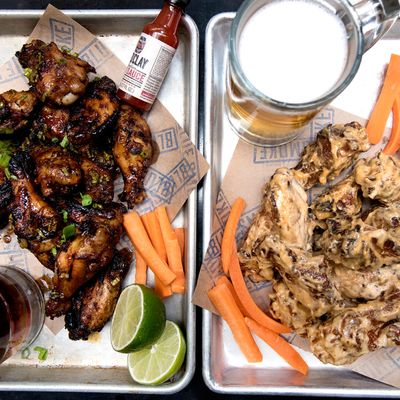 Wings from Blue Smoke.
Photo: Liz Clayman
The Super Bowl is almost here, which means it will soon be time to consume as many buffalo chicken wings in one sitting as possible. If you're throwing a party in New York, and don't want to cook for everyone (or at least, don't want to cook everything), there are many, many restaurants willing to give you the assist. Here, 14 options that go beyond standard fare to offer something a little more exciting.
Where: Eli's Night Shift
Cost: $200 for six people, $350 for 12
How to Order: Email catering@elizabar.com or call 212-717-8100 ext. 9 by 3 p.m. on February 1.
Groups of six get poulet rouge wings, nacho dip with tortilla chips, chicken or steak for an extra $4 per person, macaroni and cheese, chicken sandwiches, and a growler of craft beer. Groups of twelve get all of the above plus an extra growler of beer.
Where: Pig Beach
Cost: À la carte, half trays to full trays run $48 to $255
How to Order: Via info@pigbeachnyc.com by February 1.
The barbecue restaurant offers half trays and full trays of baby back ribs, sausage links, smoked and charred hatch vinegar wings, and sides like baked beans and brisket chili.
Where: Blue Smoke
Cost: $50 to $100
How to Order: Either by calling 212-447-7733 or via Caviar.
There are Red Clay hot wings, made with the bourbon barrel-aged hot sauce they take their name from, and smoked Alabama white wings with Alabama white sauce.
Where: Mekelburg's
Cost: $14 to $150
How to Order: Place order by Friday either by calling 718-399-2337 or emailing catering@mekelburgs.com.
The restaurant will offer its catering menu including sandwiches like the porchetta and Nana's meatloaf, platters of roast beef and other meats, and cheese and charcuterie boards.
Where: Marta
Cost: $18 to $210
How to Order: Via Caviar.
The Italian pizzeria is making wood-fired wings with garlic and herbs and Italian combo sandwiches. There will also be two packages for six to eight people: the "Eye's on the Pie" (three salads, polpettine di pollo, a margherita pizza, and two pizzas of your choosing) and the "Game Day Classic" (three salads, wings, Italian combos, and any three pizzas).
Where: Momofuku Ssäm Bar
Cost: $375
How to Order: Email your name, phone number, and desired pick-up time (3:30 p.m. to 4:30 p.m.) on February 5 to ssamreservations@momofuku.com.
You'll get a bo ssäm or whole roasted pork butt with accoutrements, chicken-wing buns with blue-cheese slaw, loaded nachos, broccoli salad with ranch, and Milk Bar's chocolate-malt cake truffles. The package serves six to eight.
Where: Fuku
Cost: $220
How to Order: Email your name, phone number, and desired pick-up time (any day between 11 a.m. and 10 p.m.) at the East Village location.
The fast-casual spot's offering includes 50 pieces of its chicken fingers, 12 spicy chicken-sandwich sliders, a half tray of smokey slaw, a bottle of Ssäm Sauce, and pints of ranch, honey mustard, and JD sauce.
Where: Má Pêche
Cost: $275 to $350
How: Email your name, phone number, and desired pick-up time between 3 p.m. and 5 p.m. on February 5 to mpreservations@momofuku.com.
David Chang's midtown restaurant will offer two feasts for eight to ten people: its habanero fried chicken with lime and smokey slaw or its pork-rack char siu with chorizo mac and cheese, broccoli salad with miso, pork buns, and wedge salad.
Where: The Dutch
Cost: $150
How: Through Eventbrite by February 3 at 8 p.m.
Intended for four to eight people, this meal includes a 16-piece fried chicken bucket, whole apple pie, sides like coleslaw and chipotle-scallion cornbread, and house hot sauce.
Where: White Gold
Cost: $5 to $20
How: By calling 212-362-8734 or placing your order in-shop, through game day.
On the Upper West Side, April Bloomfield and co. will offer all kinds of meats by the pint, pound, or quart, including chili, pulled pork, and smoked kielbasa; blue cheese and BBQ sauce; and chicken wings by the wing.
Where: Talde
Cost: $35
How: Either by calling the restaurant at 347-916-0031 or via Caviar. However, large orders must be placed by noon Friday via events.taldebklyn@gmail.com.
There are buckets of fried spicy ranch chicken with sides of sticky rice, kimchi-yogurt sauce, and house ranch, as well as buckets of two dozen kung pao wings with sides of ranch.
Where: Root & Bone
Cost: $50 to $18 for packages, $20 to $55 for individual dishes
How: Through the restaurant's website.
The Southern spot will offer two packages. There's one for 4 with a whole bird, biscuits, and sides of mac and cheese and coleslaw, and another for 12 with fried chicken drums and wings, mac and cheese, coleslaw, and a dozen biscuits. Additionally, they're offering fried drums and wings, biscuits, pimento-cheese-and-country-ham stuffed biscuits, BBQ short-rib biscuit sliders, and more à la carte.
Where: Make Sandwich
Cost: $100
How: Order by February 3 via catering@makesandwich.com.
The Union Square shop will offer a limited number of sandwich boxes, each with ten sandwiches like the Italian Meats + Provolone, Steak + Salsa Verde, and more.
Where: Speedy Romeo
Cost: $75 to $200
How: Via Caviar February 3 at 3 p.m.
The restaurant will offer two packages, one for 4 people and another for 10 to 12, consisting of its Caesar salad, chocolate cake with marshmallows and graham crackers, and grilled chicken wings tossed in a spicy, sticky sauce and served with ranch.