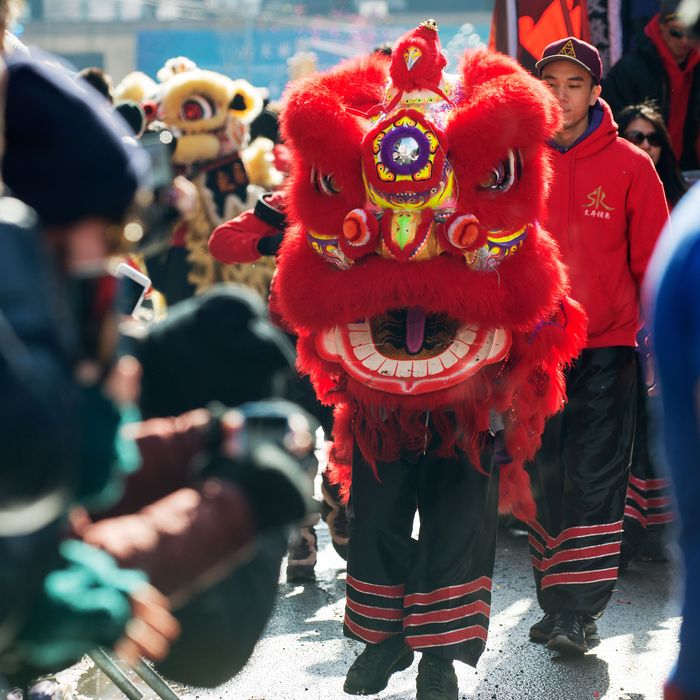 You'll need to refuel after the parade.
Photo: Bryan Thomas/Getty Images
The Chinese New Year is this Saturday, when the Year of the Rooster will be ushered in. Along with the festivities in neighborhoods like Chinatown and Flushing, where the crowds will be humongous, you'll find plenty of restaurants celebrating the holiday. Some are opting to go all-in with banquet-style menus, while others are serving special dim sum, noodles, and, of course, chicken dishes. Here, 12 places to ring in the Rooster.
Fung Tu
Price: $68–$111
In place of its regular menu, the modern American-Chinese restaurant will serve three tasting menus. Chef Jonathan Wu will serve signature dishes like his smoked and fried dates and pork-belly egg roll alongside coconut egg-custard tarts, black chicken with goji and walnuts, red-envelope scallop wontons with mock shark fin, yellow noodles with black beans and clam, and black-sesame brownies.
Houseman
Price: $85 for seven courses, optional wine pairing is $50
The Tribeca restaurant will host Rosa Ross, the chef-owner of Scrimshaw Restaurant who grew up in Hong Kong, for a feast. On the menu: scallop-mousse dumplings in broth, Peking-duck skin with steamed buns, lion's head meatballs with longevity noodles, and more.
Joy Luck Palace
Price: $3–6
For the holiday, Chinatown's best source for shui mai and other dim sum will serve specials like dried oyster dumplings and pan-fried New Year's cakes. For those who opt for banquet menus, there will also be old-school fruit and vegetable carving.
Asian Jewels
Price: $70
At the giant seafood restaurant, the Queens Dinner Club will host a banquet feast on January 30 at 7:30 p.m. The thematic menu includes courses like a "fortune platter with shiu, shrimp dumplings, and more; a four treasures soup made with dried seafood; stir-fried steak with mango; long life noodles; and deep fried chicken with garlic." Tickets can be purchased here.
Tuome
Price: $2.50–$5
From January 27 through 29, the East Village restaurant will serve dim sum specials including lamb dumplings with smoked banana purée, duck noodle soup, and langoustine spring rolls with herb sauce.
Chomp Chomp
Price: $20–29
The Singaporean restaurant will serve a yee sang prosperity salad of salmon sashimi with plum-honey-orange vinaigrette (and, cheekily, a lottery ticket); a whole pork shank braised in dried oyster, sea moss, and shiitake mushroom; and laughing prawns with curry leaves and crispy egg.
Chinese Tuxedo
Price: $19 each
What better place to celebrate the holiday than iconic Doyers Street? Today through January 28, the contemporary Chinese restaurant will serve specials of scallop wontons with jamón, star anise broth, and ginger oil and a smoked-eel fried rice with an optional black truffle supplement.
East Wind Snack Shop
Price: $8
From January 28 through February 3, Windsor Terrace's dim-sum specialist will serve a "Chicken in Stars" dumpling of ground chicken with scallions, ginger, Chinese wine, and salted black bean. There will also be a performance of the New Year's lion dance on the night of February 3.
Win Son
Price: $7 and $17
Along with beef noodle soup made with shawarma short rib and Taiwanese popcorn chicken specials on Friday and Saturday, the modern Taiwanese spot will throw a party Saturday night starting at midnight.
Hao Noodle and Tea by Madam Zhu's Kitchen
Price: $16–$28
From January 27 through February 1, the acclaimed pan-Chinese import will serve Happy Together, a Spring Festival dish traditional to Southeastern China that's made with smoked sole, egg-crepe dumplings, meatballs, chicken, and more stewed together. For dessert, there will be Chongqing-style fried sticky-rice balls stuffed with sesame.

Talde
Price: $14–$60
From January 27 through January 29, the Park Slope fusion restaurant will serve wild mushroom dumplings with aged maple soy sauce, lobster longevity noodles, and tea-smoked peking duck with mu shoo pancakes and hoisin demi-glace. There will also be pitchers of whiskey-ginger smashes.
Atoboy
Price: Complimentary
On January 28, the Korean restaurant, where $36 nabs you three courses of contemporary banchan, will offer a free amuse-bouche. Diners will given a complimentary serving of tteokguk, the Korean rice soup traditional to the Lunar New Year.