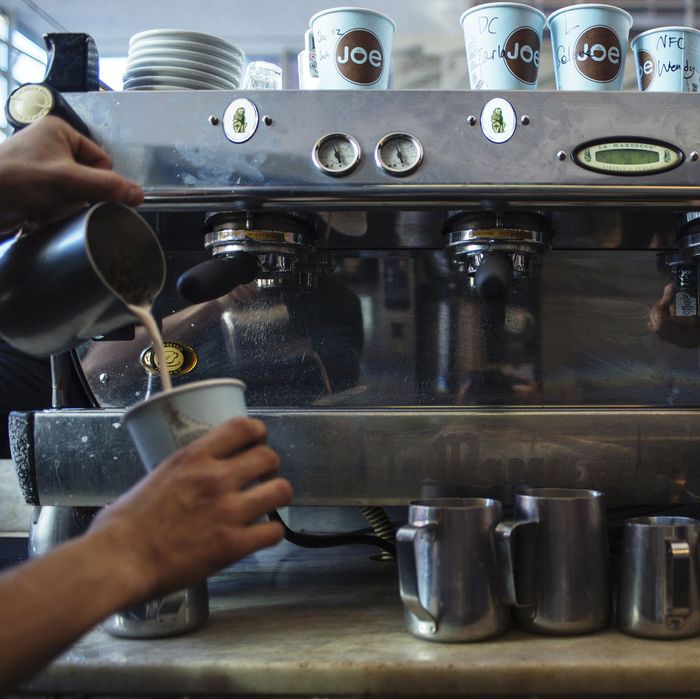 The cafe chain Joe is a New York favorite, and now after 13 years in business, it's poised to become a player on the national caffeine scene. Danny Meyer's Union Square Hospitality Group has invested an undisclosed — but presumably significant — amount of money in the homegrown chain, which was an early proponent of third-wave coffee in New York. (It's also widely recognized as one of the city's finer places for java.) It has roasted its own coffee in Red Hook since 2013, putting it ahead of the curve on the trend of coffee houses roasting their own beans.
Beyond quality caffeine, Joe is also known for being family-run — led by founder and president Jonathan Rubinstein — and family-friendly, values that presumably appealed to hospitality-minded nice-guy Meyer. There's good reason to believe the investment could mean that Joe will soon expand well beyond its 14 locations in New York and two in Philadelphia. In a release, USHG says the investment money will "help fuel the growth of Joe coffee bars in cities across the country" and Meyer, after all, has a little bit of experience with this kind of thing, having already turned Shake Shack into an international burger behemoth.
Given Rubinstein and Meyer's emphasis on friendly service, could this also mean the end of baristas who seem pissed when you order an almond-milk latte?