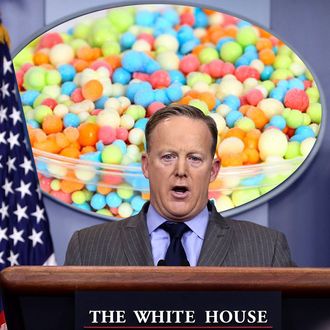 He hates 'em, period.
Photo-Illustration: Grub Street. Photos: Dippin Dogs; Alex Wong/Getty Images
The country's just getting to know Sean Spicer, veteran RNC spokesperson turned White House press secretary, but we already know the man tasked with making Trump sound more restrained holds quite strong opinions on My Little Pony unicorn Starlight Sparkle and Daft "Funk's" Grammys performance. You can now add to this growing list his feelings about Dippin' Dots, a product he's apparently been angry at longer than any rational human ought to be.
The A.V. Club noticed a borderline obsession on Spicer's Twitter with the caviar of ice cream, which he's vehemently disliked for at least seven years. The first attack on Twitter came in 2010 — a decade since anybody had even thought about the stuff — when he let the company know its motto was (what else?) a lie:

About 17 months later, he repeated the same charge almost verbatim, switching it up with just a verb-tense change this time. The wording of his tweet suggests by this point, friends had probably been subjected to their fair share of screeds in person:

He gloated about its certain demise (prematurely, it turned out) when the company filed for bankruptcy six weeks later:

Skip ahead four years, and he's riding them again. Only it seems this time, realizing he hadn't harangued his nemesis in a while or something, he called out the "Ice Cream of the Past" for not having any vanilla-flavored dots at a Nationals game — which he was ordering for a friend, no doubt.

Believe it or not, the company has a semi-active Twitter presence, so it sounds like time for whoever manages the account to offer up some alternative Dippin' Dots facts, and settle this beef for good.

Update: Dippin' Dots has responded. It issued an open letter to Spicer this afternoon suggesting a frozen-mini-spheres version of the Beer Summit where they can all figure out how to "be friends rather than foes."

Update: After the public had an absolute field day with this, Spicer could no longer ignore Dippin' Dots' olive branch. In a tweet late Wednesday night, he apologized for his "delay," indicating he's perhaps ready to forgive and forget. Not feeling that ice-cream social, though: