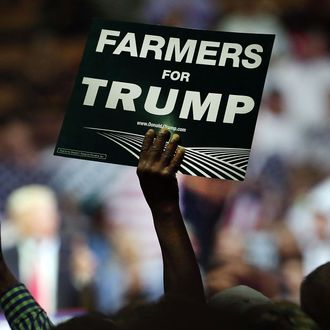 Let's make a deal.
Photo: Spencer Platt/Getty Images
One of President Trump's first executive actions yesterday was to withdraw America from the Trans-Pacific Partnership — Obama's pet project that Trump once likened to rape. Choice of analogies aside, lots of Americans agreed the trade deal was weak (Bernie included), but today's Wall Street Journal points out that farmers, a majority of whom voted for Trump, are now "express[ing] dismay" because they need TPP to help them sell their products in those 11 member countries' markets.

Trade groups like the American Farm Bureau Federation say TPP would have meant another $4.4 billion of agribusiness each year — nothing to sneeze at, especially when it's "during a multiyear slump in crop prices and farm profits." Per USDA data, farmers actually just had their worst year income-wise since 2009, and they apparently had hoped their red-tape-cutting populist-in-chief would replace TPP with something a little more pro–U.S. farmer, or at least renegotiate the unfriendly portions of the agreement. Now, they blame Trump for causing "another setback to an already struggling economy." (Ironically, Clinton was the most in favor of TPP of any 2016 candidate not named Gary Johnson.) The hacked-off groups concluded by giving the Journal a message to pass on to Trump — that they "expect" a plan ASAP to "capture the value that we lose with the withdrawal." He and his USDA secretary pick are surely all ears.