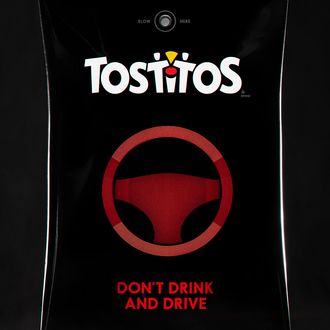 It's cutting you off.
Photo: Tostitos
Now even your snacks can call you out for drinking too much: Just in time for next week's Super Bowl, Tostitos has made a bag of chips whose sole purpose, outside of holding the vessels for the French onion dip, is to tell you if you've been boozing. The limited-edition "Party Safe" bag comes in a formidable black color and with an embedded sensor that detects alcohol on a person's breath if they breathe at or into it (this part's unclear), an act that screams inebriated even if done stone-sober. The sensor lights up green if it doesn't find alcohol. But if it detects even a trace, it projects a large bright-red steering wheel with the words "Don't drink and drive" below it. Probably worth noting that this isn't some $50 bag of Tostitos, so the sensor isn't exactly breathalyzer-grade. It just alerts people that they've been consuming alcohol and should consider an alternative means home.

In addition to that subtle transit suggestion, the bag uses near-field communication — the same technology as Apple Pay — to allow fans to call an Uber just by tapping the bag with their phone. Tostitos owner Frito-Lay, co-sponsor of the bag MADD, and Uber are together offering a $10 discount to the first 25,000 people who avail themselves of this offer during or after the game. They're of absolutely no help, though, if that's because drunk you got kicked out for emptying an entire bag of tortilla chips onto your friend's floor trying to figure out how to make the bag do its thing.