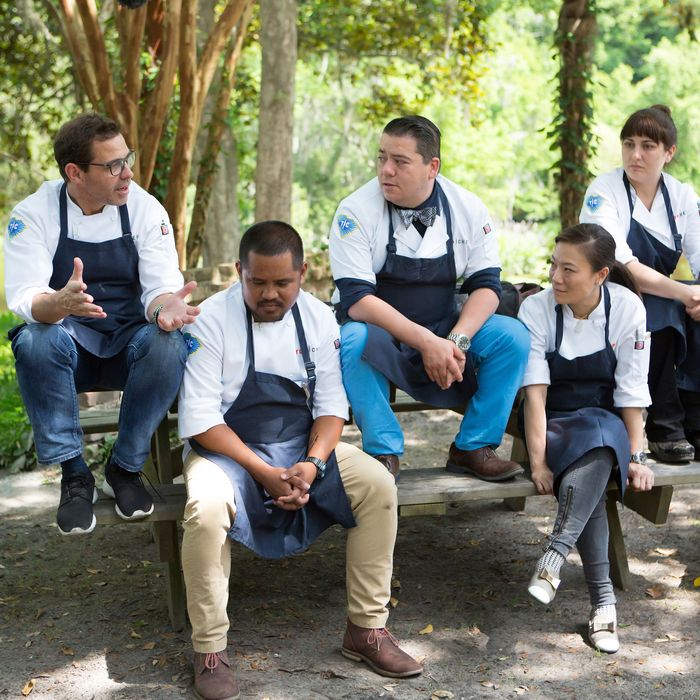 Just a bunch of chefs, all casually chilling on the same side of a picnic table.
Photo: Paul Cheney/Bravo
The more everything changes, the more it stays the same. Last year, John was winning praise and admiration for his otherworldly xanthan-gum mac and cheese, and this year, the chefs are all sitting around the break room, talking about how John won praise and admiration for his xanthin-gum mac and cheese. It is reassuring, in a way. Whatever happens in the world, we will always have John's xanthanized macaroni and cheese to return to.
But first, let's get to know our old pal Jim, executive chef of the State of Alabama and living Kewpie doll. "How long have you been married, Jimbo?" wonders Katsuji, expositorily. I, for one, didn't know that Jimbo was married at all, but it seems like we're all learning something today. "The happiest point in my life really has to be meeting and marrying my wife, Tracey," Jim says, against a montage of wedding pictures of him and his wife, Tracey.
I would love to know more, but alas, there is no time, because everyone is off to the kitchen, where they are greeted by none other than U.S. Surgeon General Dr. Vivek Murthy! "I firmly believe that chefs can be change-makers when it comes to health," says Dr. Vivek Murthy. John, who has always considered himself an unsung change-maker, beams dopily. "Dr. Murthy's main mission is to get people eating healthier, maintain emotional well-being, and get physical," Padma winks, noting that this Quickfire Challenge will put all three things to the test. "We're working out?" Sheldon mutters. "Fuck." Amen.
For the Quickfire, each chef will be assigned a different classic American comfort food, but the twist is that they have to make healthy versions of those comfort foods. "Wait a minute," gasps Shirley, the gravity of the situation slowly sinking in. "Comfort food is comfort food. The fattier the better!" She is momentarily jolted from her misery, though, because it's time to draw knives. Katsuji pulls spaghetti and meatballs! Shirley's on pepperoni pizza! Jim gets chicken-fried steak! Other people are doing other things! (They are all very comforting.)
"This is really easy," smirks Padma, who is dressed as an Ionic column. Then she reveals the twist. All the dishes must be made vegetarian. Amanda makes a noise that cannot be transcribed in text. Shirley fights for breath. And then, to underscore the importance of cardiovascular health, another twist: The chefs will only be able to grab one tool or ingredient at a time. "All those hours I spent on the treadmill in extra preparation for Top Chef are finally going to pay off," chirps Jimbo.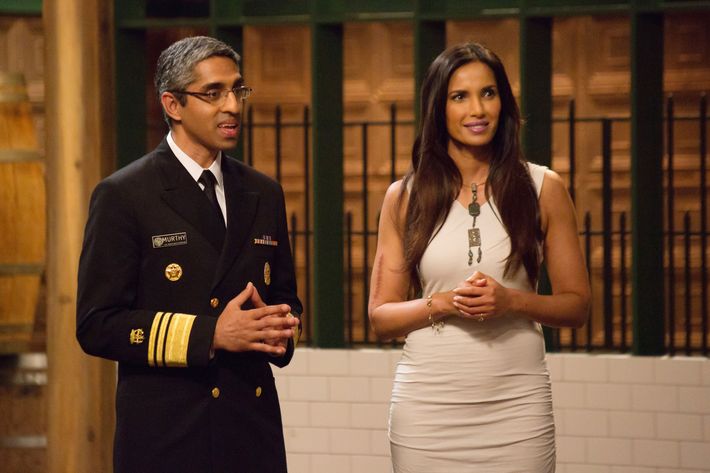 And on that note, they're off: Jamie is confident about his tofu sloppy joes, because his kid is a vegetarian, but then, Jim is feeling pretty cocky about his eggplant-and-pistachio chicken-fried steak, because he used to be a vegetarian. "It was just sort of my rebellious nature as a college student," grins Jim. "I was just like, 'I'm sick of the man, I'm gonna be a vegetarian!'" He contains multitudes, our Jim.
When the dishes are done, Dr. Vivek Murthy, United States surgeon general and budding reality-television personality, tastes everything and unveils his official medical opinion. The prize for the most comforting dish of the day goes to Jamie and his tofu joes! "Woooooooo!" barks Jamie, doggedly.
There's barely time to bid a proper farewell to my new favorite surgeon general before it's time to dig into the Elimination Challenge, which is dedicated to a pioneer of Southern cuisine, Edna Lewis! "I have no clue who Edna Lewis is," whispers Sheldon. Jamie also does not know who Edna Lewis is, excited to pay tribute to her because she hasn't gotten the recognition he's pretty sure she deserves. "It's really mind-boggling to me that more chefs don't know about Edna Lewis," exclaims Jim, mind boggled. "She was such a pioneer in her field! She has her own freaking postage stamp!"
Luckily, Padma has anticipated just this situation, so she's brought in two special-guest experts on Edna Lewis to advise them: Alexander Smalls, chef, restaurateur, and opera singer; and Toni Tipton-Martin, culinary journalist and author of The Jemima Code. "Edna Lewis was not just a chef. She was a beacon in the Southern culinary field," intones Alexander Smalls. "She helped us see Southern cooking in a way we hadn't really thought of it before," explains Toni Tipton-Martin. For the challenge, the chefs will prepare dishes that pay homage to Edna Lewis in Edna Lewis's kitchen, and then serve them to a coterie of esteemed chefs whose careers have been forever changed by Edna Lewis's legacy. And, just as Edna Lewis herself began each of her meals, the chefs are given $300 to shop at Whole Foods.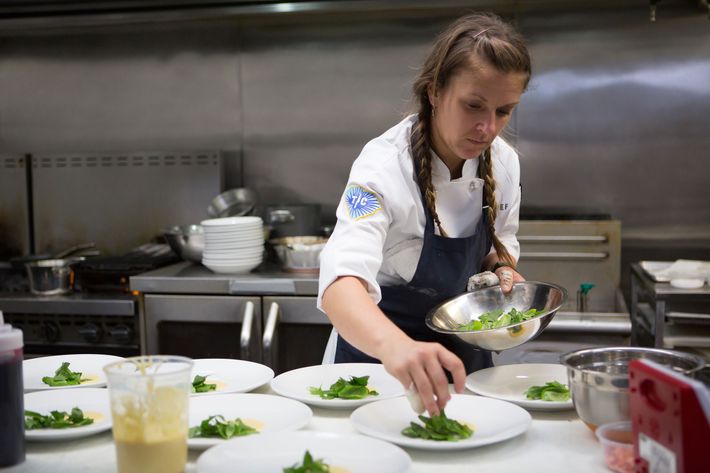 Since Sheldon has decided Edna Lewis reminds him of his grandmother, he's going to do a take on her recipe for cabbage and pork, which also happens to have been one of his grandmother's specialties. Across the kitchen, Amanda is explaining her philosophy of duck. "I really wanted to find a protein that was going to really accentuate my garnish," she muses. "Accentuate," says Katsuji, loosely masking his contempt. "That's a very high-class word." Favoring a more proletarian approach, Katsuji will be doing fried chicken with watermelon salad. "Truly for him, I hope it's a good fried chicken and watermelon," Sylva sighs, skeptically. "Because I would never present that dish to a table of Southern chefs."
Sylva explains that he is particularly excited for this challenge, because even today, there are so few black chefs in top kitchens, let alone black executive chefs. "Not only was Edna a black chef, she was a black woman chef way back when, and she became an owner of a restaurant," Sylva said. "She didn't stop, so why should I?"
Speaking of not stopping, the eventually judges come marching in. Nathalie Dupree is here. So is Anson Mills founder Glenn Roberts; Irv Miller, who used to be assistant chef to Edna Lewis; old standby Hugh Acheson; our new friends Toni Tipton-Martin and Alexander Smalls; and Mashama Bailey, executive chef and VP of the Edna Lewis Foundation. Also, a pair of alligators!
First up: Jim's seared shrimp with smoked turkey wing and pork consommé and Katsuji's chicken-and-watermelon extravaganza. Hugh Acheson tells Jim his dish is "very clean, very seasonal, very quenching." Tom tells him his side of English peas are undercooked. Toni Tipton-Martin says that Katsuji's watermelon salad is so beautiful it isn't a stereotype, and Mashama Bailey offers up what may be the deepest truth of the evening, which is that the reason people love fried chicken is because it's good. A success on all counts.
Brooke and Emily, on the other hand, fare notably less well. Brooke has elected to serve a bizarre mélange of braised chicken with Swiss chard, sunchokes, and lemon pudding. Emily, meanwhile, ran out of time to pan-fry her underseasoned livers and had to deep-fry them, which she is forced to say approximately one million times. Hugh Acheson is bored. There is nothing worse than boring Hugh Acheson, except apparently deep-frying chicken livers. If there is a saving grace, it is that the judges also don't have much use for Amanda's soulless hunks of duck breast, although Hugh Acheson is willing to charitably classify it as "food." Jamie's sous vide strip steak might have been fine but he forgot to serve it to Padma.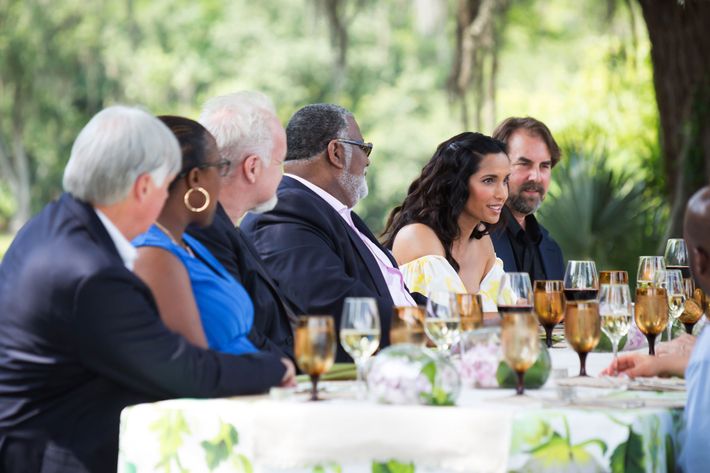 In brighter news, the judges are entranced by Sheldon's pork belly and cabbage with potato, which is a spiritual experience for everyone, but especially for Sheldon. Everyone also loves John's pan-broiled chicken with watercress, probably because of how his mother was active in the Civil Rights Movement. Neither, however, can hold a candle to Sylva's cornmeal-encrusted skillet-fried snapper with garden vegetables, which tastes as though it has been delivered by angels.
In the end, it is a difficult decision: Padma liked all the dishes, except the ones she didn't eat. Alexander Smalls is proud of everyone, because they brought their spirits and their hearts. On top: Jim's nuanced consommé, Sheldon's emotionally profound pork belly, and Sylva's otherworldly snapper, which is the clear winner of the bunch. "I'm speechless," Sylva stutters, accurately. "I … I … I did not expect it."
Time for the evening's losers. "Southern cooking is a feeling, and there was one dish where we didn't quite get that feeling," says Tom sadly. We all know what is coming: Amanda and her heartless duck are going home. I am devastated. Amanda is not. "I'm really proud of myself," she says, Zenly. "I wasn't sure whether or not I could be a chef again. Now, I feel confident that I am one."
And so the battle rages ever onward! Next week: Jim smokes a pepper, Emily has a fight, and a treasure hunt in a hurricane ends with tears (as they tend to).