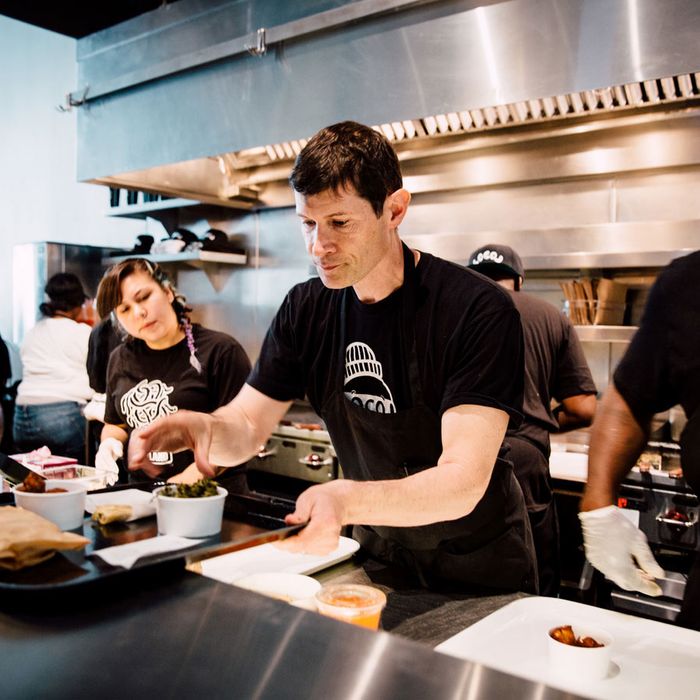 Patterson, on the line.
Photo: welocol.com
Since New York Times critic Pete Wells announced he'd start writing starred reviews for restaurants outside of New York — the first time in the newspaper's history — he's enjoyed his time on the road, awarding three stars to Cassia in Los Angeles. But today, he dropped a zero-star review of Locol, a fast-food chain founded by Coi's Daniel Patterson and Kogi's Roy Choi. Their goal is to offer fresh, healthy, and delicious food at a price point so affordable it welcomes low-income families.
The problem is that Wells doesn't find the food to be delicious. Of the fried chicken, he says:
Like a McNugget, Locol's chicken is an amalgam of chicken bits invisibly bound together. Inside a thin sheath of fried coating, this composite of ground meat is mysteriously bland and almost unimaginably dry. It can be had as a single patty between buns with coleslaw, as the Fried Chicken Burg, or in a paper cup, with barbecue sauce, as bite-size Chicken Nugs. But the best thing to do with it is pretend it doesn't exist.
He's also not fond of the chicken-noodle soup (which has neither noodles nor chicken), but he does praise the restaurant's overall vibe and design. Still, it's a major blow for Choi and Patterson's progressive business model.