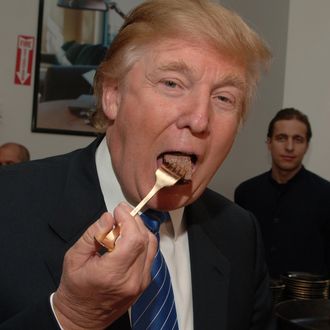 Photo: Stephen Lovekin/WireImage
Per tradition, the Joint Congressional Committee on Inaugural Ceremonies will host a luncheon for Donald Trump on Friday, right after he's sworn in. The menu won't include Kentucky Fried Chicken or some semblance of a taco bowl; instead, he'll feast on a very-1980s Maine lobster and Gulf shrimp with saffron sauce and peanut crumble (perhaps a nod to Mar-a-Lago), grilled Seven Hills Angus beef in dark chocolate and juniper jus with potato gratin (likely cooked well-done), and chocolate soufflé and cherry vanilla ice cream. Plus, bottles of $13 Champagne.
The menu — which Trump likely had nothing to do with — is actually not so different from Obama's inaugural meals, which included seafood stew, pheasant and duck, and apple-cinnamon sponge cake in 2009, and steamed lobster, grilled bison, and Hudson Valley apple pie in 2013.