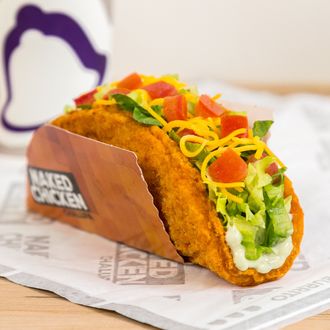 Finally here, in all its deep-fried, folded-over glory.
Photo: Erika Johnson/Taco Bell
On the horizon is a day of either great joy or deep reckoning, depending how radical you are regarding chicken's place in taco taxonomy. If you're among those who refuse to confine its role to just a filling, then Taco Bell has an exciting announcement. Later this month — January 26 is actual D-Day — the chain will come "un-shelled" by giving the whole country its latest "food innovation," the Naked Chicken Chalupa, which is a taco whose shell is a piece of very flat chicken fried so it stays folded in half. The full nationwide launch follows two years of "buzzworthy" tests, the company says, including the all-important human trials involving real, live Californians.
The final version is basically identical to the one in the tests. Fillings are chopped lettuce, diced tomato, shredded cheddar, and an avocado-ranch sauce, a plain set of accoutrements executives say give the taco a "health halo." To make the fried shell — a pretty key ingredient, you might say — they went no-holds-barred: "four ounces of marinated, all-white-meat, antibiotic-free chicken kicked up with bold Mexican spices and seasoning."
In a statement, chief marketing officer Marisa Thalberg acknowledges that the massive rollout of such an innovative (mis)use of chicken "is bound to ruffle some feathers," and that some "might even cluck their tongues at it," but that's, of course, what makes Taco Bell's menu a list of "experiences" instead of just greasy food. When everybody else is finding alternatives to meat, Taco Bell is boldly using meat as an alternative to everything else. It's available in two weeks in just one Dorito-less flavor (for now), and will set you back $2.99.